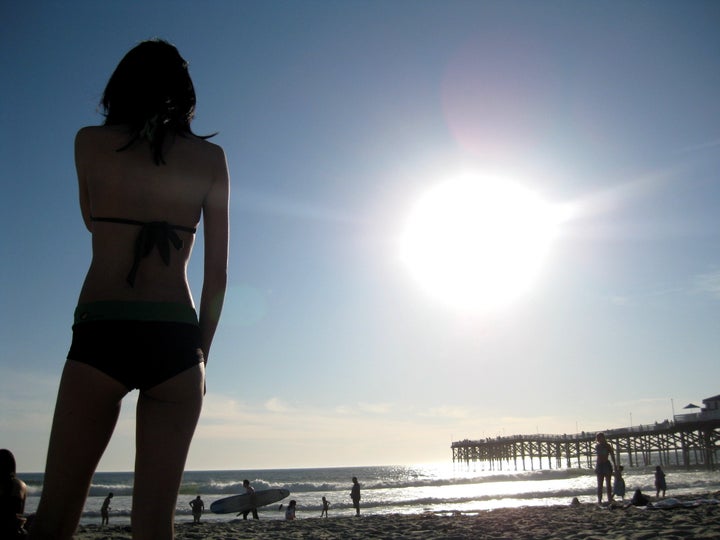 The State Department issues warnings admonishing travelers to avoid international hot spots or failed states. This service is important, appreciated and irrelevant to most travelers. By contrast, Where Not To Go This Weekend (WNTGTW) sounds the alarm for a slightly broader audience. Sure, you don't have to follow our advice. Just remember that you were warned.
The heatwave has already driven temperatures into three digits and will likely herd a crowd toward the platoon of Great White Sharks waiting just offshore. Sure, there are parks and zoos and beautiful people in tiny outfits, but this weekend San Diego County is going to be far from hospitable.
In other cities, this might be less of an issue for travelers, but San Diego has a singular climate. The folks baking inland will likely head to the beach, where temperatures might be a bit more reasonable.
Here's the thing. If this crowd heads to La Jolla, as crowds in that part of the world are wont to do, they may very well meet a crowd waiting just offshore. A healthy population of Great White Sharks will be noshing and hanging out offshore.
In fact, one of La Jolla's main beaches only reopened Tuesday after being shut down Monday following the sighting of a 12 to 15-foot shark. ABC reports that the beach was closed after a lifeguard caught sight of the beast.
Some marine biologists apparently eager to tamp down media alarmism, which is obviously not a problem anyway, took the occasion of the shark sighting to mention that, oh by the way, shark populations have risen steeply along the California coast. Chris Lowe, the director of the Shark Lab at Cal State Long Beach, told Southern California's PBS affiliate that the regulation of commercial fisheries since 1994 has increased the number of shark sightings. He also speculated about the rise in sightings off of La Jolla, saying, "You have that deep water canyon there. So it's possible that these sharks are staying deep, and might periodically come up the canyon where they're exposed to shallow water."
According to the Shark Research Committee, the first decade of the 21st century saw exactly half the number of shark attacks as the entire 20th century. A reasonable person might conclude that California's reporting mechanism for sharks attacks have improved, but an even more reasonable person might decide to stay the hell out of the water.
Not that walking across the insanely crowded, burning hot beach was going to be pleasant anyway.