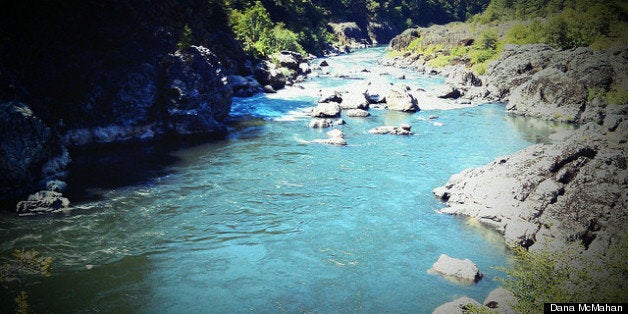 August 2012, on assignment with O.A.R.S
I was scared to try white-water kayaking. Flat scared. I heard my Rogue River rafting/camping guide's somber warning about evacuations and was chilled. If I got hurt, it would not be a quick hop in an ambulance to a hospital. We were talking hours -- if not days -- from civilization by foot, through the Northwest Pacific wilderness.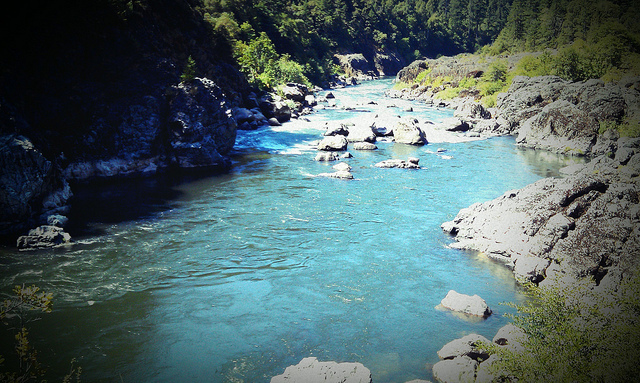 The guides' descriptions of what happened if you caught your foot in between rocks while in a rapid haunted me. The current was so powerful it could knock a person down while standing in ankle deep water. Those seething rapids could be death traps. Damn right I was scared. The truth is, I was scared of a lot of things, especially since spinal surgery six months earlier. I wondered if my adventurous spirit survived the scalpel. It was one thing to go rock climbing, securely anchored to the walls and my belayer. This was wild. Anything could happen in the water.
But the drive to experience something new, tackle a new adventure, was too great for me to resist. On the second morning of the five-day trip, I took to the river in my own "duckie," an inflatable single-person kayak. After seeking advice and counsel from more experienced kayakers, I headed out, heart pounding, telling myself to keep paddling, no matter what, as that seemed to be the common thread in all the advice.
Left, right, left, right, I paddled toward the quickly approaching rapid. Two new friends were headed for a steep drop over a rock ledge. "Help us!" one called. I barely knew how to steer, and bumped into their double kayak, accidentally (but luckily) pushing them into an eddy and safety. And immediately plunged over the waterfall myself, into the swirling frenzy of the rapid.
"Paddle, paddle, paddle!" I yelled to myself, digging in, pointing the tip of my kayak perpendicular to the waves. Water crashed and foamed, tilting my little boat crazily, but I paddled madly and sailed out into smooth current to find a bald eagle perched overhead, solemnly observing my escapade.
I'd pushed my limits, faced my fear, and couldn't be happier (especially when a a seasoned guide told me later I looked like a pro river runner!).
This became a theme of the trip, as every day new challenges arose. I hiked fearsome trails, flung myself off high rocks into swirling water, and climbed a rope to contemplate, trembling, a daunting plummet down a natural water slide. I shot down the slide, splashing into the clear, dark pool, then popped up like an otter, laughing my head off.
But the scariest point of the trip wasn't a rock jump, precipitous hike, waterslide, or even the hair-raising class 3 rapids I ran. Under a brilliant blue Oregon sky, as placid as the river is wild, I leapt out of the boat one morning into Devil's Staircase to "ride the wave train."
My trusty guide Jeremy told me the rapid was swimmable if I cared to jump in. Nobody else was doing it, which should have been a clue, but I cinched up my life jacket and double checked my helmet, then dropped into the roiling water in safety position on my back. The thundering waves swept me away, submerging and tossing me about like a bit of driftwood. I gasped and choked in the great swells, water rushing in nose and mouth. I hurtled down the river, desperate to be spit out at the foot of the staircase. I emerged from the wild ride into a calm current where I drifted along, finally catching my breath.
Another raft paddled by. "There's someone in the water," someone on board said. "That's Dana," replied our youngest camper, a seven-year old boy. "She's adventurous."