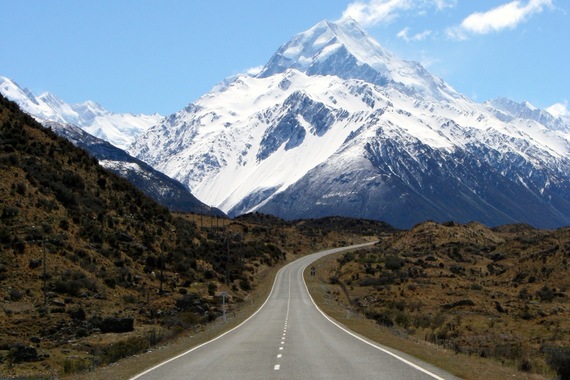 The roads in New Zealand take you through some of the most spectacular scenery in the world.
They take you past stunning shimmering lakes and majestic mountains, past wild and deserted beaches, beautiful fiords and distinctive volcanoes.
A strong desire burns inside you to jump out of your car and take a photograph at every turn.
You can't believe what you are seeing and then something more spectacular appears around the next corner.
Hiring a car or campervan is very popular in New Zealand and it is easy to see why.
So different to driving anywhere else, driving in New Zealand makes you feel, and is good for your soul. Why I hear you ask? Well . . .
The journey feels like part of the holiday
Driving in New Zealand is never a chore or boring, especially on New Zealand's South island. The scenery is often out-of-this world spectacular and you can sit back and enjoy driving. Well signposted scenic areas provide excellent opportunities to stop at various lookout points along your journey.
The roads take you off-the-beaten-track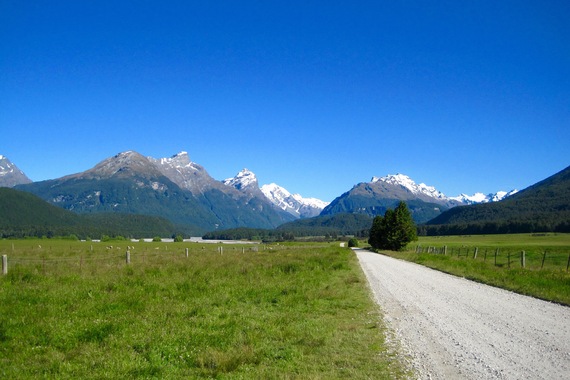 The roads in New Zealand can take you almost anywhere. Of course, there are some places you can only reach by walking/hiking/tramping, but New Zealand's roads extend very far deep into the wilderness.
Apart from the odd bit of hustle and bustle on the roads in the cities, the majority of New Zealand's roads are pretty quiet. It feels novel to take a road trip and not see many other cars, but it happens often in New Zealand so get used to it!
The roads are easy to navigate and drive on
Most of the roads in New Zealand are well-signposted and it is easy to find your way. There is often a recommended speed for many of the corners, which means you drive more safely too. The roads in New Zealand are generally in good condition as are well-maintained.
It makes you feel sentimental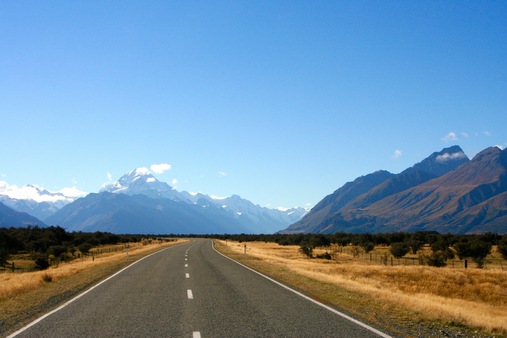 After spending time driving around New Zealand you start to feel sentimental about certain roads, or certain journeys. This was the case for myself and my husband - especially about the road to Mount Cook. We drove it as often as we could whilst living in New Zealand and that journey will stay with us forever.
It is so incredibly varied
Driving through the varied and vast landscapes takes you on a journey like no other. New Zealand really does have as many different landscapes as you can possibly imagine. You will always have something to look at out of the window in New Zealand.
You often come across wildlife on the road
It wouldn't be a road trip in New Zealand without coming across a herd of sheep on the road! Other animals you may encounter include cows, alpacas, penguins and even kiwi.
The low speed limits are relaxing
The maximum top speed in New Zealand is usually 100km/hr (60m/hr), so though some may get frustrated at not being able to drive faster, it feels more relaxing to drive at this speed. Take your time and take in the unique scenery that surrounds you.
Car hire is easy and cheap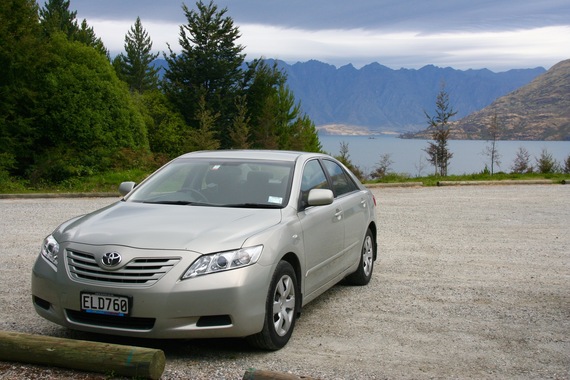 As long as you shop around there are often great car hire deals to be had. Choose the right deal for you and be sure to read the fine print detailing what is included. Many companies also offer a 'relocation deal' where you move the car from one place to another for them for free (within a specified period of time), which can work out excellent value.
You can drive on the beach
Up on North Island's 90 mile beach you can take your car down on to the beach and drive across the sand. Keep an eye on tide times and take a 4WD with you (if it is a rental, check the small print). There aren't many other places in the world where you can do this!
Of course with any journey you need to be safe; check weather conditions ahead of your trip and always be aware of road rules and other drivers, but adhere to these basic rules and you will have the trip of a lifetime driving in New Zealand!
All photos are copyright of Blue Penguin Travel unless otherwise stated.
Blue Penguin Travel offer a bespoke itinerary planning service, to help you create an amazing off-the-beaten-track travel adventure in New Zealand.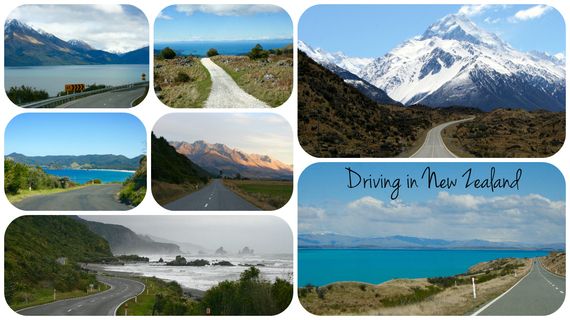 Support HuffPost
A No-B.S. Guide To Life
Related
Popular in the Community