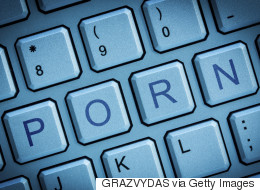 In the wake of the recent Brock Turner case, there have been many excellent discussions of ways to address rape and consent with our boys. I love this because historically rape conversation has centered on educating girls on ways to "avoid being raped," which implies that if they are raped, it was because they failed to avoid it. I applaud all parents who spend time ensuring their boys also understand consent.
But one thing that I think should also be addressed with our kids is the role pornography plays in forming a rape culture. Yes, pornography is a pretty uncomfortable thing to talk about with kids, but according to Covenant Eyes, 9 out of 10 boys and 6 out of 10 girls have seen pornography before the age of 18 and the average age for boys to view pornography is age 12. Even if you have tried to prevent it with your security settings, someone your child knows will have access to it and will probably show it to them.
If we were talking about the kind of "Playboy" pornography I grew up seeing, it might not be that bad. I mean really, if that lovely woman wants to pleasure herself on a hay bale in her Daisy Dukes, what does it really hurt? But because the internet has made pornography production and distribution accessible to all, there are some really uncomfortable things out there that our kids are seeing without the context to process them and without the experience to tell them that those things aren't what people do every day. In a
called "Aggression and Sexual Behavior in Best-Selling Pornography Videos," the authors found that:
"88.2% [of videos] contained physical aggression, principally spanking, gagging, and slapping, while 48.7% of scenes contained verbal aggression, primarily name-calling. Perpetrators of aggression were usually male, whereas targets of aggression were overwhelmingly female. Targets most often showed pleasure or responded neutrally to the aggression."
If you are a 40-year-old man with a history of largely successful and intimate relationships, this is probably no big deal. Chances are that you already know that your wife of 15 years doesn't really want you to call her a "skanky slut" and slap her in the face. If you are a 12-year-old boy, you not only may not understand this, you also probably don't feel comfortable asking mom and dad for info. If you are a 16-year-old girl with her first serious boyfriend, you may not have the context to tell him that you, actually, would rather not be tied up and gagged, especially if he is telling you that real women actually do want to be tied up and gagged and he has the website to prove it.
Now, I am not against pornography. When viewed by people with an understanding of sexual consent and some experience in how sexual intimacy actually proceeds in real life, porn can provide a titillating view of an alternative set of roles. Hell, if you are a consenting adult and want to play "Maid and Master of the Castle" or "Sheena, the leather-clad warrior princess" go for it. But I think the key here is that pornography is targeted toward adults, with an understanding that - just like zombie apocalypse movies - pornography portrays a fictional world. But it isn't just being seen by adults or even late teens. We need to assume our kids already know what pornography is, so we won't be teaching them a new, deviant behavior, and we need to tell them it's fiction. We need to explain to our children how intimacy proceeds in real life, and the good news is that this message is yours to choose, based on your own perspectives. If you want to underscore celibacy until marriage, go for it! If you prefer to talk about maturity, mutual respect and love being the basis for sex, awesome! But just know that your kids have probably already have seen the alternatives, so tell them why those videos are not what you believe.
I think of this like kids watching scary movies. If you have ever had a 7-year old child who saw a movie that scared them, then you understand that you spend a lot of time saying "It isn't real. That doesn't really happen. Yes, I'll look under the bed, but really, it was just a movie with actors." I think this level of discussion needs to happen around porn as well. We need to actively address the portrayal of violence against women in porn and ensure that our kids know that it isn't accepted or acceptable. This conversation needs to happen with boys to avoid having them draw incorrect conclusions about what women enjoy and if we aren't cluing our daughters in as well, we risk letting them be "educated" by someone or something with an incorrect view of healthy sex.
I am not saying that anyone can excuse their behavior by saying porn (or alcohol or Twinkies) caused the problem. But if we don't spending time educating our children on what healthy sexuality looks like and if we don't highlight that it is not always portrayed well in movies or videos, we are allowing them to learn safety and morality from the internet. And I can't think that is going to be a happy ending.