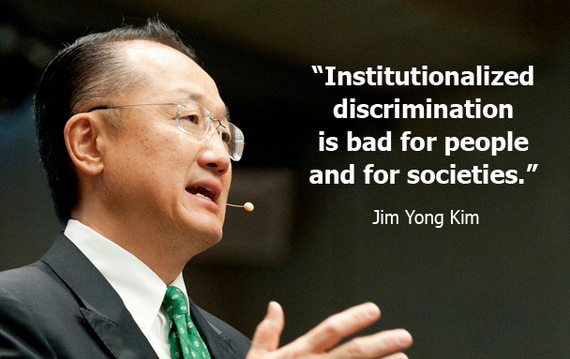 Growing up in Iowa, I was often judged solely on appearance. In stores, strangers would make karate-chop gestures at me, inspired by the popular TV series Kung Fu. When I played quarterback for my high school team, opponents were not above slamming me to the dirt and then piling on racial slurs.
These incidents embarrassed me and made me self-conscious. But they are trifling indignities compared with the discrimination that many people around the world face based solely on their sex, age, race or sexual orientation.
I raise this in light of the law Uganda enacted this week, which could imprison for life those convicted of homosexuality, and the increased violence against gays in Nigeria after an anti-gay law took effect there this year.
These countries are in the news now, but our focus should be much broader: 81 other countries -- in the Americas, Asia, Africa and the Middle East -- have passed laws that make homosexuality illegal. In the United States, although Arizona's governor vetoed a bill this week that would have allowed businesses to deny service to gay people, nine states have laws that limit how public school teachers can talk about homosexuality. More than 100 countries discriminate against women. And an even greater number of countries still have laws that discriminate against minority groups.
Institutionalized discrimination is bad for people and for societies. Widespread discrimination is also bad for economies. There is clear evidence that when societies enact laws that prevent productive people from fully participating in the workforce, economies suffer.
Discrimination against women is a case in point. A World Bank study last year of 143 economies found that 128 countries still have at least one legal difference in how men and women are treated, which constrains women's economic opportunities. These barriers include laws that make it impossible for a woman to independently obtain an ID card, own or use property, access credit or get a job.
In 15 economies, husbands can prevent their wives from working, although in the past two years Ivory Coast, Mali and Togo have reformed such restrictions.
The economic losses from such discriminatory laws and practices are costly. A study last year found that women's low economic participation created income losses of 27 percent in the Middle East and North Africa. The same study estimated that raising female employment and entrepreneurship to male levels could improve average income by 19 percent in South Asia and 14 percent in Latin America.
Discrimination based on other factors, such as age, race or sexual orientation, has similarly bad outcomes. Legislation restricting sexual rights, for instance, can hurt a country's competitiveness by discouraging multinational companies from investing or locating their activities in those nations.
These recent anti-gay laws, and many others that have been on the books for years, are acutely ironic. Just 15 years ago, a small band of gay men and women -- largely in the United States but also in Europe and parts of Africa -- fought with all their intellect, energy and creativity to expand access to treatment for all people with HIV/AIDS. In 2000, just 50,000 people in the developing world received AIDS treatment. Today, largely thanks to the work of these gay activists and others, more than 10 million people are being treated with AIDS drugs -- most of them African.

At the World Bank Group, we will have a full internal discussion over the coming months about discrimination more broadly and how it would affect our projects and our gay and lesbian staff members. My view is that the fight to eliminate all institutionalized discrimination is an urgent task.

After all, the bottom line is clear: Eliminating discrimination is not only the right thing to do; it's also critical to ensure that we have sustained, balanced and inclusive economic growth in all societies -- whether in developed or developing nations, the North or the South, America or Africa.
This op-ed piece first appeared in Washington Post on February 27, 2014.
Related
Popular in the Community