Every Tuesday, Thursday, and Saturday, 30 elementary school kids crawl right into the "Cat Colony" of The Animal Rescue League of Berks County, Pennsylvania, crack open a book, and snuggle up to the strays.
The cats, who have been rescued from the streets, are naturally shy and anxious at first, but will usually start sneaking over a few minutes after the kids plop down with their picture books. The program helps the cats become socialized again -- and therefor more adoptable -- giving them the chance to snag a little TLC in in the process.
However, it's not just a one-way street -- the program is actually an educational initiative.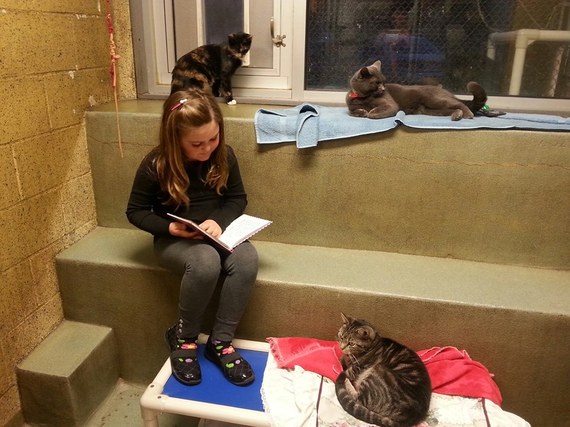 (Caption: Cheyenne reads to a captivated audience)
The Book Buddy program was founded last August after volunteer coordinator Kristi Rodriguez brought her son, who was having trouble reading, into the shelter with her.
"Why don't you go read to the cats?" she suggested. It was a hit, and she figured if he liked it, other kids would, too.
Thus, the Book Buddies program was born, and nobody loves being a Buddy more than seven-year-old Colby Procyzk.
For years, whenever his mother, Katie, tried to get Colby to read, it usually ended in tears and a tantrum.
"He'd get himself so frustrated and upset. He'd cry, 'I can't do this, I don't want to, I'm dumb and I'm stupid.'"
Luckily, his grandmother is a foster mother for the ARL's Grey Muzzles Program, which helps brings special needs and senior dogs into the homes of senior citizens. Grandma thought the program would be a perfect chance for Colby, a hopeless little animal lover, to brush up on his reading.
"He goes right into the room with all the cats, opens the book, and they come running to lay down and listen," she said.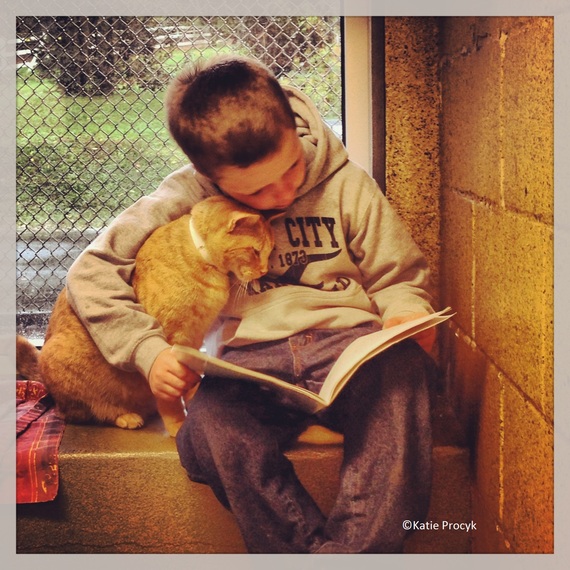 (Caption: Colby reads with his buddy)
Soon after Colby began reading to the cats, his report card went up two grades. After school, you can usually find him reading to all of his pets at home, three of which are cats that he's successfully talked mom into bringing home from the shelter.
"There's no struggling anymore. He's a joy to read with now, and he's so confident," Katie said.
Another little girl named Cheyenne Boyles, 6, was petrified of all animals before she began reading with the kitties. Her father thought that Book Buddies would be the perfect way to get her acclimated to them. At first, as soon as she saw a cat, she'd scooch out of the way; but one month later, she's letting the cats sit on her shoulder, and is helping her dad as a volunteer dog walker.
"Dogs in the shelter environment just aren't as conducive to calm, quiet time," explained Beth Irleand, the ARL"s communications director. "We have had kids who are allergic to cats ask to read, and we'll either find a dog that will work, or set them up in our critter room so they can read to bunnies and guinea pigs."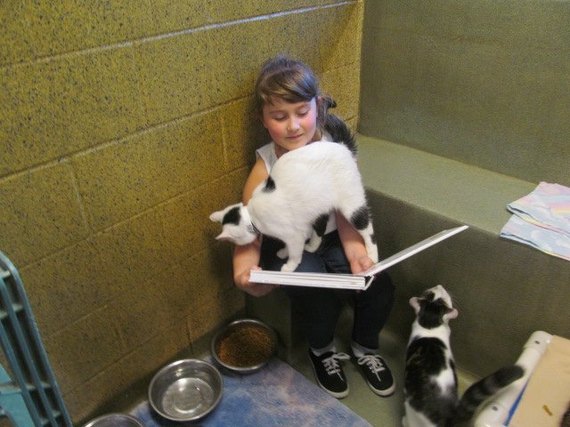 The ten-acre shelter is also unique in that it is the only open admissions shelter in the county, accepting any animal that comes through the door. Last year alone, that totaled about 8,000 --and included a llama.
Over the past few months, shelters from around the country have contacted the ARL asking for tips on how to start their own program.
"We didn't create this as a way to get these cats adopted or raise donations, it was really meant to be a service to the community," said Irleand. "But kids and parents have fallen head over heels and adopted them along the way."
Though the program has undoubtedly helped his literary career, for Colby, it's less about the reading skills and more about the connection.
"The cats love me no matter what, and I care about their feelings," he said. "They're smart animals, so they need a lot of love."
Related
Popular in the Community