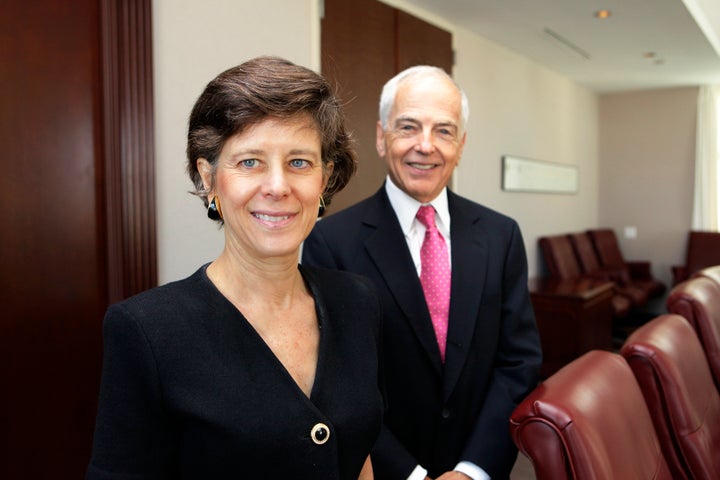 WASHINGTON -- Wilma Liebman, the outgoing chairwoman of the National Labor Relations Board (NLRB), can't recall a time when the very idea of collective bargaining was so divisive in American culture and politics. Even so, the 61-year-old lawyer says that isn't entirely a bad thing.
"We've obviously had some very contentious strikes and labor disputes over the years, but this is something of a different nature," Liebman said by telephone the other day while taking a break from packing up her office in downtown Washington after her term ended. "In some respects, all the controversy is welcome because it has brought these issues back into the public eye. That's the silver lining."
If that is indeed a silver lining, then the labor board has certainly had a hand in bringing it about under the leadership of Liebman, who asked that she not be reappointed when her term expired a little over a week ago. Although the NLRB is an agency that many Americans have never even heard of, the charges and rulings that issued from it this year have helped stoke the debate about what kind of role unions and collective bargaining should play in American society. It's a debate that Liebman believes to be vitally important, particularly in light of the recent rollback of collective bargaining rights for public workers in Wisconsin, as well as a similar, attempted rollback for workers in Ohio.
The response from the business community has not been kind. Even the more innocuous poster rule was assaulted as a gift to labor unions by the likes of the U.S. Chamber of Commerce, one of Liebman's fiercest critics. Corporations and their allies have decried the board as "out of control" during Liebman's tenure as chairwoman.
The vitriol hasn't necessarily surprised Liebman, who served under three presidents and was appointed chair by Obama in 2009. She attributed the most heated rhetoric to people who still can't come to grips with the National Labor Relations Act, the 1935 law defining collective-bargaining rights that the labor board is charged with interpreting and enforcing. Many of the same people can't come to grips with the New Deal more generally, Liebman said.
"This law has, from the beginning, been a product of fierce struggles, of deeply divided and competing views," she said of the labor relations act. "I think there are elements of society and different groups that have never accepted the legitimacy of the law or the whole array of New Deal legislation. They don't accept the legitimacy of labor unions."
The reaction to the poster rule, in particular, Liebman found "kind of silly," given all the hoopla over 11-by-17-inch placards. And yet the rule is actually quite significant, at least symbolically. In an era when union membership has dwindled to about 12 percent of the American workforce -- and when rank-and-file wages have remained stagnant despite rising executive pay -- the posters are meant to inform workers not only of their rights to join a union, but more broadly of their rights to discuss workplace conditions and bring their grievances to superiors. It may be a sign of how far the pendulum has swung in favor of management that such a rule can be so openly lambasted by business trade groups.
Despite the charges that she was shilling for big labor, Liebman says she wasn't interpreting the law for unions per se, but for all employees.
"This statute applies to all private-sector workers," Liebman said. "Two or more people can get together and go to the boss, even in non-union workplaces. That's a huge secret amongst most workers."
She points to the board's cases on social media in the workplace as an example. In a move that surprised many, the board looked into several cases that involved workers being fired or otherwise disciplined for their ill-advised outbursts on Facebook. In some instances, the agency's lawyers found the firings to be fair game; in others, they found them to be potentially in violation of labor law. Many of the cases didn't involve unions whatsoever. Workers around the country flooded the agency with their woeful tales of Facebook firings. Employers -- not to mention lawyers -- took notice.
The most contentious action from the NLRB this year had nothing to do with Liebman at all, although she wound up caught in the crossfire. In April, the board's acting general counsel, Lafe Solomon, who acts as something akin to a prosecutor, issued a complaint against The Boeing Company. Solomon accused the aerospace giant of violating labor law when it established a production line for its 787 Dreamliner in South Carolina, a right-to-work state; Solomon said it was retaliation against Boeing's unionized employees in Washington State for having gone on strike in the past.
Liebman's board did not issue the complaint, nor has it ruled on the matter. And yet conservatives have used it to tar the board as the union-loving, job-killing agent of an Obama administration intent on meddling in corporate decision-making. Liebman attributes much of the anger towards the board to a misunderstanding of its duties and procedures.
"The members of the board have nothing to do with the issuance of a complaint, unless it comes up to us," Liebman said. The politics swirling around the independent board, she added, has been "disturbing."
Those politics show no signs of abating. With Liebman gone, the board is down to just three members -- two Democrats and one Republican -- which barely makes a quorum. The term of one Democrat is set to expire later this year, and if Republicans refuse to confirm another Democratic appointee to the slot, as they're expected to do, the board would be rendered inoperable. Some, including South Carolina Gov. Nikki Haley (R), are hoping to hasten that day by persuading the one sitting Republican, Brian Hayes, to step down.
Liebman says she very much hopes that doesn't happen, given that the board "provides the rule of law," and that both labor and business seem "relatively comfortable" with the way the system functions. Although she doesn't expect the politics surrounding collective bargaining to subside, she does hope to see a more civil and meaningful discussion.
"The issues are too important and the problems too extreme to just have a lot of rancor and rhetoric," she said. "I would love to see it become a real debate."
"Maybe this is a prelude to a real debate," she added. "I can hope."
Popular in the Community