2500 participants attended the grand Wisdom 2.0 Conference in San Francisco last weekend. It was invigorating. Attendees came from all over the world and all over the U.S., curious to find out what was new in the world of Mindfulness and wisdom. I was excited myself. Like a newbie listening intently to each speaker, looking for that tool, the relevant language, that better way to understand wisdom and help practitioners who come to the doors of Mindful Valley practice better and become more skillful in their lives. Session after session was hosted beautifully, with an interview, solo presentation or a performance.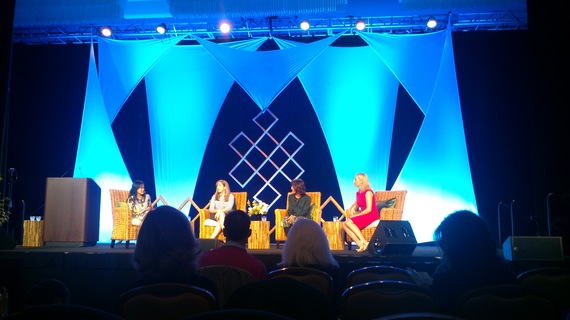 Amongst speakers were CEOs and other high level leaders from Linkedin, Facebook, Google, Youtube, Starbucks, Eventbrite, Pandora, etc., consultants and teachers, other professionals from the mental health and spiritual realms, artists, musicians and poets weaving a tapestry of beauty and happiness.
A magnificent salon called "Inspirational Village" staged with bamboo props, vibrant colors, natural elements, enchanting background music, massage table, tea, and so much more....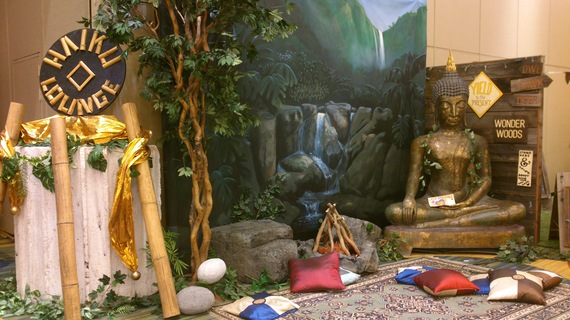 Three full days of inspiration -- everywhere you turned a thoughtful quote from a thinker, a philosopher, an old soul offering wise reflections -- several monks at the Dalai Lama's booth were creating a mandala, so intricate, so pristine, so delicate. Mediation and yoga rooms staged to give the attendee a sense of solitude and a place to go inward in the midst of so much going on. The schedule was packed with three speaker choices simultaneously in different rooms. What an ordeal to organize and manage an event of this magnitude. What impressed me the most was the level of kindness, joy and compassion that permeated the entire conference as experienced practitioners and beginners delighted in an atmosphere that gave a sense of peace and calm.
Having listened to all those corporate leaders I am so happy to know that so many of leaders are working on making this world a better place to live in, make it about human experience and not just human accomplishment. Many of them struggle to develop best ways to introduce mindfulness to their employees and their community. Feeling gratitude in my heart for their effort, I walked away feeling confident that free resources, programs and tools we offer the community through Mindful Valley, and Mindful Business Institute are well developed, practical and applicable to everyday life and work.
Calling all HuffPost superfans!
Sign up for membership to become a founding member and help shape HuffPost's next chapter