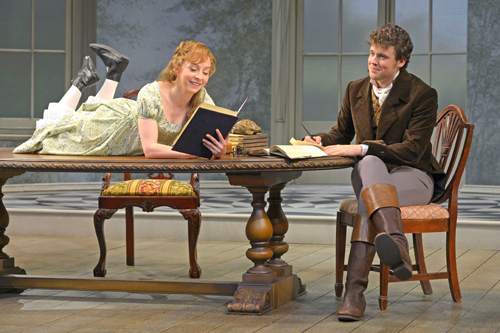 Rebekah Brockman as Thomasina and Jack Cutmore-Scott as Septimus: young and vibrant

Photo by Kevin Berne
SAN FRANCISCO -- Tom Stoppard's genius has never shone more brightly than in Arcadia, his intricate and passionate exploration of the pursuit of cutting-edge scientific knowledge, arcane literary discovery, artistic and scholarly fame, and uninhibited, uncommitted sex.
A captivating smash in American Conservatory Theater's 1995 premiere, which was staged in a smaller theater while the Geary was undergoing post-earthquake renovation, it has been resurrected in the Geary with polish, crispness and loads of bawdy humor. The expansion has cut slightly into the play's emotional intimacy, but that's a small price to pay for another chance to experience its wit, erudition and compassion, and director Carey Perloff's finesse with Stoppard's creations.
Originally scheduled to close June 9, the show's run has been extended through June 16.
In alternating scenes, the play careens between the early 19th century and the 21st in an opulent but sparsely furnished room in a rural British estate, Sidley Park. The setting undergoes no significant changes over the period, and neither do the crucial aspects of behavior of its occupants.
Pompous pursuit of intellectual fame comes in for especially caustic satire, but never disdain. Whether the pursuer's goal is meaningful in terms that we can quickly grasp is irrelevant, an acerbic literary scholar declares. "It's wanting to know that makes us matter," she says, in what may be the play's thematic heart, reduced to a few words.
Stoppard's people reflect on subjects as disparate as Lord Bryon's sexual escapades, as inferred from cryptic notes, and the 20th century mathematical discipline known as chaos theory. In almost every case, the quest and the occasional epiphany arouse a sense of exultation in the discoverer, and scorn or skepticism from rivals and even from friends. Human nature prevails.
But Arcadia is hardly a treatise on ideas and ambitions in academia. Its heart and immense comic drive draw upon a much more universal element of human nature: the urge to mate. As conceived by Stoppard, shaped by Perloff and performed by a splendid cast, that primal urge can make fools of the brightest and most sophisticated of humans.
The play's tone is suggested by its first words: "Septimus, what is carnal embrace?" Coming from a pert, bright and totally naïve 13-year-old, in a visual context that suggests 19th century aristocratic decorum, it brings down the house. If any play contains a funnier opening line, I don't know it.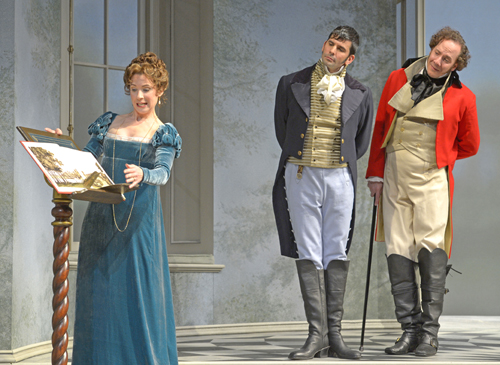 Julia Coffey as Lady Croom, with guests Nick Gabriel (Captain Brice) and Ezra Chater (Nicholas Pelczar)
Photo by Kevin Berne
The girl is named Thomasina; Septimus is her tutor, age 22, displaying the epitome of discretion in dealing with his pupil.
She is a budding mathematician, brilliantly questioning Newton and proposing concepts that could not be understood until the age of computers; he seems omnivorous in intellectual pursuits, which range from literary criticism to Latin to math. But he's not above a bit of adult lust, when easy opportunity arises.
That puts him on a collision course with a blustering poet, a visiting naval captain and the Lady of the house, all enmeshed in a web of adulteries and furious jealousies.
In the play's 21st century component, the erotic elements take a back seat to the intellectual, with academics playing competitive games of "gotcha!" in the quest for prestige and publication. Visitors Hannah and Bernard, who hold each other in contempt, are focused on Lord Byron, whose newly discovered papers suggest a link to Sidley Park. And resident aristocrat Valentine carries forward the tradition of number-crunching in the household, aided on the Geary stage by an Apple laptop.
A bit of deceit here, an unfounded conclusion there, and a sprinkling of putdowns almost everywhere keep the laughter coming while raising obvious questions about the honor of scholars as well as, perhaps, admiration for their pursuit of knowledge that will mean nothing to almost anyone.
The cast is first-rate, starting with Rebekah Brockman as a radiant but ultimately tragic Thomasina and Jack Cutmore-Scott as the wry, quick-witted and multidimensional Septimus.
Nicholas Pelczar brings raging bluster and fawning humility to cuckolded poet Ezra Chater, torn between offense over his wife's seduction and vanity at the thought of receiving a glowing review for his latest tome.
Most notable among the others representing the 19th century are Julia Coffey as Lady Croom, mistress of the estate, who is not immune to carnal urges, and veteran Ken Ruta in a small, delightful turn as the very proper butler.
Gretchen Egolf brings engaging remoteness to contemporary author Hannah and Andy Murray lets out all the stops as the self-infatuated and transparently ridiculous scholar Bernard.
Arcadia runs through June 16 in American Conservatory Theater's Geary Theater, 415 Geary St., San Francisco. Tickets cost $20-$95, from 415-749-2228 or www.act-sf.org
REAL LIFE. REAL NEWS. REAL VOICES.
Help us tell more of the stories that matter from voices that too often remain unheard.