There comes a point where you just have to say 'Eff it!' and embrace your size. There should be room for everyone. Not just a size 0 to 4, or a 12 to 16. We should market to every single size. The world is filled with women/girls of different sizes and we're all shaped differently, so there's room for everyone and everyone is relatable to someone out there. Whether you're top heavy, bottom heavy or what have you, let's market to every single shape! That would be perfect.
This is plus size model Lornalitz Baez's vision for the future of the fashion industry.
Because of Lornalitz's experiences coming up in the fashion industry, beginning in her early teens in New York City, all the way to her current life as a fabulously well-known face in the plus size modeling industry based out of Los Angeles, she would like to see the doors of the fashion world open to all shapes, sizes and ethnicities.
"Starting out at a young age, there was not really a junior plus division. In NYC at that time, modeling meant being high fashion, size 0 to 4," says the curvy beauty. "I'm not naturally that small (I'm a comfortable size 14 now), so I had to work really hard to maintain a weight where I could get bookings in the straight size world."
In addition to feeling like her size made her difficult for the industry to categorize, Lornalitz is mixed-race with very unique, exotic looks. "I was raised in a Puerto Rican household, that's the culture that I grew up with. African American, Taino Indian, Spaniard, all of these are part of the Puerto Rican mix," shares Lornalitz. "I recently found out through Ancestry.com that I'm also 40 percent Japanese. I knew that I had Asian on my father's side but never knew the exact mix before."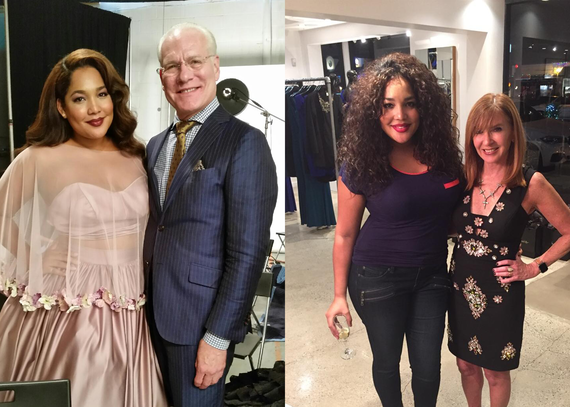 Lornalitz behind-the-scenes with Tim Gunn at Project Runway, and with designer Nicole Miller at a recent event.
The media has touted her look in recent months, following her historic appearance on Project Runway, using the label "Afro-Taino Latinnese" as a moniker for her unique ethnic background. While she currently receives praise for her cultural identity and beautiful features, Lornalitz struggled to find her place in the fashion world because of this early on.
"I always felt like people didn't know what category to put me in, even as straight size. I'm tanned skinned but not African American, my hair is curly not kinky, but I'm not Caucasian. Latina is categorized as more like Sofia Vergara, fair skin and straight/wavy hair, which I don't resemble.
Feeling like an outsider in the fashion world drove Lornalitz to some pretty unhealthy behavior in her teens. "Starting at the age of 12, I began exercising obsessively and drinking diet teas and/or diet pills, starting down that path towards an unhealthy lifestyle. I was trying to fit in."
By the time she reached the age of 15-16, Lornalitz's extreme diet and fitness habits had escalated into a full-blown eating disorder. "I reached my smallest size, size 2, in high school. I remember going to a fitting for NY fashion week, with a big-time designer who I won't name. I put on the garment and it fit perfectly, but the designer felt like it needed to be looser around the hips," she recalls.
"That was the ah-hah moment, I can't do this to myself anymore -- I was all bone, and I knew that I couldn't keep destroying myself mentally, physically and emotionally." Lornalitz leaned on the support of her family and friends and found an inner strength that allowed her to overcome her eating disorder and continue towards her dream of becoming a successful model.
"Around that time I was also discovering more of the plus size industry. It didn't happen perfectly, but the timing ultimately worked out in my favor. Entering the plus size modeling world, it was the first time that I really felt accepted, like I could have a career in this, and could continue modeling and be the size that my body wants to be."
"For a short period, one year or so, I felt like, 'This is great, I'm comfortable, I'm getting work, I'm on the right track'," she recalls. But even now, despite her massive success and notoriety, Lornalitz still faces rejection on the basis of being too small for some plus size clients.
"I felt like I belonged for a little bit. But this was short-lived, because at a size 12 I quickly learned that I am not plus enough for some designers. I have to laugh at it, because it's ridiculous, but that's how it is."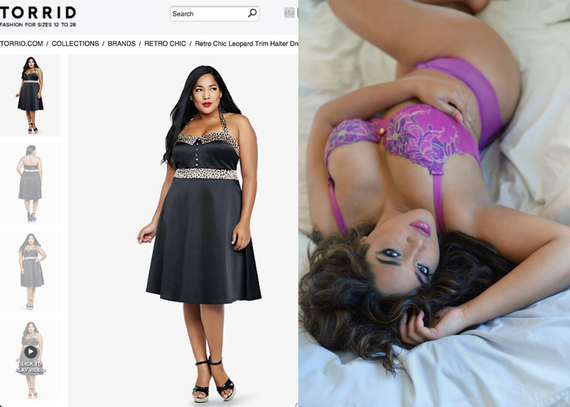 The beautiful, successful Lornalitz for Torrid and in an intimates set from Curvy Couture.
But Lornalitz isn't the young girl she once was -- as a woman who has completely embraced herself, her body and her ethnicity exactly as they are, she doesn't let the mixed feedback sway her or slow her down.
"Where I am right now in my life, I really don't give a flip about the industry standards at all. Straight v. Plus, or whatever. I'm just trying to get work and live my dream comfortable in my own skin. I don't want to ever feel like I have to adopt unhealthy habits to either gain or lose weight. This is who I am, I'm amazing at what I do, I love my curves, and I believe in being healthy and being fit. If they want to book me, they'll book me."
Lornalitz must be onto something with this, because she is one of the busiest models that I know! And her fans see her success and draw inspiration from the fact that someone who looks like Lornalitz is so successful as a model.
"Fans say they like seeing someone that looks like them, teenagers who don't like their curly hair / complexion, or they're dark-skinned hispanic, these women tell me their stories," Lornalitz says.
Lornalitz beams from the inside out when she talks about the women that she is able to inspire. Now, rather than sweating what clients will or won't accept her, Lornalitz is using her success to build a platform that allows her to empower and inspire other women facing body issues.
"At this point in my life, as a woman and meeting girls that are teenagers that feel the way that I felt, I want to speak up. I want to go to schools and give these girls a role model. Growing up, I didn't have anyone to look up to. That was the beginning of my insecurities, which eventually lead to my eating disorder."
When Lornalitz looks to the future, she wants to leave a legacy that makes it easier for curvy women of mixed cultural backgrounds to find their place in the industry, and in their lives.
My only hope is to see size diversity and different ethnic backgrounds, women who really are representing the curvy cultural majority, at the forefront of the fashion industry. My goal is to continue trying to break the barriers. I don't know how much longer I will continue doing this, so when I get to the point where I hang up my stilettos, I want to be able to say that I made it easier for other women.
To learn more about Lornalitz and the amazing legacy she is creating, follow her on Instagram @lornalitz.