Earlier this month, I had the honor of serving on an interfaith panel with fellow faith-based progressives at the National South Asian Summit organized by South Asian Americans Leading Together (SAALT).
The Sikh, Muslim, and Hindu co-panelists were an all-star lineup of social justice advocates, but perhaps the most compelling story came from my co-panelists Naheed Bahram and Sunita Viswanath (who also moderated) of Women for Afghan Women. Both women exemplify the idea of seva, or selfless service, and live and breathe interfaith action towards making the world a better place.
Women for Afghan Women started in 2001 as a grassroots, volunteer-driven effort to help Afghan women and girls find justice for brutal conditions imposed by the Taliban, who ruled over most of the country at the time. Since then, a small staff and a committed group of volunteers have provided the gamut of services -- including crisis management, human rights advocacy, legal services, and domestic violence counseling -- for Afghan women in New York and in Afghanistan.
More than 15,000 women and girls have been helped through the organization's efforts, and more importantly, they have become a voice for women who otherwise have been silenced or marginalized due to pressure from or stigmas within their own community. While there have been many setbacks, both Bahram and Viswanath say that the small victories continue to push them towards their goal - a fully equitable and empowered Afghan women's voice.
Bahram, whose Muslim faith inspires her social action, says she is buoyed by her commitment to her "sisters in need" and the ongoing effort to fight injustice and inequality. She says she can see the growth and the change in each woman the organization has helped, including "the smile on their children's faces as they score the highest grade in the class despite being in the country for less than a year."
Similarly, Viswanath says survivor stories continue to inspire her, and ties her Hindu faith with an ongoing commitment to social justice.
"The teachings from my Hindu upbringing -- of oneness of all beings, all peoples, the whole universe -- require me to live my life as seva or in service to the most marginalized, disenfranchised, those whose rights are the most violated," says Viswanath, who is also a founder of Sadhana, a coalition of progressive of Hindus.
One of WAW's greatest achievements was organizing a women's rights conference in 2003 in Kandahar, a landmark event considering Afghanistan was still transitioning out of the grip of the Taliban, which had eliminated most rights for women.
"We held the conference in Kandahar, and brought our conference participants (all under-educated, non-English speakers, some illiterate, all were human rights activists in their villages) to Kabul to meet with the Constitution Commission and the president," said Viswanath, who continues to go to Afghanistan to help with on-the-ground efforts.
The result of the conference was an Afghan Women's Bill of Rights, a document that sought to enshrine women's right to work, education, and suffrage. While much progress has been made since then, there is concern that if the Taliban were to ever return to power, many of those gains could be lost.
In March, a young Afghan woman, Farkhunda, was brutally killed by a group of men after she was accused of burning a Koran. The grisly details of her killing shocked but also galvanized many women's rights advocates in Afghanistan and across the world, prompting solidarity vigils from New York to Malaysia. It also spurred many Afghans to take action and protest against gender violence. Still, Bahram says there continues to be challenges in getting universal condemnation for such acts.
"The fact is that we are a women's right organization in a community that has no respect to their women is a challenge in itself," she says. "We also face challenges to fundraise for our work in New York because most people do not understand the need that the Afghan community is having here. However, WAW is working hard to overcome these challenges and obstacles. We work so hard in building relationship not only to the women in the community, but also to the men. WAW has also been able to work closely with the Afghan religious leaders here in New York to assure that the men know about women's rights."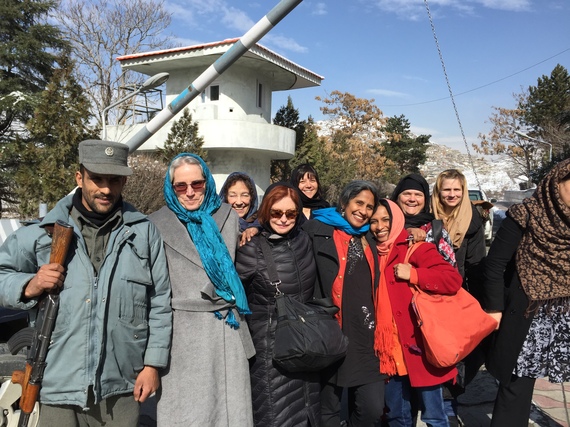 The group has been encouraged by the support of Afghan First Lady Rula Ghani, who has made women's rights a pillar of her advocacy. They hope that Ghani uses her influence with her husband, President Ashraf Ghani, to push for greater suffrage for women and justice for those like Farkhunda who have been victims of gender violence.
Both Bahram and Viswanath say they are working to raise WAW's visibility to the greater community, to ensure that the quest for social justice -- handled by a group of committed volunteers and supporters -- continues. They hope to get more support through their May 28 gala, which will be keynoted by Rula Ghani. The stories of survival and triumph among Afghan women are important for all communities, which is why WAW is playing such an important role of being the change they wish to see.
To find out more about how you can help Women for Afghan Women, contact Sunita Viswanath at sunita@womenforafghanwomen.org or visit their web site.
Related
Popular in the Community