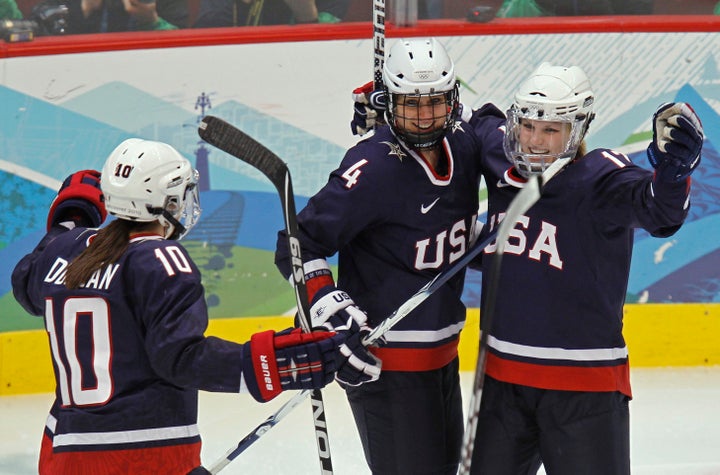 The U.S. women's national soccer team has spent the last year waging a public battle with the U.S. Soccer Federation over equal pay and fair wages.
Now, it's the women's hockey team's turn.
Members of the U.S. Women's National Hockey Team announced Wednesday that they will not play in this month's International Ice Hockey Federation World Championship tournament, thanks to a lack of progress in their efforts to secure fair wages and benefits from USA Hockey, the sport's American governing body.
The 2017 Women's World Championship begins March 31 in Plymouth, Michigan, meaning the absence of the U.S. women's team would leave the tournament without its host and defending champion. The United States has won six of the past eight world championship gold medals.  
"We are asking for a living wage and for USA Hockey to fully support its programs for women and girls and stop treating us like an afterthought," captain Meghan Duggan said Thursday. "We have represented our country with dignity and deserve to be treated with fairness and respect."
"It's unfortunate we had to get to this point," Duggan told The Huffington Post. "But we stand united ― our entire player pool, our entire national team."
For more than a year, the players have sought a contract with USA Hockey that would guarantee better compensation, the women said in a release announcing their decision.
The majority of the players' current pay, they said, comes from the U.S. Olympic Committee, with USA Hockey providing a small, $1,000-per-month stipend over a six-month Olympic training period. Outside those months, the lawyers representing the players said in the release, "USA Hockey pays virtually nothing."
"We're asked to train and compete and perform full time," Duggan said, "yet we're not compensated for it."
Roughly half of the players on the team hold jobs outside of hockey, their lawyers said in the release. 
Their complaint doesn't involve just compensation. According to the players, they also receive less support than the men's team for equipment, staff, associated expenses and marketing. They also pointed to inequities in development programs, asserting that while USA Hockey spends $3.5 million annually on its national team program for boys, girls receive no "comparable" support.
Those differences "show that they're just not supporting and valuing us like they value the men and the boys," Duggan said. "We're asking for their equal support."
There is a possibility the players could call off their boycott and play at the world championships, if they make progress in negotiations with USA Hockey over the next week.
"We want to play," Duggan said. "We want this to get resolved. We want to come to an agreement that USA Hockey and ourselves can both be on board with."
Last March, five U.S. women's national soccer players filed a federal complaint against the U.S. Soccer Federation, calling for an investigation into what they asserted were discriminatory pay practices. The complaint hasn't been resolved; the USWNT is also still negotiating a new collective bargaining agreement with the federation.
U.S. soccer star Alex Morgan, one of the five players named on their original complaint, tweeted in support of the hockey players Wednesday:
The USWNT's fight for equal pay served as inspiration for the hockey team, Duggan said, and they hope to have a similar effect.
"It's bigger than hockey. It's bigger than any one sport or individual. It's about equitable support for females in this country," she said. "This is a difficult thing for us, but we're united and proud and happy to do it."
USA Hockey responded to the players in a statement released Wednesday afternoon, saying it has "a long-standing commitment to the support, advancement and growth of girls and women's hockey and any claims to the contrary are unfounded."
The federation said it is implementing support initiatives for the run-up to the 2018 Winter Olympics, including incentives "that could result in each player receiving nearly $85,000 in cash over the Olympic training and performance period," in addition to other forms of assistance that it says includes housing and travel allowances and insurance. 
"We acknowledge the players' concerns and have proactively increased our level of direct support to the Women's National Team as we prepare for the 2018 Winter Olympic Games," said Dave Ogrean, executive director of USA Hockey. "We have communicated that increased level of support to the players' representatives and look forward to continuing our discussions."
The statement said that while the federation is "disappointed" the players said they would not participate in the World Championship, USA Hockey is committed to fielding a team for the tournament.
The players responded with a statement of their own that called USA Hockey's comments "misleading."
"The statement issued by USA Hockey today in response to our decision to sit out the World Championships is misleading," the players' statement said. "It suggests that USA Hockey is prepared to pay the players $85,000 during the Olympic year. That is simply not true and no such offer was ever extended. In its public statement, USA Hockey has coupled their contributions with payments made by the U.S. Olympic Committee, which pays gold medal-winning athletes more than $60,000."
"Further," they continued, "it covers only the Olympic period and does not offer anything for each of the other three years during which a World Championship is played. Lastly, it does nothing to address the marketing and training support that is not on par with what it provides to the mens' and boys' teams."
This article has been updated with a statement from USA Hockey and subsequent response from the players, as well as a tweet from Alex Morgan.
Calling all HuffPost superfans!
Sign up for membership to become a founding member and help shape HuffPost's next chapter