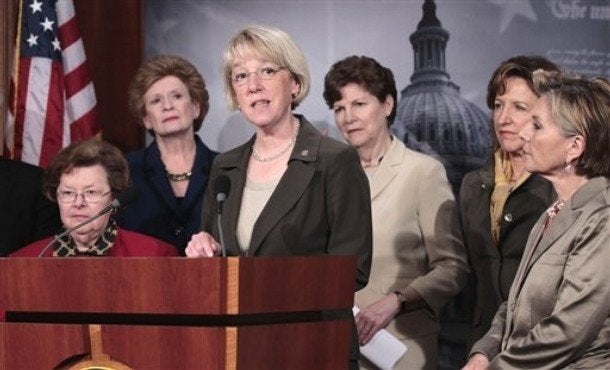 WASHINGTON -- Who's missing from the list of lawmakers and administration officials involved in budget negotiations? Women.
Vice President Joe Biden has been leading the negotiations with a bipartisan group of lawmakers: Sens. Daniel Inouye (D-Hawaii), Jon Kyl (R-Ariz.), Max Baucus (D-Mont.), and Reps. Eric Cantor (R-Va.), James Clyburn (R-S.C.) and Chris Van Hollen (D-Md.). Office of Management and Budget Director Jacob Lew and National Economic Council Director Gene Sperling were also at the latest meeting on Tuesday. Rep. Paul Ryan (R-Wis.) put out his own budget blueprint that has been shaping the debate for both sides.
There hasn't been a single woman given a seat at the budget negotiating table, despite the fact that many proposed cuts would hit programs that disproportionately affect women.
On Tuesday, six female and two male Democratic senators held a press conference to discuss how the Ryan budget would affect women of all ages.
"The Ryan budget continues the Republican attack on women," said Sen. Barbara Mikulski (D-Md.). "They started this in H.R. 1 [the FY 2011 continuing resolution], by trying to take away our health care, our family planning and our Pell Grants. Now they're back again."
Mikulski was one of several members of Congress at the podium who singled out Ryan's controversial proposal to replace the current Medicare program with a voucher system.
"First of all, the Republicans want to take away Medicare," Mikulski continued. "Medicare is the single most important health care program facing senior women. It helps them with the consequences of managing their disease, it helps pay for their prescription drugs, and as we women live longer, we use Medicare to a greater degree than the guys do."
When asked by The Huffington Post about the absence of women in the bipartisan budget negotiations, Sen. Patty Murray (D-Wash.) replied the lack showed why their press conference was so important.
"That's exactly why we're standing here today -- to make sure everyone knows there is a line in the sand drawn," she said. "As we watch these budget negotiations go forward, we're going to make sure that it's not balanced on the backs of women and children. Privatizing Medicare, sending money to insurance companies, increasing the cost for Medicare recipients by doubling them, is not something we will support."
On Tuesday, a coalition of women's organizations sent President Obama and Biden a letter requesting a meeting with them to discuss how the budget cuts will impact women and families.
"[T]he media reports regarding the administration's experts who are assisting Vice President Biden suggest that there are no women in the room," write the members of the Older Women's Economic Security Task Force of the National Council of Women's Organizations. "In 2011, it is disturbing to have to ask why women would not participate in virtually every important discussion in the White House."
On a conference call with reporters, National Organization for Women President Terry O'Neill said the coaltion has relayed its concerns directly to the White House, and she believes its members may be granted a meeting with staffers.
"Obviously we do request, and continue to request a meeting directly with the president and the vice president, but we are pleased with the idea of meeting with staff at the White House," she said.
Bobbie Brinegar, executive director of the Older Women's League, highlighted how cutting social safety net programs would affect women.
"Women live longer and depend more heavily on Social Security than do men," she said. "The majority -- 56 percent -- of Medicare beneficiaries are women. Women also make up the majority of adult Medicaid recipients -- 69 percent of the total and even higher among the oldest recipients. And women are less likely to have an employer pension to rely on. For those women who do have a pension, it's likely to be smaller due to shorter work histories and lower wages than men."
Women -- including House Minority Leader Nancy Pelosi (D-Calif.) -- were also left out of final budget negotiations in April, when White House aides gathered with high-level staffers for House Speaker John Boehner (R-Ohio) and Senate Majority Leader Harry Reid (D-Nev.) to hash out a measure to fund the government for the rest of the fiscal year. The final deal involved a major battle over women's health, including debates about blocking government funds to Planned Parenthood and banning the District of Columbia from using its own tax revenue to subsidize abortions for low-income women.
Biden's office did not return a request for comment.