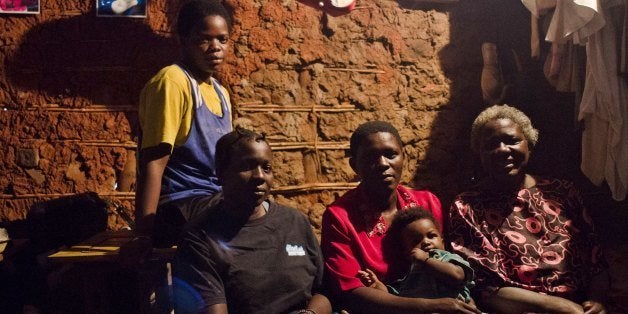 This is the second installment in the "Designing for Social Impact" series on networks and communities. You can find the first entry from Katrina Pugh here and the third entry from Breen Byrnes here. Below you'll find a great example of how the Women's World Banking Leadership Community has succeeded by embracing all eight dimensions.
How do you bring people working in geographies as far-flung as the Dominican Republic, Bosnia, Uganda, Mongolia and Tonga together? The simple answer is: technology. But if you want these people to achieve a specific goal, you'll need more than technology, you'll need a community designed with purpose.
We launched the Women's World Banking Leadership Community with seed funding from the Cisco Foundation in 2012 as a specific answer to a specific need. Women's World Banking holds leadership development programs for professionals across the globe who lead bank and non-bank institutions. Their institutions are dedicated to providing financial resources like loans, savings accounts and insurance to low-income women. We believe that for financial institutions to serve this client segment well they need to be effective, innovative and sustainable. To that end, our leadership programs aim to develop principled and visionary leaders for serving the women's market.
The trainings at the leadership development programs are rigorous. They are meant to inspire the attending leaders to return home with a new sense of energy to address strategic business and leadership issues. Instead, because the lessons ask the leaders to approach situations in such a radically different way, it often leaves them feeling a bit isolated at their home institutions. So, we set out to provide leaders with a space to support and encourage each other, and to help improve the adoption of leadership approaches such as planning leadership succession, coaching their team through change or incubating an innovative new business idea. Perhaps most importantly, we wanted to extend microfinance industry leaders' support for each other as they "re-enter" their organizations after attending our workshops. To achieve this, we needed a technology-based collaboration solution.
More than a tool, we also needed to foster a community.
We led with a strategy that we hoped would both tell us how to shape the technology (e.g., what features and functionalities should our online platform have?) and how to bring the community of program graduates together as co-learners using technology.
So, we teamed up with Katrina Pugh, who with Laurence Prusak, had been researching communities of practice, also called "knowledge networks", for The Bill and Melinda Gates Foundation. (See "Designing Effective Knowledge Networks," Sloan Management Review, Fall 2013. Also see Katrina Pugh's take here.) Their "Eight Dimensions of Network Design" became a helpful roadmap, informing our design in a way that accelerated the learning process for microfinance leaders and created a safe place for them to share ideas and practice new leadership behaviors.
Here's what we did, using their eight strategic, structural, and tactical design dimensions:
1. Leaders' Shared Theory of Change: Our philosophy is that members share ownership and responsibility for the community's success. All messaging and activities highlight the fluidity between expert, learner and facilitator (or "convener"). Women's World Banking leadership development alumni also participate in our governance group, known as the "Core Team."
2. Objectives/Outcomes/Purpose: A key objective is to empower leaders with new skills by providing a space for mutual support and peer learning. For instance, community members have the ability to co-create knowledge products that can be shared among our alumni or more broadly with the industry. One group of community members who are senior leaders created "10 Steps for a Successful Transition from Program to Office" after meeting virtually to make sense together of their classroom training. Their collective wisdom is now part of the curriculum for our Women in Leadership Program.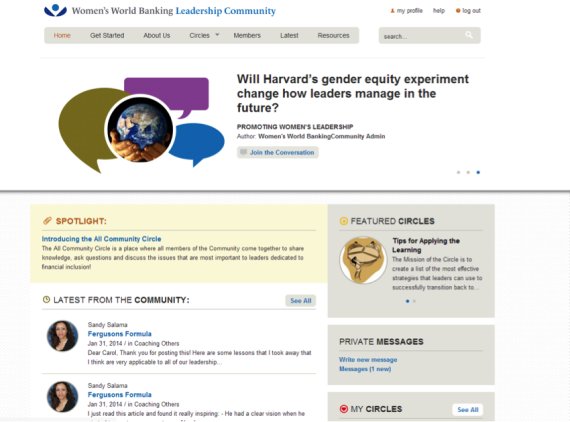 A snapshot of everything going on in the community. This is a "preview" of the new design launching Winter 2014.
3. Role of Expertise and Experimentation: Members of our community are hungry for new ideas about institutional and individual performance to take back to their local institutions, play with, and adapt. They demonstrate remarkable openness in discussing challenges they face and their search for solutions, a humility we have found in even our most accomplished leaders. They share in safety; members agree that "what is said here stays here."
When offering webinars, we emphasize the practitioner as expert, a belief that is part of Women's World Banking's DNA. For example, a graduate, inspired by our leadership program, spoke about an innovative way his institution is serving rural women. In another case, leaders from the Middle East shared institutional challenges and responses to unrest in Lebanon, Egypt and Jordan.
4. Inclusion/Participation: Community membership continues to grow as we invite new cohorts of the leadership program alumni to join. We have developed an on-boarding model whereby existing members welcome new members by posting encouraging welcome notes. We give new members the opportunity to join existing conversations with respect, and we encourage openness and cross-fertilization rather than exclusivity and silos.
5. Operating Model: The community's original governance structure included our grantors (Cisco, also the hosts of the ImpactX platform), the Women's World Banking team, our external evaluator, the Research Center for Leadership in Action, and member-leaders. Within the communities is another layer of structure: members optionally join "circles," or sub-groups, where they focus on a specific leadership topic.
6. Convening Structures: The online platform is a collaborative site where members can read activity feeds, discuss topics, share documents, and participate in circles. While the asynchronous technology is central, we also place a strong emphasis on real-time interaction, using Skype to enable leaders to hear each other's voices, engage in dialogue, and build rapport. The community is built to adapt to the needs of members. Every time we onboard members, they suggest new circle topics. For example graduates of our Women in Leadership Program added a circle called "Promoting Women's Leadership." On the request of a member, we also helped community members in Latin America to organize a regional alumni reunion in person for a deeper real-time human connection.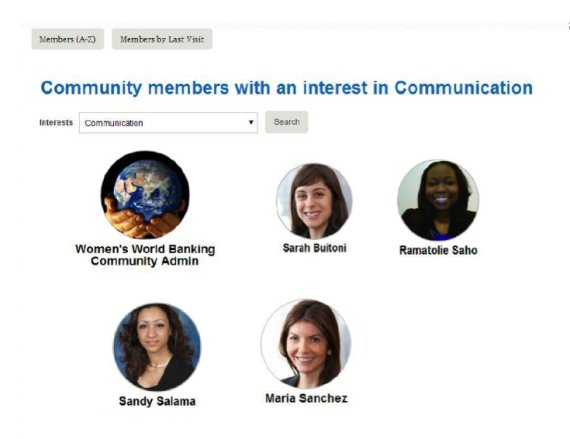 With the Women's World Banking Leadership Community profiles, members can finding other members by clicking on "interests" tags in their profiles.
7. Facilitation and Social Norm Development: In all circles, norms like reciprocity, transparency, and confidentiality are displayed prominently on the entry page. While Women's World Banking staff has initially taken on partial facilitation responsibility as convener of the community, the goal is to have the leadership community be practitioner-led. This started with alumni participating in the core team and now extends to other important ongoing roles like facilitation (online and in webinars) and content management.
8. Metrics, feedback and incentives: Women's World Banking tracks quantitative usage data (such as site visits, page views, discussion counts, geography and search terms). Meanwhile the core team focuses on qualitative outcomes, including member engagement across all convening structures (on the platform, in person, on Skype), depth of comments, quality of interaction, and learning uptake. For example, at a recent all-community webinar Women's World Banking publicly recognized three insights generated by the "succession planning" circle on grooming homegrown talent, motivating staff and trading off between internal promotion and lateral hires.
Our community launched with 19 members from 14 countries, a number that has grown in 18 months to 86 leader-members from 28 countries. Through continued support from the Cisco Foundation, the next step in our community's development is a technology refresh to enhance usability and spur engagement among members. All the while we're keeping in mind that technology must be coupled with intentional design in order to achieve learning, knowledge creation and meaningful outcomes.
Next week, we will publish the final article of the series. In that post, you will see how World Wildlife Fund expanded their early engagement in an online learning platform by focusing on two vital dimensions: convening structures and facilitation.