July 14, 2012, would be the hundredth birthday of the quintessential American troubadour, Woody Guthrie. As we celebrate the songwriter who created "This Land Is Your Land," "So Long, It's Been Good to Know Yuh," and so many other classic songs, let's remember that Guthrie was a three-dimensional figure; he was an artist, a citizen, a father, and a friend. Outside of his family archive in Mt. Kisco, New York, there's no better place to get a sense of Woody's life and times than the American Folklife Center at the Library of Congress (AFC). In addition to recordings of Woody, AFC has unique manuscripts, photos, and a decade-long collection of correspondence between Woody and the archive, from 1940 to 1950, that shed light on one of the great figures of America's twentieth century.
Possibly the most historically significant of AFC's Guthrie treasures is a mimeographed booklet of ten songs, which Woody printed and sold for a quarter in 1945. Each copy was signed and personalized with touches of color. The booklet contains the earliest published text of "This Land Is Your Land," and if any further proof were needed that the song is not a nationalistic anthem for the United States, but an ode to internationalism and collectivism, this version provides it. Instead of the familiar chorus delineating the lower 48, it includes Canada, too!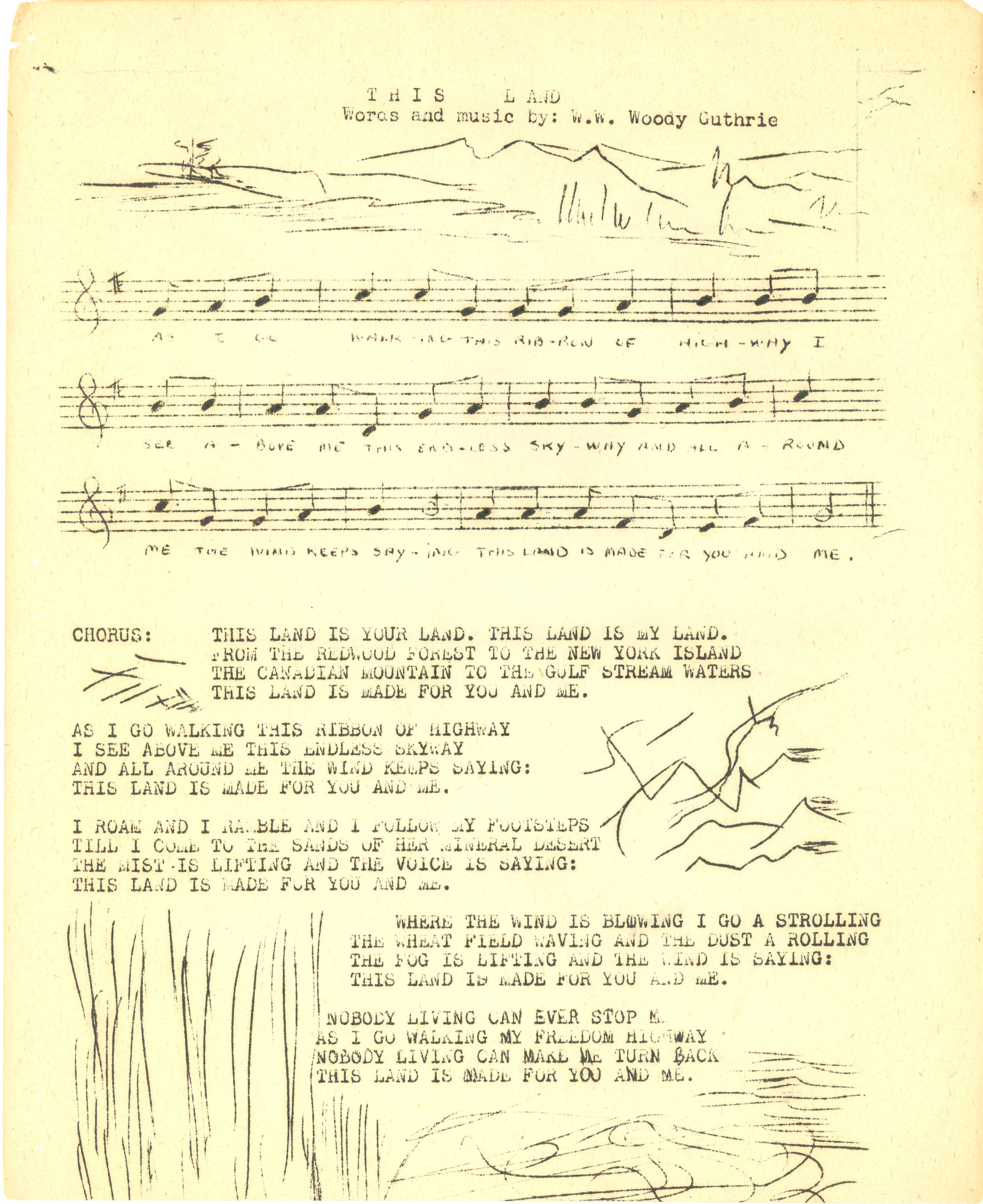 "This land is your land, this land is my land

From the redwood forest to the New York island

From the Canadian mountain to the Gulf Stream waters,

This land was made for you and me."

The collection includes contracts, permission forms and memos, but also letters, postcards, and essays sent by Woody from all over America. One of the most enjoyable is "Vote for Bloat," a rambling discourse on the 1940 election.
The piece includes some of Woody's famous line art. One witty passage, which you can read above, has a poignant and political punchline:
"Down in Oklahoma they might not go no further than to cuss you out good and proper when they meet you on the streets but when election day rolls around Boy you better come to town a fighting. [...] Of course you see fellers down in there that aint got sense enough to sell their vote to the highest bidder but one particular occasion I remember [...] I heard two fellers a talking about which side to sell to and one man said Well I sold out to the republican for two dollar. [...] And the other man said the democrat paid him two and a quarter and a chew of just pretty fair tobaccer. And maybe you think thats funny or odd but it aint because over here in Brooklyn the other night just before the primary I run onto a couple of old boys a talking and one said Well I didnt do so good this year I only got $8 out of the republicans -- but the second feller was somewhat smarter and he said You know I sold out to both sides, 600 from that democrat and 500 from that Willkie button man and -- then one of them said after a little bit -- outside of that I aint worked none in a half a year."
A birth announcement for Guthrie's son Arlo, sent to the American folklorist Alan Lomax in 1947, is one of AFC's most whimsical treasures.
Typed and embellished with paint by Woody, it's a handmade greeting card and envelope, complete with a finger-painted mother and baby, a greeting to the Lomaxes, and many instances of Arlo's name.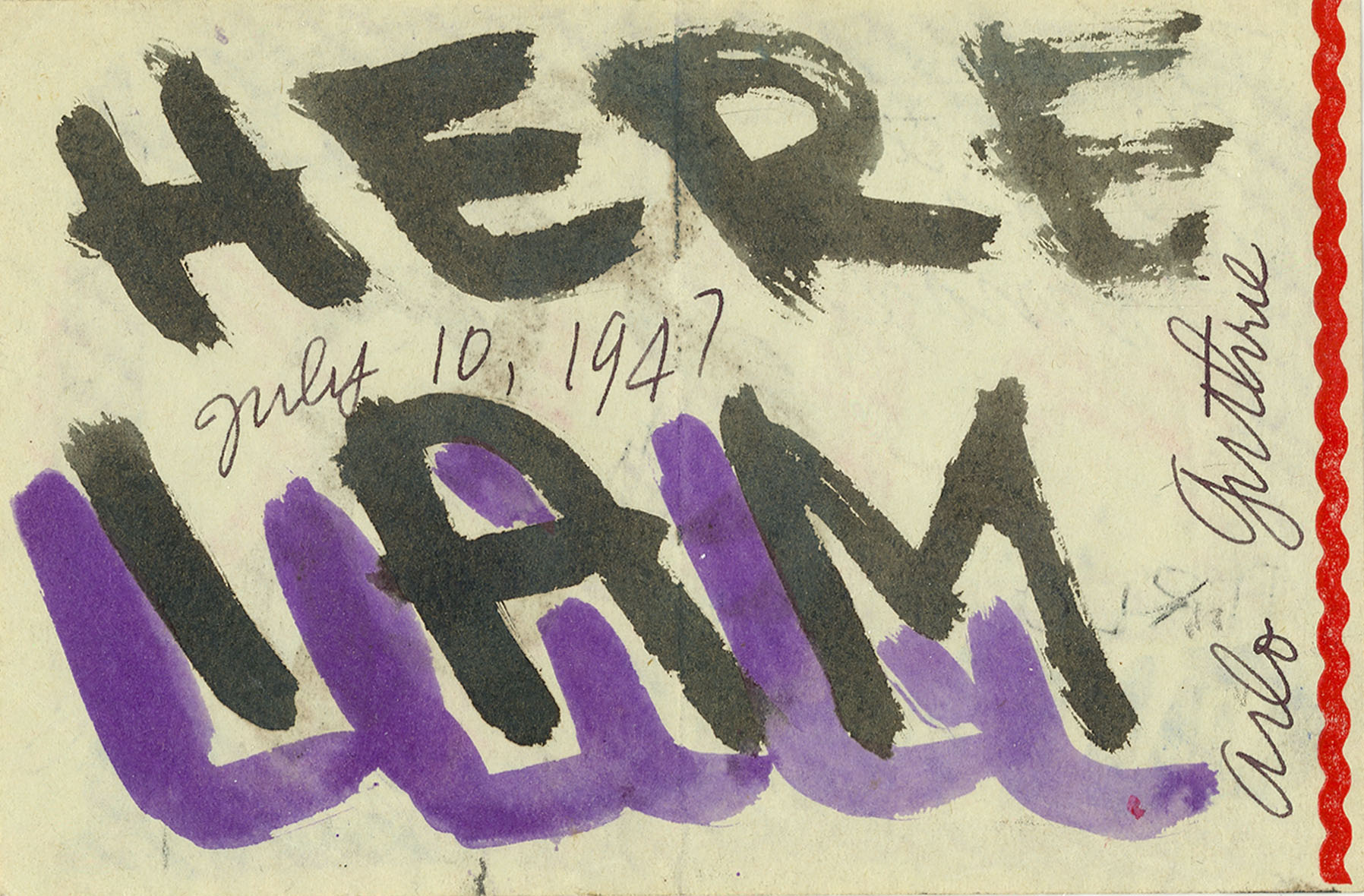 Inside is a typed passage salted with Woody's famous wordplay. Dated "Tenth of Julio, Nineteen Forty-Seveno, Brooklyn New Yorkio," it's ostensibly a note from the infant Arlo, introducing himself to the Lomaxes. "This is to serve notice on you Lomaxes," it begins. "Alan, Chavella, Little Annie Banannie . . . and to let you know I made it out."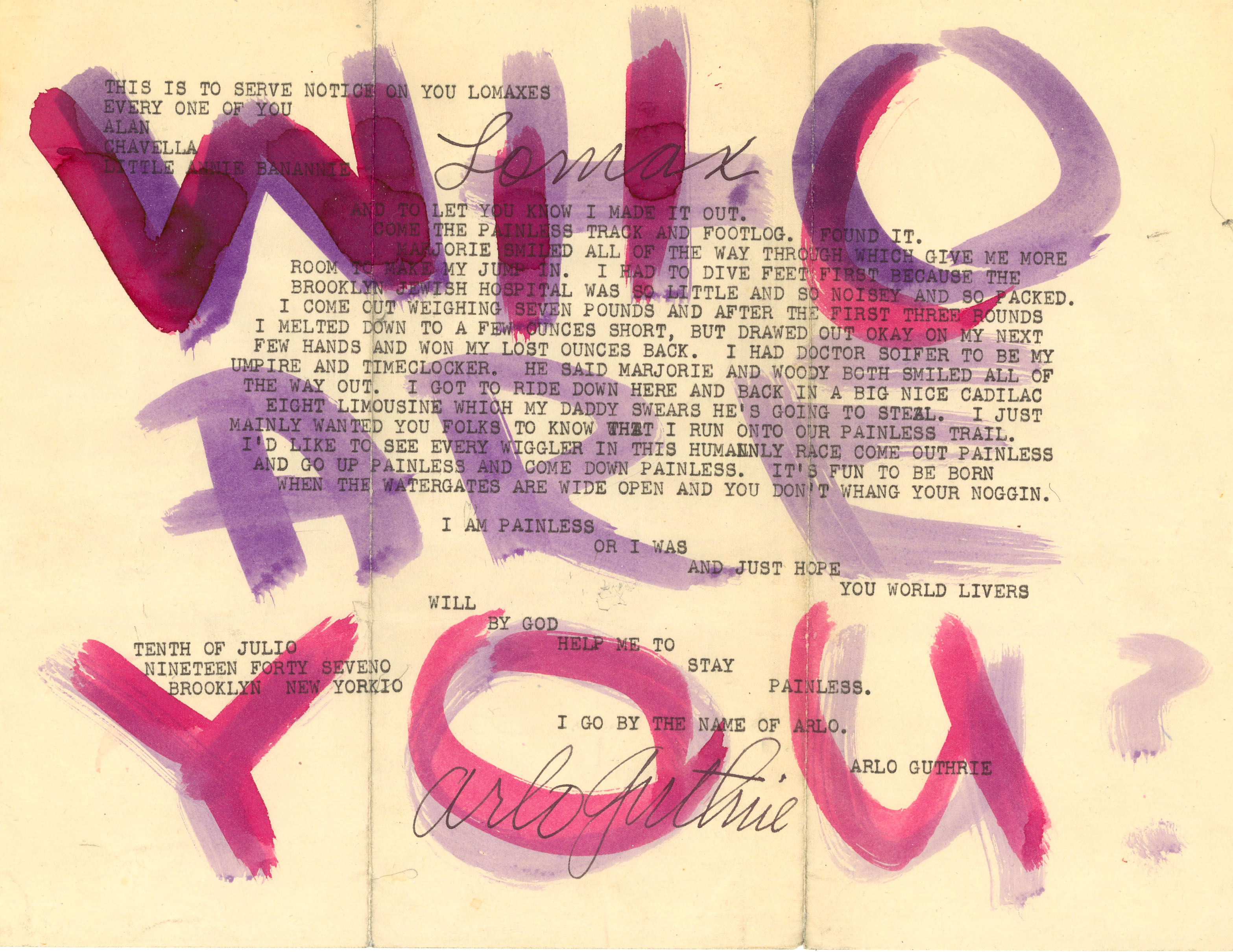 The guilt Woody often felt in regards to his family is obvious in a collection of letters between the great songwriter and the English music promoter Ken Lindsay, written when Guthrie's diseases of alcoholism and Huntington's chorea were taking their toll. In one, dated September 30, 1952, Guthrie admits, "My wild disease of alcoholism got so terribly out of hand that I forsook and forsaken and tookoff [sic] and left [my wife Marjorie] at home here to battle her wits and senses out to attend to all the needs and comforting of our three kids."
The letters also contain some of his usual quirks and creativity; the first one, from February 26, 1952, contains some items that he called "homehammered, longyshort, lowlyhung progressive poems" typed on the back of wrapping paper from a local dry cleaner. Another, written from the home of Guthrie's friend Stetson Kennedy contains a pen-and-ink drawing of a goat, possibly executed by Woody's third wife, Anneke Van Kirk.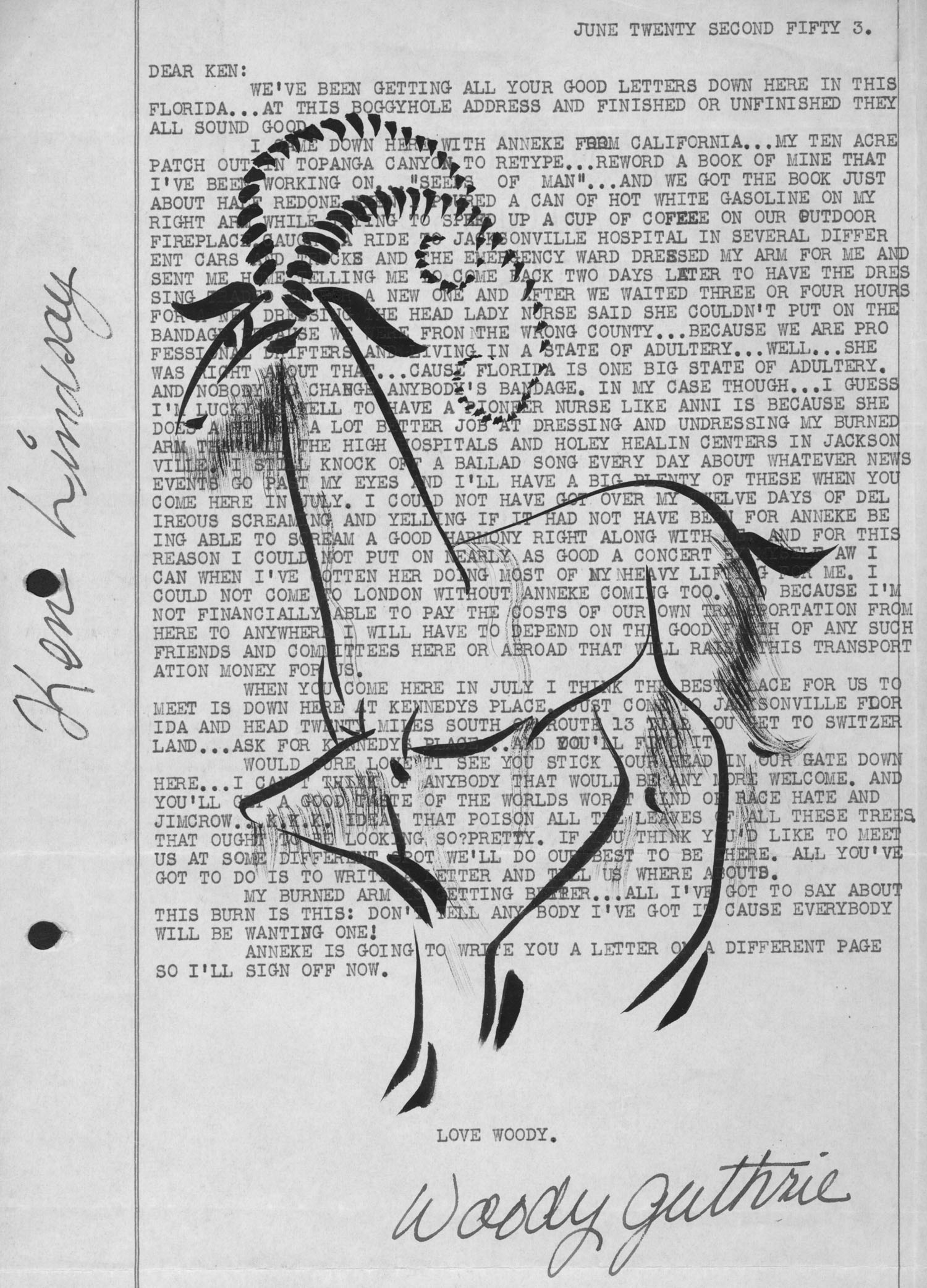 Sprinkled throughout AFC's collections are other items relating to Woody, including recordings of the troubadour singing traditional and original songs, photos of him with friends such as Jean Ritchie and Burl Ives, a lecture by his daughter Nora, as well as posters, letters, drawings, and songbooks. AFC provides a finding aid to collections with significant helpings of Guthrie.
CLICK through for a closer look at Guthrie's letters, scores and art:
PHOTO GALLERY
Woody Guthrie's Letters, Scores, And Art
REAL LIFE. REAL NEWS. REAL VOICES.
Help us tell more of the stories that matter from voices that too often remain unheard.