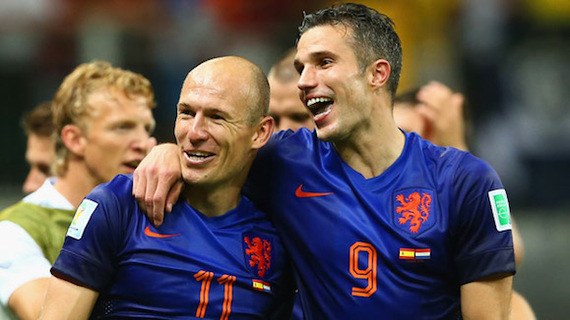 Netherlands 3-2 Australia, Spain 0-2 Chile, and Croatia 4-0 Cameroon.
The World Cup 2014 goal glut continues on unabated, with so many eager to "contribute a verse" as poet Walt Whitman wrote -- Wenesday, there was the lethal Dutch forwards Robin and Robben (van Persie and Arjen respectively) each scoring again with his deadly left foot, along with Major League Soccer-based Aussie Tim Cahill scoring in possibly his last World Cup game.
And then there was Chile's whole tigerish, harrying team doing their nation proud while knocking out the reigning champions, Spain -- the King is dead, long live the King. Spain's early elimination after only two games continues the trend of recent holders exiting during Group Play, including France in 2002 and Italy in 2010.
In spite of the refreshing and ongoing theme and shouts of "golazo," we may also be witnessing the possible death of tiki-taka -- that short passing and constant movement and possession strategy perfected by Barcelona and Spain's national team. Ironically, its naissance is linked with former Barca manager and transcendent Dutch national hero Johan Cruyff -- he of the "total football" Netherlands team in the 1970s and the nation that has also dramatically lost 3 World Cup finals. Will a fourth time be a charm?
But if we're not quite seeing tiki-taka's demise, then at least it's a partial retreat of all-out possession play. And in its place, rapier fast, counterattacking play as seen by Mertens' winning goal for Belgium (on Tuesday), Robben's lethal left footed goal Wednesday for Netherlands, immediately followed by Cahill's vicious volley for Australia, ultimately in a losing cause. All from counterattacking play.
Then there was Chile showing its triple-P of pace, power and high pressing. They played an aggressive closing down strategy and refused to let once mercurial Spain settle into its passing rhythm. That initially led to Spain's Alonso being harried in midfield and giving the ball away. Quickly Chile counterattacked setting up a Vargas opener, creating bedlam in the Maracanã in front of a raucous pro-Chile crowd. Aranguiz added a second, and that was that for Spain. Chile is now going through to the knockout stage. Next up for Chile is a game against Netherlands, for all the marbles, with the team that finishes first in Group B, probably not having to play Brazil next in the knockout round, which is a huge incentive.
I previously observed that it's as if the spirit of "jogo bonito/beautiful football" has permeated this tournament and inspired the players to put on a show. And what a show it's been so far, only seven days in. Croatia also beat Cameroon 4-0, with a Mandzukic double, to put the pressure on Mexico, and keeping Group A wide open for when they play head-to-head on June 23.
And today, June 19, two former World Cup winners, England and Uruguay, do battle to stay in contention in Group D. England's captain Steven Gerrard honestly admits, "It could be a terrible, long, frustrating summer if we don't get it right on Thursday. There is no hiding place for a player when you go out of a tournament earlier than you expect. It can be tough and it can take an awful long time to get over it." And in a battle cry, he adds, "We have to be bold and aggressive - that is where we looked our strongest against Italy - because our attacking play will cause our next two opponents endless problems. The key is how we defend."
As for Spain, they'll now be facing that terrible, long summer. Through their outstanding winning run, which has included two European Championship titles (2008, 2012) and the World Cup in 2010, they have created undeniable history with their mesmerizing tiki-taka play. We celebrate their time in the sun. But as often happens to champions, they don't always go out on top. Sometimes it's just a meek fade to Hollywood black. As T.S. Eliot wrote in The Hollow Men: "This is the way the world ends/Not with a bang but a whimper."
Follow Ashley Jude Collie's World Cup coverage at MadeMan.