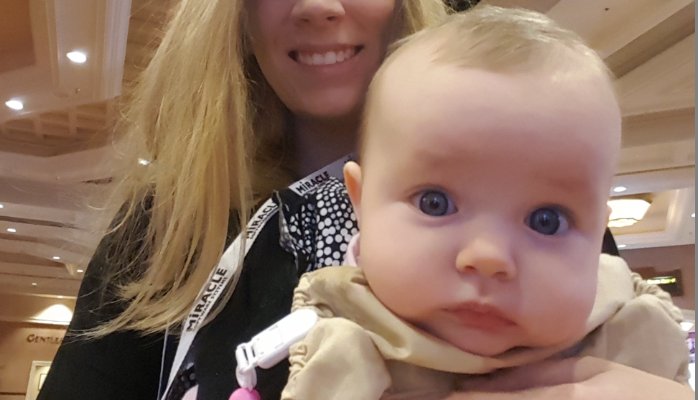 My mom was different. Even though she could have easily settled into the role of a stay-at-home mom, as many wives of farmers do, she elected to work outside in all the elements right alongside my dad as a farmer-hand.
And, where did this leave all of us kids?
As soon as we were brought home from the hospital, we were a part of my parents' work-life - being lugged around when we were babies and contributing to the farming business as soon as we were physically able.
Likewise, my childhood best friend was literally raised in her parent's small business in our hometown. The entire family was at the business so often, they built secondary living quarters in the restaurant's attic, where kids and babies could be fed, take a nap, and do homework.
I don't think my experience or that of my best friend's is all that unique on Main Street America. Kids are a part of small businesses everywhere, which allows for women to both raise a family and be financially independent.
But, this scenario has not translated very well into corporate America.
In fact, anachronistic narratives tell women they can't have a successful career and children. Remember Peggy Olson in Mad Men? A Vox editor wrote about Peggy: "She gave up her and Pete's baby so she could have a life for herself, a real start at a career as a copywriter."
Lisa DeLuca and other leaders in the technology industry are turning this rhetoric on its head.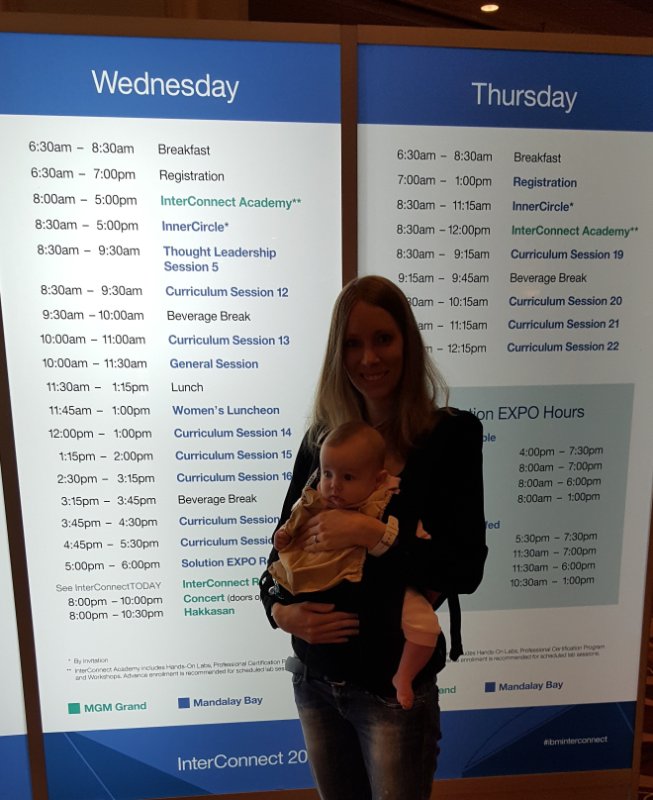 Famous IBM inventor Lisa DeLuca attends major technology conference with her 5-month-old daughter.
DeLuca recently attended one of the tech industry's most important conventions with baby twins in tow. Now, before you picture a nanny doing all the heavy lifting in a hotel suite, while inventor-mom takes on the tech world, you may want to take a closer look at the photo above.
Lisa DeLuca, who just happens to be the most prolific female inventor in all of IBM's history, a famous TED talk speaker, and published author, traded in her heels and business suit for a baby carrier during the final day of the IBM InterConnect Conference. Earlier in the week, DeLuca was busy engaging audiences while sharing her expertise in mobile, IoT, commerce and consumer evolution. By the afternoon on the last day of InterConnect, most people were heading to the airport or searching out a comfortable spot to relax.
But, Lisa DeLuca is not like most people.
And, she proved that when she walked into the convention with a baby. DeLuca and her 5-month-old daughter made their rounds throughout the booth space and speaker sessions -- learning from other IBMers, energizing customers, and networking with IBM Fellow, John Cohn. She was wrapping up their afternoon by generously packaging meals at the #StopHungerNow booth, when Deluca reports an unidentified man came up and chastised her for having a baby at InterConnect.
"He said having Emily [her baby] there was a 'security issue,'" Lisa DeLuca explained.
Can you imagine what the hungry mothers and their children who are to be the recipients of Deluca's generosity would think about this purported security issue?
Lisa DeLuca, a Master Inventor at IBM, a genius, a mother, preparing meals for other mothers...
A wise person would call this a full-circle, generous act of humility, a beautiful glimpse into the future of corporate America, or, at the very least, a photo opportunity... but certainly not a security issue.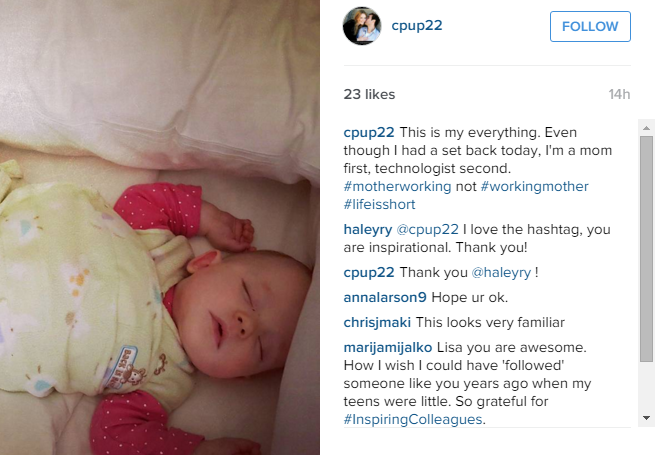 Lisa DeLuca is a self-proclaimed #motherworking not #workingmother.
How will mothers like DeLuca influence technology organizations and the industry at-large?
Well, with a new generation of highly educated and capable mothers at the helm, the technology industry might just start to look a bit more like Main Street and old-fashioned farming. My sister participates in a national farming convention every year, where children are not only in attendance, but special events and spaces are designed just for them. Now, thanks to women like Lisa DeLuca, who are courageously paving the way, the technology industry is poised to take on similar initiatives and be better for it.
Anna Seacat is a speaker on the topics of personal online branding and socially minded consumerism. She directs marketing for the Cloud IAM portfolio at IBM and is passionate about conversion optimization. Follow her on Twitter: @AnnaSeacat.
This post originally appeared on LinkedIn.
Calling all HuffPost superfans!
Sign up for membership to become a founding member and help shape HuffPost's next chapter