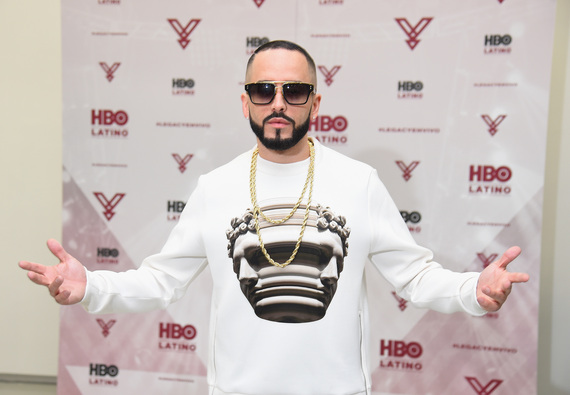 Whoever said it's lonely at the top has obviously never met reggaeton artist Yandel. The Puerto Rico native was in great company Tuesday night as he celebrated his induction into the elite group of HBO Latino Concert special subjects, which include the likes of Carlos Santana (Live it to Believe it, Live From Mexico), Thalia (Viva Tour En Vivo), Romeo Santos (The King Stays King) and Reik (En Vivo Desde El Auditorio Nacional), to bring the channel it's first installment representing the popular Urban Latino genre.
The concert special, aptly titled Yandel: Camino al Concierto, follows the multi-platinum album selling artist as he prepares to rock the stage at the Puerto Rico's famed José Miguel Agrelot Coliseum as part of his Legacy-De Lider a Leyenda Tour. But lest you think the entire special is about one man's journey from leader to legend, from the makeup chair to the stage, think again. Camino is so much more than that. Exclusive interviews with Latin music heavy hitters Wisin, Tego Calderón, and even tropical music icon Gilberto Santa Rosa, reveal how Yandel's camino is part of a journey they share not just as artists and music lovers, but as an entire community.
A fusion of Jamaican dancehall, soca, salsa and bomba, to name only a few influences, reggaeton originated in the belly of the barrios of Puerto Rico as a sort of grito, an outlet for young people to talk about everything from drugs, violence and poverty to friendship, love, and sex. It was a way for them to represent and talk about life as they knew it. Accordingly, as life as the artists know it has changed, so has the music. Camino is a testament to that.
The doc follows self-confessed perfectionist Yandel as he tirelessly works with his team to pull off a "clean," "elegant" and "sophisticated" show for his fans. Yes, you read that right: clean, elegant and sophisticated. For the former barber and twenty-year reggaeton vet, this show is as much a homecoming as it is an opportunity for him to demonstrate to the world how far he, the genre, and the reggeaton community has come, and where it can go from here.
Now, I'll admit I'm not the biggest reggeaton fan. Something about the repetitive dembow beats and lyrics about gas and ass just rubs me the wrong way, and so I gave up on it years ago. That said, Iooking around the packed venue during Tuesday evening's screening, I was able to see what all the hype surrounding Yandel's Camino was all about. Everyone from Gotham actor W. Cortes to international model Denise Bidot and tropical music sensation, Bachata Heightz came out to support Yandel as he debuted his history-making special. Guests of all ages and ethnic backgrounds milled about the venue, snapping group selfies with old and new friends. During the screening, everyone lost their ever-loving minds whenever Yandel's wife and children were on screen, just as they had for Tego Calderon and Wisin. The evening was electric, filled with effusive synergy and positive, supportive energy. It was, well, special.
Though I'm hardly a reggeaton convert, I have to give it up to HBO Latino and Yandel for putting together a concert special -- and subsequent pre-screening event -- that showcases how the ever-evolving genre has united people from different socioeconomic backgrounds and generations to build a diverse community of music lovers. But don't just take my word for it. Check it out for yourself.
Yandel: Legacy-De Lider a Leyenda Tour premiers Friday, April 10th at 8PM ET/7CT. The special, Yandel: Camino al Concierto, will air at 7:30PM ET/6:30PM CT leading up to the concert.
Calling all HuffPost superfans!
Sign up for membership to become a founding member and help shape HuffPost's next chapter