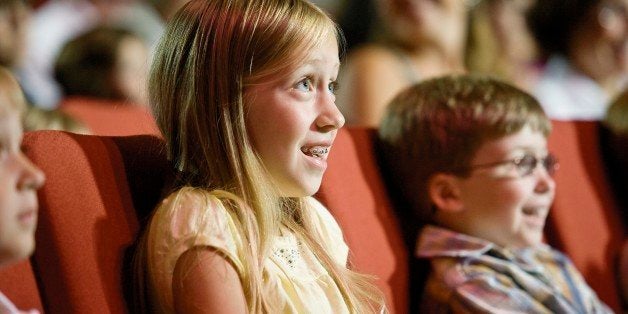 Cultivating hope in young people...
As a child growing up with an alcoholic parent, the theatre became my place for hope. There I was able to grow my imagination while learning important life skills from the different characters I both watched and played on stage. It was my outlet for expression and also where I got to practice the art of courage.
If it weren't for over a decade of drama classes and live performances, I don't know that my own personal struggles would have had a happy ending.
You see the theatre is a magical place for children. It instills a sense of freedom to their spirit while allowing them to trust their own intuition and instincts.
It's thanks to the theatre that I had a space to hear about hope and a safe setting in which to experience it.
Now as an adult, I am filled with gratitude and wonder for the work of Canada's largest and oldest professional theatre company for young people, Young People's Theatre.
50 Wonder-Filled Years...
This year marked the organization's fiftieth year, illustrating a huge milestone and success. For fifty years Young People's Theatre has been engaging our youth to become thriving individuals with keenly developed emotional, social, and intellectual skills. On top of fifty seasons of staging shows of high esteem, YPT also runs a creative and comprehensive Drama School.
Celebrated actors who have graced the stage at YPT include Brent Carver, Cynthia Dale, Megan Follows, William Hutt, Sheila McCarthy, Kate Reid, Jackie Richardson, Martin Short, Eli Wallach, and trio Sharon Lois & Bram. Acclaimed Drama School alumni include Keifer Sutherland and Aubrey Drake Graham, best known as the actor/rapper/singer Drake. It's clear that YPT has played a significant role in supporting some of Canada's finest talent.
YPT is also making meaningful marks within the community ensuring that the theatre remains accessible. This year they will provide over 100 bursaries for its Drama School students as well as 20,000 free and subsidized tickets to children who do not have the economic means to attend professional theatre. Plus they have several educational initiatives running in Toronto classrooms along with workshops in community shelters and agencies.
For fifty years they have stayed true to their values and continue to place learning and opportunity at the centre of everything they do.
A Wonder-Filled Evening...
In celebration of their fiftieth anniversary, this multi-award-winning company hosted a Wizard of Oz themed gala in the heart of downtown Toronto.
Guests were welcomed into the Emerald City inspired venue by all of the "Oz" favourites including the Tin Man, the Lion, the Scarecrow and miss Dorothy Gale complete with her ruby red slippers. A highlight of the décor was the beautiful recreation of the signature yellow brick road and the infamous enchanting poppies.
I was particularly pleased with the incredible meal provided by Oliver & Bonacini which had my Holistic Nutritionist stamp of approval. The cabernet braised boneless short rib came from grassfed, antibiotic free, and hormone free cows. It was served with a side of spinach so flavourful that I would guess that nobody skipped their greens that night.
While enjoying dinner, I was deeply touched by the beautiful words spoken by Nancy Webster, the Executive Director, and Allen MacInnis, the Artistic Director. They really carried forth the message of growth and spoke so passionately of their mission to tell children stories that end in hope.
Though the room was filled with adults that evening, it was unmistakable that the vision for hope was just as important for us too - the big kids.
I've attended galas before but the energy in this room was unlike any other. I could tell that everyone was genuinely happy to be there, committed to the vision, and ready to take on another fifty years.
So to Young People's Theatre...
I sincerely thank you for the work that you do and the magic that you create in this city. You have remarkably provided hope for over five million young people. It is now my hope that you will continue to empower children who may be struggling like I once was, to produce happy endings in their own lives.
Here's to another wonderful 50 years!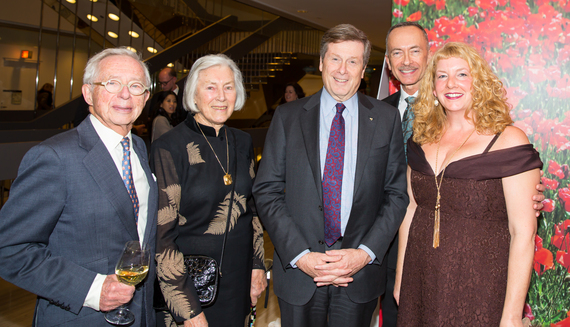 Philanthropists Michael and Sonja Koerner with Toronto Mayor John Tory and YPT's Artistic & Executive Directors Allen MacInnis & Nancy Webster at the 50th Anniversary Gala of Young People's Theatre on October 29 at Arcadian Court in Toronto. Photo by Rachael McCaig.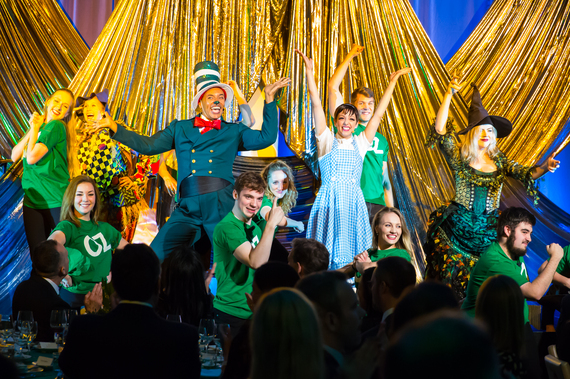 Young People's Theatre star alumni Steffi DiDomenicantonio as Dorothy and Thom Allison as The Cat in the Hat perform a number with Sheridan College Music Theatre students at YPT's 50th anniversary gala on October 29 at Arcadian Court in Toronto.
Calling all HuffPost superfans!
Sign up for membership to become a founding member and help shape HuffPost's next chapter