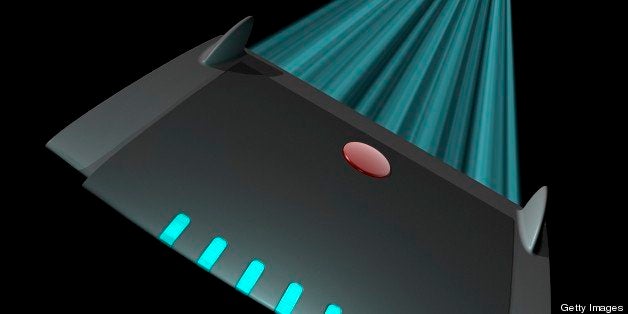 Recently I became aware that many if not most home Wi-Fi routers are very easy to hack by cyber criminals. I thought, my mom has Wi-Fi, and so probably does your mom. So here is a letter you can share with your loved ones -- be they tech-savvy or not, to protect them from the hidden dangers lurking in their homes
I don't want to scare you too much, but I want to let you know about a potential issue with your Wi-Fi router. First, Mom, your router is not your modem. In most cases your modem is the small box with a row of blinking lights that connects directly to your Internet Service Provider's feed which is either a cable connection coming out of the wall or a phone line. From there the signal is converted and sent to your router through a "cat5" cable that looks like a bigger, fatter telephone wire. Your router (in most cases) is the thingy that's then plugged into your computer or gives off your wireless connection.
Anyway, a recent study said researchers "have discovered critical security vulnerabilities in numerous small office/home office (SOHO) routers and wireless access points. We define acritical security vulnerability in a router as one that allows a remote attacker to take full control of the router's configuration settings, or one that allows a local attacker to bypass authentication and take control. This control allows an attacker to intercept and modify network traffic as it enters and leaves the network."
In case you didn't catch all that, it basically means the cyber bad guys can break into your Internet data stream just like a burglar might break into your car or house and grab important stuff like your passwords, SS number or bank account info that you don't want them to have. A lot of common big-name routers were tested and a lot of them failed. They warned that basically even if your router was not on the tested list, you should still be concerned.
Jake Thompson, one of the security analysts, disclosed some easy-to-implement tips, including some obvious ones like making sure that you change the router's default username and password credentials. However, he cautioned, not all routers let you change the username. They also recommended that "people use WPA2 security protocol, over WEP" but that is probably going to be beyond your understanding
So I am going to recommend something even simpler: adding a layer of protection by installing a VPN. Consider it an easy, cheap (in this case free) insurance policy. When on a PC or laptop, install and launch Hotspot Shield VPN. It's a free VPN software, but I prefer the paid version; the expanded paid option is a little quicker and offers a cleaner interface. Either way, it's a great option that will protect your entire web surfing session, securing your connections on all your devices regardless of any security issues with your router.
Related
Popular in the Community