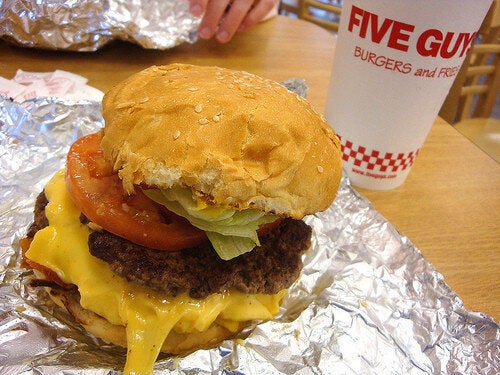 Zagat recently polled 6,064 people for its annual Fast Food Survey, in categories ranging from best coffee (Starbucks) to best salad (Panera). Among chains with up to 5,000 locations, Five Guys was deemed the most popular (which perhaps comes as no surprise), followed by Panera, Chipotle, Chick-fil-A and in fifth place, In-N-Out. Last year, Five Guys also took top prize, though In-N-Out was the victor in 2009. Five Guys was not only the most popular chain; it also dominated the best burger category, putting In-N-Out in second place and McDonald's in fifth. McDonald's did, however, rank highest in value, child-friendliness and drive-thru experience.
Among chains with over 5,000 locations, Subway took the top popularity spot, followed by McDonald's, Wendy's, Burger King and Taco Bell bringing up the rear.
The survey also covered full-service chains. Cheesecake Factory won in best salads, appetizers, desserts and value, but fell to fifth place for its pasta offerings. Although Maggiano's Little Italy dominated the pasta category, its value, steak and seafood were not as well-liked. Other notable winners included Red Robin for its burger, IHOP for its coffee and Cracker Barrel for its breakfast.
The survey participants averaged 6.3 meals per month at a fast food chain (the national average is about 10 fast food meals monthly) and 4.4 visits to a full-service chain.
Here are some of the key results of Zagat's fast food survey:
Fast Food - Large Chains
1. Five Guys
2. Panera Bread
3. Chipotle Mexican Grill
4. Chick-fil-A
5. In-N-Out Burger
Fast Food - Mega Chains
1. Subway
2. McDonald's
3. Wendy's
4. Burger King
5. Taco Bell
Best Burger
1. Five Guys
2. In-N-Out Burger
3. Wendy's
4. Burger King
5. McDonald's
Best French Fries
1. McDonald's
2. Five Guys
3. Wendy's
4. In-N-Out Burger
5. Chick-fil-A
See the full results here.
Do you agree with the results? Let us know in the polls below. Fast food chains listed are based on Zagat's results for most popular chains.