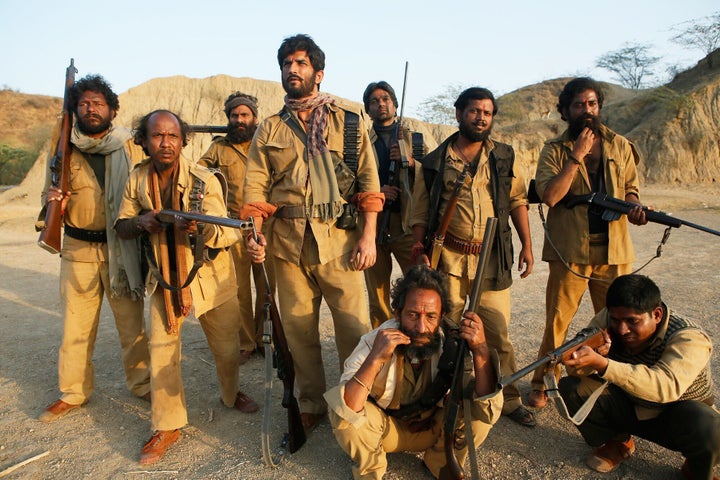 List-making season can be extremely traumatic and most writers would go to really extreme lengths - like having profound debates on whether art should be quantified numerically at all - to avoid writing.
However, this year, with some really, really bad films, we had the good films that reinstated our faith in cinema, just when it came to a crashing low (looking at you, Kabir Singh).
However, compared to the absolutely terrible, creatively uninspired films that we saw this year, the list of the best Hindi films of 2019 is considerably small.
Anubhav Sinha's Article 15 has a major Brahmin saviour complex, a fallacy recognised by its leading man in an interview with HuffPost India. However, it makes this list because it spurred a log-due discussion around casteism and around the fact that there hadn't been a mainstream Hindi film about the subject in a long, long time. It also spurred discussions around caste representation in the film industry. Of course, none of it negates its explicit problems, but, like Khurrana said, the next film around the topic will address and fix the blindspots of Article 15, as a result of the narrative that emerged after the film's release.
One of the more underrated films of the year, Nitesh Tiwari's Chhichhore is an endearing throwback film that gets the milieu of the Indian college campus on point.
About a bunch of underdogs, led by Sushant Singh Rajput, Chhichhore is a quiet tribute to the healing power of stories while also being a silent comment on the complexity of marriage and parenting.
To make matters better, it has a supremely efficient ensemble (especially Varun Sharma and Naveen Polyshetty) and Tiwari's deft direction ensures that the narrative is constantly engaging and the characters, real, endearing and relatable. Read our entire review here.
Where to watch? Available on Amazon Prime Video.
Well, well, well. It's been a while since we saw a wildly entertaining mainstream Bollywood blockbuster that delivers what it promises. War is lavishly mounted, features a sizzling Hrithik Roshan and a fairly watchable Tiger Shroff (there's a lot of homoerotic tension here) and a plot that's pretty bonkers but on the right side of politics. It's also a film that never has a dull moment - the action is complimented by the witty one-liners - and the action is pretty solid given Hindi cinema's questionable repute in that department.
More importantly, in a year dominated by a hyper-nationalistic streak, War subverted that idea with confidence, ripping apart archaic notions of patriotism.
Where to watch? Available on Amazon Prime Video.
Abhishek Chaubey's film may not have done the numbers but years later, history and film lovers aren't going to debate its box-office economy but the sheer artistic greatness of the film. Featuring a haunting score, Sonchiriya investigates the moral and karmic burden of crime on those who commit it and how those notions are tied to ideas of masculinity and patriarchy. Led by a terrific performance by Sushant Singh Rajput, Bhumi Pednekar, Manoj Bahpayee and Ranveer Shorey, Chaubey crafts a sophisticated drama of rebellion and redemption.
Shonali Bose's The Sky is Pink tackles the story of a serious illness with the lightheartedness and the underlying seriousness of a dark comedy. Both Priyanka Chopra and Farhan Akhtar are exceptionally good as caregivers of their terminally-ill daughter, played with remarkable spunk by Zaira Wasim. As I wrote in my review, "The Sky is Pink is a happy movie about unbearable sadness, a film that pierces the soul, rips the heart apart, and then gently pieces them back together. And it does so with a rare tenderness, a gentle touch that nurses aching wounds by turning them into little specks of strength."
Zoya Akhtar's Gully Boy is a livewire of a movie, a drama that throbs with passionate intensity, a movie that progressively heightens the tension and gives an emotionally fulfilling payoff, the kind where the cheers for Murad in the film are drowned by those in the theatre and you can't tell one from the other.
Featuring a terrific Ranveer Singh, Gully Boy is a fight for your right to dream. Through Murad's journey of finding expression in music that'll also alleviate him from poverty and his mother from domestic abuse, Gully Boy makes an incisive argument about the immortality of art and also functions as a biting critique of convention, monotony, and society's persecution of youthful eccentricity.
Where to watch? Available on Netflix.
Popular in the Community