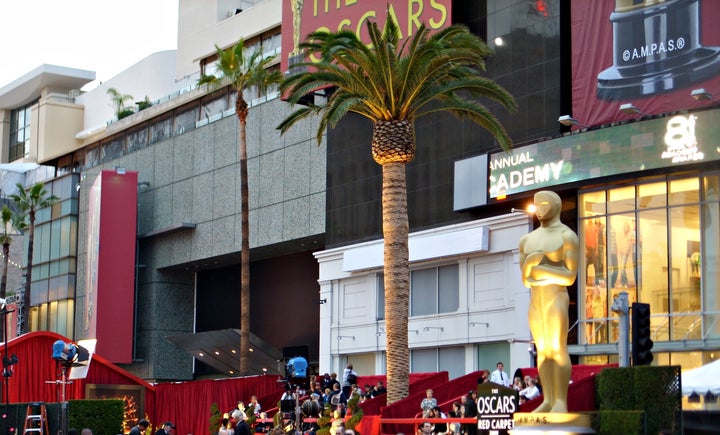 In recent years, awards ceremonies and the fight for social justice have become inextricably linked. Below are a few highlights from last night's Academy Awards:
1. Mahershala Ali won Best Actor for his portrayal in Moonlight, making him the very first Muslim actor to secure an Oscar. While a fantastic achievement, Ali's win stands as a powerful reminder of the underrepresentation and marginalization of Muslim Americans in the U.S., concerns only heightened more recently in the wake of the president's executive order imposing a ban on people traveling to the U.S. from seven predominantly Muslim nations.
2. Iranian Asghar Farhadi won an Oscar on Sunday night for Best Foreign Film, The Salesman. However, Farhadi boycotted the event in demonstration of solidarity with those communities impacted by the President's travel ban. Accepting the award in his place was Iranian-American engineer Anousheh Ansari, the first Iranian woman to travel into space. Farhadi noted that his absence was out of respect for the people of his country and those of the other six nations whom have been disrespected by the inhumane law that bans entry of immigrants into the U.S. Farhadi observed that:
Dividing the world into the us and our enemies categories creates fear. A deceitful justification for aggression and war.
The White House indicated last week that a revised executive order concerning the travel ban will be announced shortly.
3. The Oscars 2017 were far more inclusive and diverse than they have been in the past, with wins by Mahershala Ali and Viola Davis in the best supporting categories. This year marked the first time since 2007 in which more than one African-American actor won a competitive award on the same night. Cheryl Boone Isaacs, President of the Academy of the Arts, stated:
Tonight is proof that art has no borders, no single language and does not belong to a single faith. The power of art is that it transcends all these things.
That said, activists such as April Reign, who started the #OscarsSoWhite hashtag, must continue pressing for diversity and inclusion to sustain this nascent progress.
4. NASA's Katherine Coleman Goble Johnson, portrayed by Taraji Henson in Hidden Figures, received a standing ovation during her appearance on stage at the Oscars, alongside the three women who starred in the film. Johnson, now 98 years old, is an African American physicist and mathematician whose key contributions to the U.S. space program were highlighted in the film.
5. Presenter Gael Garcia Bernal took a brief moment to share that he, "As a Mexican, as a Latin American, as a migrant worker, as a human being" stands firmly "against any form of wall that wants to separate us."
6. ACLU Ribbons were worn by actors such as Lin-Manuel Miranda, Karlie Kloss and others, underscoring themes of social justice throughout the night.
7. The short-form documentary, The White Helmets, won an Oscar for best documentary short. The film tells the story of three rescue workers who train in Turkey to provide emergency medical assistance to civilians caught in Syria's civil war. The filmmakers shared a statement from Khaled Khatib, the head of the Syrian rescue group, who could not attend the event after his passport was allegedly cancelled by the Syrian government. Filmmaker Orlando von Einsiedel asked the crowd to stand up "to remind them that we all care, that this war ends as quickly as possible."
8. Moonlight writers Barry Jenkins and Tarell Alvin McCraney delivered heartfelt speeches when accepting the award for Best Adapted Screenplay by paying tribute to "black and brown" kids who felt overlooked, noting that for "those who feel they're not represented, we will not leave you alone. We will not forget you."
9. Ezra Edelman, son of Marian Wright Edelman, secured best documentary for O.J.: Made in America. In his remarks, Edelman highlighted the problem of police violence and dedicated his award to "the victims of police violence, police brutality, racially motivated violence and criminal injustice. I am honored to accept this award on all of their behalf."
10. Ava DuVernay, who did not win for best documentary for her film 13th, nonetheless made a strong political statement by wearing a gown made by Lebanese design house AshiStudio. Additionally, Duvernay tweeted an image earlier in the evening of herself holding a sweatshirt with the name "Trayvon." This year's Oscars fell on the 5th anniversary of the shooting death of Trayvon Martin, a date also linked to the rise of the Movement for Black Lives.
REAL LIFE. REAL NEWS. REAL VOICES.
Help us tell more of the stories that matter from voices that too often remain unheard.
BEFORE YOU GO