Last week, I viewed Walter Reed Army Medical Center from the inpatient perspective. The amazing dedication and commitment of all the staff reaffirms my belief in military health care. Even as this medical center is being resurrected at a new facility, the current staff concentrate on patient care. Apprehensions and uncertainty exist; some issues are being addressed and others ignored as the closure deadline approaches. Talking with staff and other patients, three issues caught my attention.
More wounded marines are patients at Walter Reed than Bethesda Navy Hospital. During my stay, five Marines were inpatients and 70 Marines were outpatients receiving housing and health care. A universal comment from many Marines was that patient care and support are outstanding. Most preferred Walter Reed over their experience at Bethesda Naval facility.
Staff attention and respect for these wounded warriors reaped high praise. One Marine mentioned that "they get it over here." The Marines praised the Walter Reed food service and their almost around-the-clock availability. When asked about returning to Bethesda Naval Facility, they mentioned two major challenges.
Proposed housing for wounded Marines is located far down hill from the new medical center on the Bethesda facility. The Marines are concerned that the housing location prevents easy access to facilities. When asked about shuttle service around the Navy grounds, their immediate response was that two handicap positions existed per shuttle meaning very long waiting times.
Normally this would not be a handicap for any Marine, even one with limited mobility. However, access around the Navy facility is problematic for the handicapped often forcing warriors to mix with vehicular traffic. One travel estimate from quarters to treatment facilities is an incredible 40 minutes.
Bethesda Navy food service is limited with little food service to outpatients and families on weekends and evenings. Our wounded and ill are presently forced to travel long distances off campus to quietly dine together or else eat at the 'food court', which is fast food and not always available. Before, great frustration was voiced by Walter Reed food services staff. Coordination with Navy was limited and facilities at the new Walter Reed were only to be slightly expanded with continued limited hours of operation.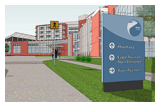 Finally, a first glimmer of hope, Walter Reed food service personal are enthusiastic now. New Walter Reed food service appears to be rising to old Walter Reed's standards of excellence. "We will get the food service up to the present standards we have here, but it can't be done in the time left to meet the BRAC deadline." according to one source. When pressed as to why the change, their impression is the Joint Task Force National Capital Region Medical (JTF) wrestled control from the Navy inside the new hospital. Several triservice personnel believe the JTF is rededicated to building the best facility and staff possible.
Further, cautious optimism exists for saving the Walter Reed Warrior Transition Brigade, one of the most successful in the Army, serving all military family members and scheduled to disappear. Hospital staff praise this brigade highly and value its critical support.
3. Traffic and Handicap Entry and Exit
Construction could begin at most entrances to the Bethesda Navy Facility just as the new Walter Reed National Military Medical Center opens its doors. This appalling mismanagement appears the result of Bethesda Navy officers shirking responsibilities to our wounded, sick, staff and their families. Is the situation serious? Very, when asked, an anonymous Navy health care provider answered via E-mail:
"...It's already starting. Four of my morning patients couldn't get here and then couldn't get parking on the base. They were all 1.5 hours late for their appointments. Too late to turn the ship around until we and the county are really ready..?"
When the additional staff, patients and families appear, chaos is near certain. Refusal to discuss construction with other services and local governments, while stonewalling progress toward resolution, caused this debacle.
Perhaps senior Navy leadership really "don't get it". These are primarily Army and Marine wars. No slight to the other services, our Marines and Army, including their senior leadership, have 'skin in the game'. Navy health care providers and many specialties do 'get it' every bit as much as their Army and Marine counterparts. Senior Navy leadership appears to be failing them. Just as the Navy failed all private and public health care by stifling lessons learned from Congressman Murtha's tragic death.
The New Walter Reed National Military Medical Center must be about caring for the entire military family's wounded and sick. This is the mission to be accomplished. Military service agendas cannot be allowed to subvert the mission. The Joint Task Force shows signs of realizing this and now, with the authority to take action within the walls of the hospital, they can execute the mission. Some Navy leadership certainly does not appear to put mission first. The entire campus should be designated a joint base rather than a Navy facility.
REAL LIFE. REAL NEWS. REAL VOICES.
Help us tell more of the stories that matter from voices that too often remain unheard.