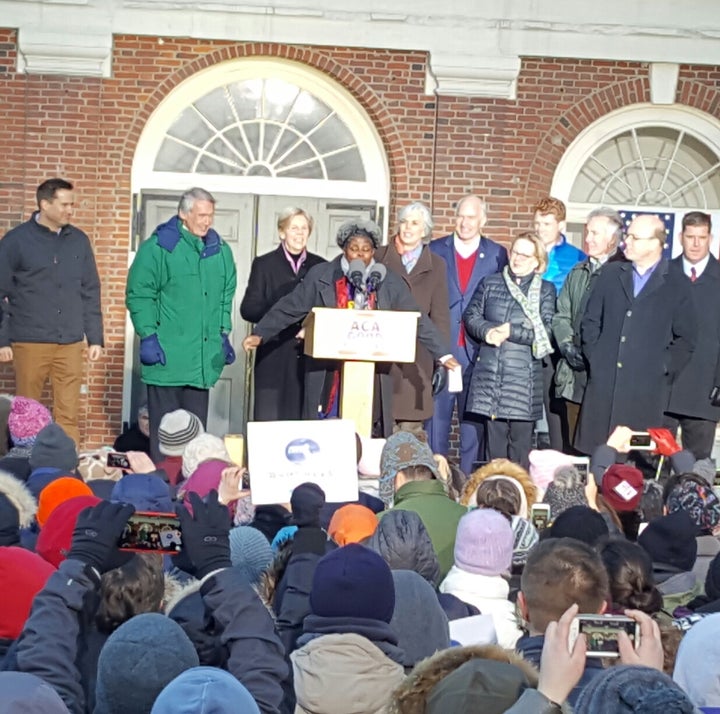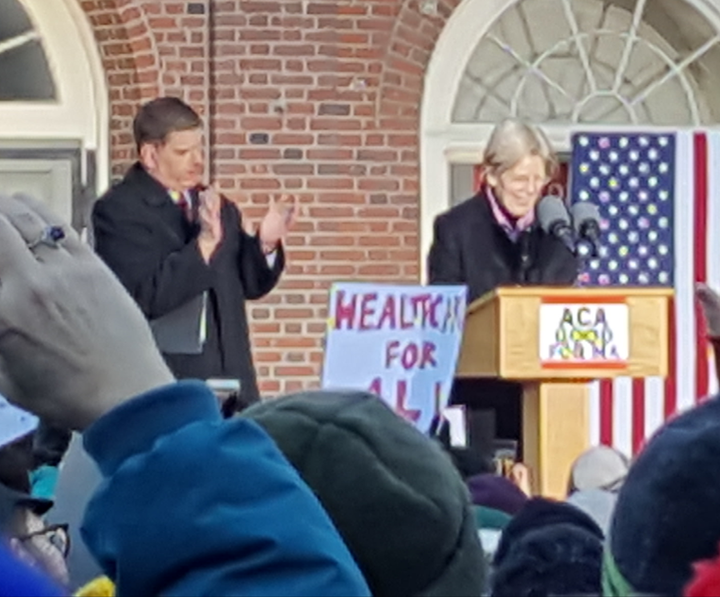 With Massachusetts' proud role in the implementation of national health care in the forefront, an estimated 6000 people rallied on Sunday outside Boston's historic Faneuil Hall. Joined by nearly the entire state delegation, whose members spoke on the importance of fighting to uphold the Affordable Care Act, it was one of a reported 75 such nationwide rallies.
Boston Mayor Martin J. Walsh remembered when, as a state representative, he voted for comprehensive and affordable health care for Massachusetts. "It was one of the proudest votes I ever cast as a member of the Legislature," he said.
The bill signing ceremony for An Act Providing Access to Affordable, Quality, Accountable Health Care was held at Faneuil Hall on April 12, 2006. Then-House Speaker Salvatore DiMasi called it "the most comprehensive, all-encompassing health care reform bill in the country." It quickly increased the percentage of insured in the state, which, coupled with Obamacare, has been reported to be 99 percent — the highest in the nation.
Featuring an individual mandate, financial incentives and penalties, the Massachusetts plan was the model for Obamacare.
Speakers drew upon Boston's proud progressive legacy throughout the rally.
Walsh said he was going to Washington next week to get to work, and stressed telling friends and families how to vote in the next midterm elections.
Rep. Bill Keating said that every nonpartisan budget analyst has determined that the Affordable Care Act saves health care costs. "But the Republicans are like the dog that chases that car, and then catches it, and doesn't know what to do with it," he said. "They are gathering today across the country for a reason — because elections affect consequences. But, consequences also affect elections — and that is what will happen next time."
The entire Massachusetts delegation was there, except Representatives Michael E. Capuano and Stephen F. Lynch. Capuano is an ardent supporter of the ACA.
Walsh called health care a fundamental principle and human right, and before introducing Boston Medical Center CEO and president Kate Walsh, he invoked, as many did on Sunday, the iconic, late Massachusetts Sen. Ted Kennedy.
Sen. Elizabeth Warren assured the crowd that "If Republicans try to rip health care out of the hands of millions of Americans, we will fight them every step of the way. They want to jam repeal down our throats."
She invoked the famed Liberal Lion: "Ted Kennedy stood right here in 2006 and said that health care is fundamental right, not a privilege, and in 2010, we got universal health care signed into law by President Obama," Warren said.
"But the Republicans just can't stand it."
Kennedy, Warren recalled, knew it would not be easy. "But he said, we can't afford to wait, and we cannot fail." She said she had news for Washington: "We can't afford to wait, and we cannot fail."
Rep. Joe Kennedy III spoke later about the time his uncle had spent at Boston Children's Hospital with his son Patrick, and how he worried about those who did not have the resources they had. "This cannot happen in this country, not in the richest country in the world," he recalled his uncle saying.
The younger Kennedy, who declared, "This is personal," said that in the last year of his life, his uncle said that the cause was unfinished, but had never been defeated. "In the past year, it has sustained me, and has summoned my energy and my determination," he had declared.
Sen. Ed Markey said the fight for the ACA "is the biggest fight of our life." He reminded the crowd that President Obama had been at Faneuil just three years ago to talk about its progress.
"But Massachusetts knows how to win!" he said. "Massachusetts fought for universal health care, and we won," he said. "We fought for increased minimum wage —" The crowd repeated: "And we won!"
Markey continued: "We fought for paid sick leave, and we won. We fought for equal rights for all people regardless of race or gender, and we won. Are you ready to fight for every American to have access to quality affordable health care?" he asked. "Yes!" was the vociferous response.
"We are the blueprint," Markey stated, while noting that his vote for the ACA was the most important vote in his political career. He quoted Martin Luther King, Jr.: "Of all the forms of inequality, injustice in health is the most shocking and inhuman." King, he said, had had a dream.
"And the Republicans also have a dream — that insurance companies will be back in charge, that there will be no Medicare, no Patient's Bill of Rights, and that there will be tax breaks to the wealthiest, while the poor get robbed." But they would not get away with it there, he promised. "We are not just any state, we are Massachusetts. This is where the Revolutionary War began. This is where the suffragette movement began. This is where the first Freedom Riders left to go down South," he said.
"Repeal and replace? We say resist and reclaim!"
Markey cited Franklin D. Roosevelt: "The test of our progress is not whether we add more to the abundance of those who have much — it is whether we provide enough for those who have little."
Rep. Richard Neal, the Dean of the Massachusetts delegation who will soon become the top Democrat on the House Ways and Means committee, said Massachusetts had the best doctors, nurses and hospitals in the world. "But Medicaid has now become a middle class asset because of nursing home care," he said.
"Your parents are not living in your attic because of Medicare," he told the crowd, "And your kids aren't living in your basement because of the Affordable Care Act!"
Rep. James McGovern called the Republicans unconscionable for attempting to take health care away from millions of Americans, especially with no replacement plan. "Paul Ryan said we have lots of ideas," he said. "Their prescription is to take two tax breaks and call me in the morning!"
He noted that Republicans don't have to worry if they repeal the Affordable Healthcare Act and someone in their family got sick. "And Trump would just do what he usually does, not pay his workers — because that's how he made his money.
"We're going to build a big gigantic wall — and this is the only time that I would be for building the wall," he said. "It will be the Wall of Resistance to stop them, and to take this country back!"
Rep. Niki Tsongas remembered when, as a new congresswoman, she was able to vote to help bring health care to millions of Americans. "I know what that means," she said. "35 years ago, my husband [the late Sen. Paul Tsongas] was diagnosed with cancer that eventually took away his life." She remembered his concerns over the health coverage that gave him 13 more years of life. "I want to make sure that no one will be prevented from getting the health care that they need, too," she said, reading from constituent letters on the subject.
"Republicans want to move from care to chaos and repeal the ACA," she said. "But we want to keep America well. We do not want to make America sick again!"
Keating spoke mainly about the opiod addiction that plagues his southeastern Massachusetts and Cape Cod district, noting that opiod addiction took one of his own family members and has left another in recovery for a decade and a half. "Many people think of Cape Cod as the Lifestyles of the Rich and Famous," he said. "But that is not the situation of those who live there year-round."
Keating left with a shoutout to his friend and colleague, Rep. John Lewis, which was loudly echoed by the crowd.
Rep. Katherine Clark said it was not a petition to repeal and replace. "This is about cut and run," she said. "This is about pushing people out of an airplane without a parachute, and hoping that they figure something out along the way."
Cong. Seth Moulton was the final speaker. "It means so much that you are here today, but it means much more about what you're going to do tomorrow," he said. "There's a lot of action to take." The veteran of four tours during the Iraq war, and the recipient of the Bronze Star medal and the Navy and Marine Corps Commendation medal for valor, said that the ACA had cut the number of uninsured veterans in half.
The delegation gathered onstage as Service Employees International Union organizer Julie Gonzalez spoke, before the rally ended with Tom Petty's "Won't Back Down."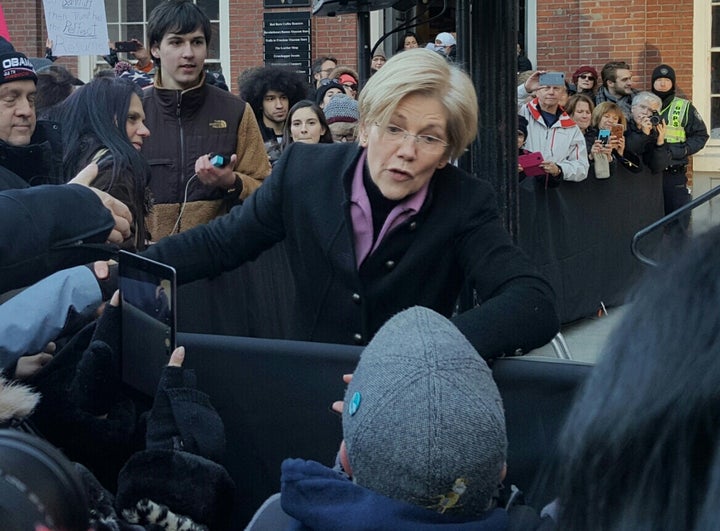 "We are fighting for single payer health care," said Bernie Sanders delegate and Progressive Democrats of America member Rosemarie Eldridge Meissner, of Ashburnham. "Health care is a human right," she said.
"I am James Madison, the fourth President of the United States," said a decked-out Bil Lewis of Cambridge. Madison, he explained, was very concerned about private banks controlling currency. "But Alexander Hamilton wanted to create a national bank, and Hamilton won," he said.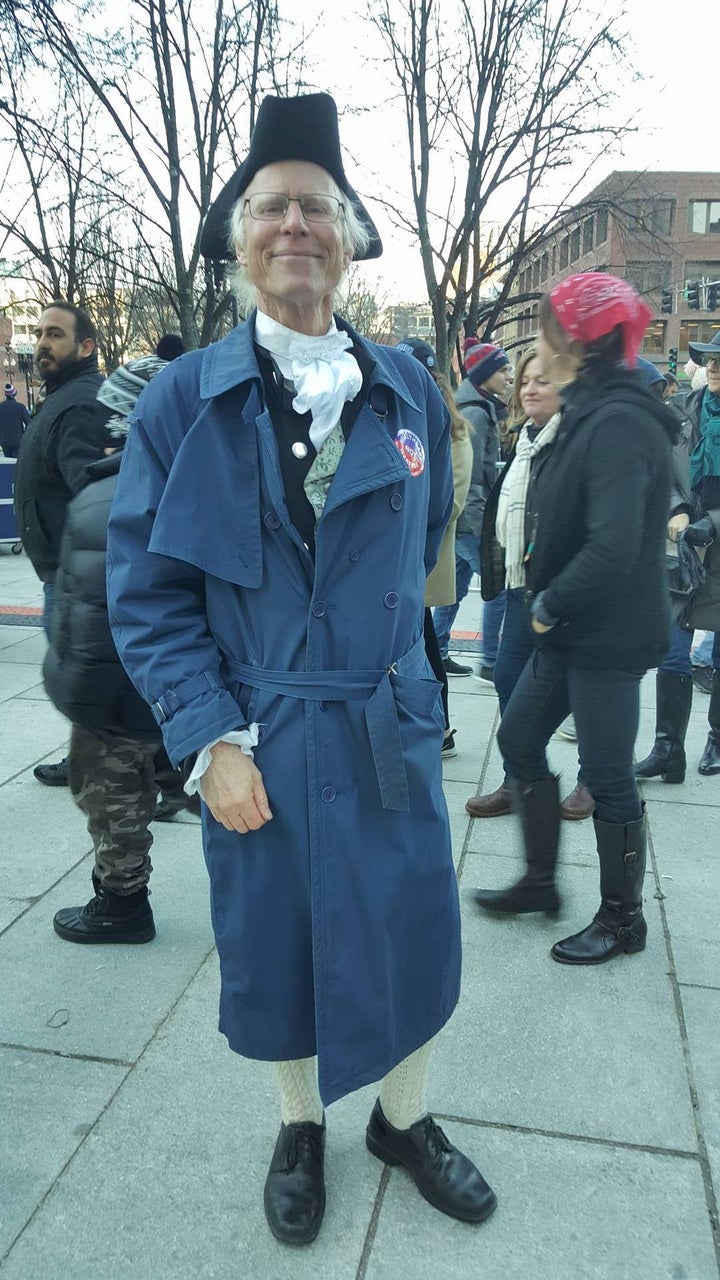 A group of doctors from the Cambridge Health Alliance, which is a Harvard Medical School teaching hospital, were speaking with Markey (Warren had also just shook hands with many in the crowd). "We are deeply concerned about what is going on," said Samantha Harrington, a resident physician in the CHA's Department of Medicine. "We need to band together to show our support for our patients who deserve health care, and deserve support and justice from the physician community."
Sunny Patel, a psychiatrist, said that it was their first action against repealing the ACA. "We have an enormous privilege as physicians to speak out on behalf of our patients," he said. "The indigent particularly depend on safety net health care insurance, which has been one of the hallmarks of the ACA, through its Medicaid expansion."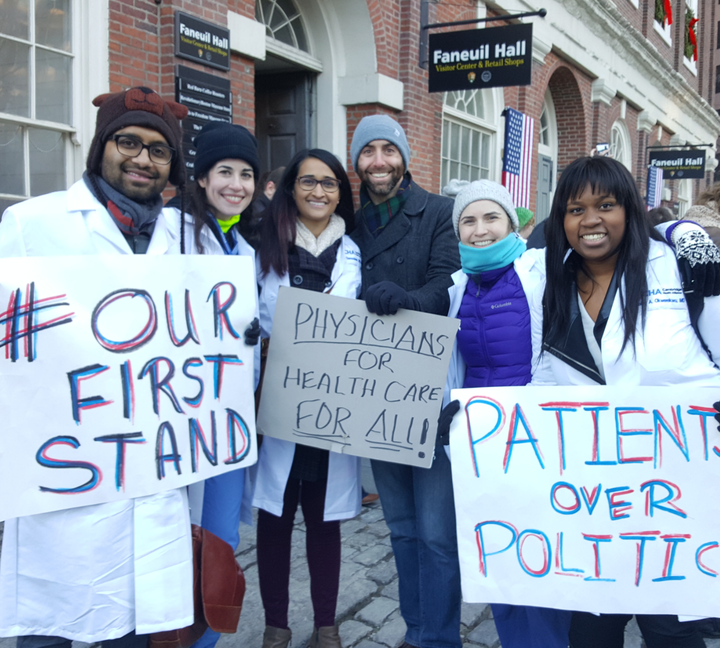 Susie Davidson tweets at @SusieDavidsonMA.
Popular in the Community