Chau Smith is a 70-year-old Missouri runner who has competed in approximately 70 races. Last year, she decided she wanted to set the bar even higher for herself with a new goal: Run seven marathons on seven continents in the span of one week.
Smith ran in Perth, Australia, Cairo, Amsterdam, Singapore, New York, Chile and King George Island, Antarctica in January. She'd wake up, run the marathon, then board a plane to the next location.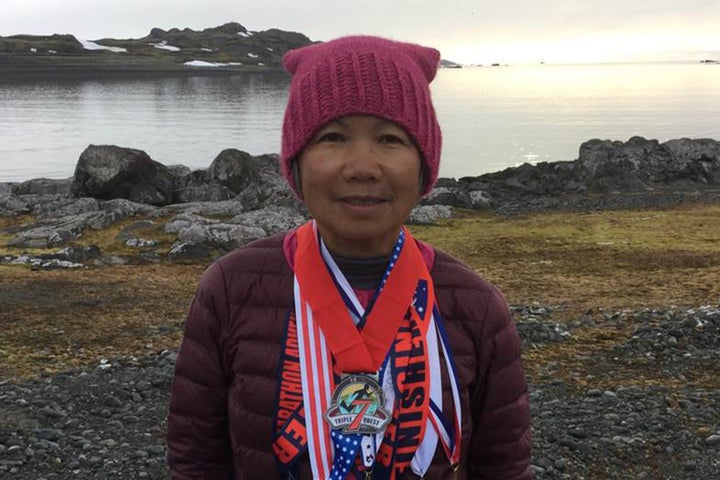 The runner is part of a travel group called Marathon Adventures and embarked on the task with nine other members. She decided to take on the challenge, which was called the Triple 7 Quest, as a way to celebrate her birthday ― a milestone that has more meaning than most.
Smith's legal age is 67. She told The Huffington Post that after her father was killed in the French occupation of Vietnam during the First Indochina War, her mother went into hiding while pregnant with Smith for their safety. After she was born in 1947, her mother didn't report it for three years. That's why she wanted to honor turning her real age ― 70 ― this year in a special way.
"As I approached my 70th birthday, I wondered what I could finish from my bucket list, so I decided to do the Triple 7 Quest," Smith told HuffPost.
She trained for eight months to get ready for the challenge. Her preparation also included working with a running coach, a physical therapist and a nutritionist as well as practicing her pacing, she told NBC News. Normally, she can run the 26.2 miles in about five hours, but she said she wanted to make sure she kept up her stamina for all the races.
"It was never my intention to become a long distance runner, but the more I ran, the better I felt ... no matter how stressful my life has been or is running is the best therapy I've ever had," Smith told HuffPost. "So, I'm hooked on running because I can clear my head and make better decisions."
Now she's what we call fitness goals.
Related