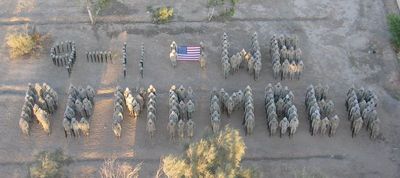 More than 2 million men and women have deployed overseas since the 9/11 tragedy, and the skills and talents our heroes bring to the workforce are in high demand by many of America's leading employers. To bring both sides together, Veteran Recruiting Services will host the 3rd annual 9/11 virtual career fair
The virtual career fair allows employers, servicemembers, veterans, and military spouses to meet and interact in real time, and from anywhere in the world with a computer and Internet access. In essence, VRS brings the career fair to the employer and job seeker. Since September 2011, more than 31,000 veterans and military spouses have been hired by more than 500 companies.
With more than 50 employers that represent over 64,000 available jobs, the virtual career fair is a great way to help those who have served find meaningful employment.
"Comcast and NBCUniversal are proud to be leaders in attracting, employing, and supporting our active duty military service members, reservists and veterans. Together, we share the values of leadership, service, teamwork and ethics, and we are proud to partner with those who have served our nation. VRS Virtual job fairs have been an effective way for our recruiters across the country to "chat" about our outstanding career opportunities at locations nationwide and identify veterans for follow-on interviews. We were particularly excited to have used the VRS platform last month to engage transitioning military currently deployed in Kuwait and Afghanistan, and as a result currently have several soldiers in consideration for open opportunities." Attributable to: Will Baas, Executive Director, Talent Acquisition Comcast Campus and Military Initiatives, Comcast Cable
VRS will host the 9/11 virtual career fair in support of the Joining Forces initiative which was launched in 2011 by the First Lady and Dr. Jill Biden. Since the launch of Joining Forces, more than 250,000 veterans and military spouses have been hired by employers who have stepped up to support.
Comcast is just one of the employers who will participate in the 9/11 virtual career fair, and a partial list of other companies include; Abbott, Aetna, Airgas, Amazon, Capital One, Citi, Comerica Bank, Convergys, Con-way Truckload, DaVita, Department of Energy, Emeritus Senior Living, Exelon, Graybar, Hackensack University Medical Center, Intercontinental Hotels Group, Kellogg, Lowe's, Loyola Marymount University, Pacific Life Insurance Company, Penske, PepsiCo, Pfizer, Philips, Progressive, Regions Financial Corporation, Sears Holdings Corporation, State Farm, Stripes, The Mission Continues, Travelers, TSA, USAA, Union Pacific Railroad, Waste Management, Wells Fargo, Western & Southern Life, West Corporation, and Xerox.
Unlike a traditional career fair, the VRS virtual career fair is open all the time, and many of the employer booths are accessible anytime. Transitioning servicemembers and veterans can register on the site, and gain immediate access to employer booths. They can research each employer, view/apply for their jobs, and even communicate with the recruiters from each company directly in the virtual booth. During the actual virtual career fair, they can chat live with recruiters from each company in real time.
Servicemembers, veterans and military spouses are encouraged to register for the 9/11 virtual career fair by visiting www.veteranrecruiting.com.
Calling all HuffPost superfans!
Sign up for membership to become a founding member and help shape HuffPost's next chapter