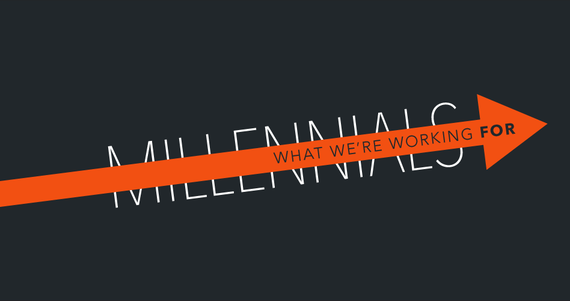 If you need a forecast about the future of work, Millennials -- possibly the most studied, surveyed, and psychoanalyzed generation ever -- outline a clean trajectory.
As you might expect, they love freelancing. But a new study says that a whopping 94% are interested in using their skills to benefit a cause, while 57% wish that there were more company-wide service days.
When you look at these two stats together, a bigger picture arises. Millennials aren't just thinking outside the 9-5, they're changing the very definition of the word "work."
This signals a new relationship between worker and economy; it's not just where we're working, or even how we're working. It's what we're working for.
Millennials don't see companies as salary machines. And they don't see themselves as just another chair-filler.
They see themselves as having the power to make choices -- and their decision to work in one place or another is about finding value, not just the posh apartment on the East side. They see themselves as independent actors, even when they're employed.
But it's not just independence they expect and seek, but Meaningful Independence. They want to have the ability to pursue their passions and use their skills to help their local communities, secure in the knowledge that they're connected to people, groups, and institutions that have their back.
Want proof? Just look at all of the cooperative businesses, food co-ops, credit unions, and freelance-owned businesses that populate our Quiet Revolution map.
It's more than just Millennials -- Americans want the future of work to be independent. They value time over money -- for their families, friends, communities, and creative passions.
This isn't just a case of a new generation having new priorities, and it's something deeper than simple charity -- it signals a fundamental shift in the way our economy functions.
Related
Popular in the Community