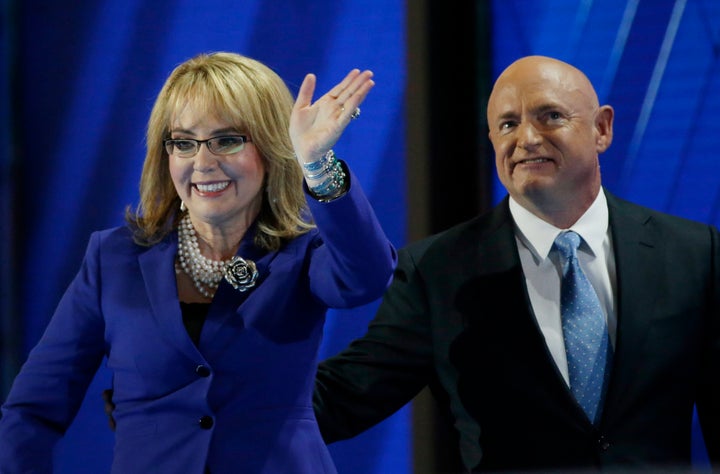 Former Arizona Democratic Rep. Gabby Giffords, who survived an assassination attempt in 2011, is set to campaign across the political map over the next month to boost Democratic candidates who support gun control.
Giffords, who now leads an eponymous gun safety group with her husband, former astronaut Mark Kelly, will start the tour on Oct. 2 in Las Vegas, one day after the one-year anniversary of the deadliest mass shooting in modern American history. The event, at the University of Nevada, Las Vegas, will include a roundtable discussion with gun violence survivors and a canvass kickoff event with Tom Steyer, the California businessman and potential presidential candidate.
Peter Ambler, the executive director of Giffords, said the number of candidates requesting to campaign with the former congresswoman has skyrocketed in recent years as mass shootings have continued and the Democratic Party has fully embraced gun control as part of its political platform.
"The politics around guns has shifted demonstrably. It's a departure from several years ago," he said. "There are dozens of candidates around the country who recognize their path to victory revolves around their support for gun safety."
Most of the stops, Ambler said, will focus on the suburban House districts Democrats hope will pave the way for their majority in 2019. Besides Las Vegas, Gabby Giffords will also campaign in Orange County, California ― home to four competitive House seats ― and in Minneapolis and Houston.
They'll also campaign in the Pacific Northwest, traveling to Oregon for Democratic Gov. Kate Brown, who is facing a surprisingly competitive re-election bid; and to Washington state, where they'll support an ambitious referendum to require enhanced background checks for semiautomatic weapons.
Two of the stops ― in Minneapolis and in Houston ― will also include participants from the March for Our Lives, which formed to organize young people after the February massacre at Marjory Stoneman Douglas High School in Parkland, Florida.
Ambler said to expect additional stops on the journey, dubbed the #VotesSaveLives tour.
The Giffords organization has already spent $4 million attacking three Republicans with backing from the National Rifle Association: Rep. Barbara Comstock in Virginia, Rep. Mike Coffman in Colorado and Rep. Jason Lewis in Minnesota.
Popular in the Community