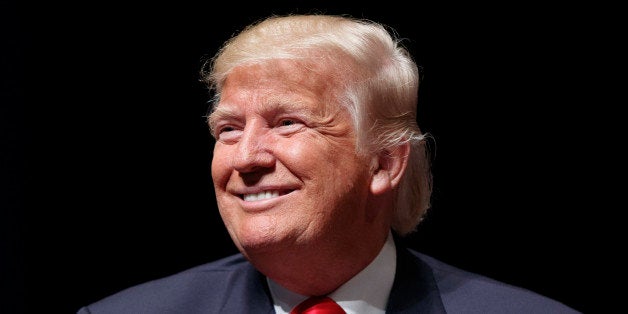 The number of Republican elected officials criticizing Donald Trump and condemning his policies while pledging to vote for him has many people understandably scratching their heads, and it's not hard to see why: politicians calling out the GOP nominee in one breath and then working to bring him and his agenda into power in the next utterly defies logic.
I'd like to propose a name for this odd species of politicians: Trumpublicans.
Trumpublicans: /trəmˈpəbləkən/ -- n., pl. 1. Republicans who've endorsed or pledged to vote for Trump to win support from far-right voters. 2. Republicans who claim to oppose Trump's hateful campaign, yet work to advance his candidacy and agenda (e.g. holding a Supreme Court seat open for him to fill.)
Examples of Trumpublicans abound. Senator Kelly Ayotte of New Hampshire has tried to separate herself from Trump, refusing to endorse him and saying that she would "stand up" to him. But she also says that she's "glad to get his endorsement" and still plans to vote for him. Huh? Senator John McCain of Arizona is trying to toe the same line, at times criticizing Trump while repeatedly stating his commitment to vote for him. Pennsylvania Senator Pat Toomey says that Trump's actions "give me great pause" but has still refused to disavow him.
There's no more egregious example than the fight over the Supreme Court vacancy to show how each of these senators are already actively working to support Trump's extremist agenda. They may express misgivings about Trump with their words, but with their actions, they are holding open the vacant Supreme Court seat so that it can be filled by him. They are going to extraordinary lengths--ignoring their constitutionally-defined responsibilities--to let the next Supreme Court justices be picked by Donald Trump, a man who says a judge can't do his job because of his Mexican heritage.
Senators' comments against Trump mean nothing when their actions and votes are still with him in all the ways that count. These senators are trying to have it both ways in a straddle to appeal to both voters with common sense and decency and those who are turned on by Trump's hate.
Too many people have written off the Trumpublican phenomenon as being only about Trump as if he's a one-time thing. "He's coming out of left field," the story goes. "He's so out-there that he's putting 'moderate' Republicans in a tough place." But when it comes to his anti-Latino, anti-women, anti-just-about-everyone agenda, Trump's not coming out of left field; he's coming straight from home plate. He's riding the sorry momentum that the Republican party has built for years.
After all, way before Trump, this is the party that has threatened to shut down the government over immigration reform and the funding of Planned Parenthood. The party of "self-deportation." The party that wants to ban abortion. The party that now denies science and doesn't believe in the president's birthplace or religion. There is no question that Trump's rhetoric is horrific, but don't believe the myth that he is a wild aberration; in many ways, he is tapping into the very core of the Republican Party that tragically for the country has become more and more extreme every year.
There's a reason why the strong recommendations of the infamous 2012 GOP post-loss post-mortem couldn't be heeded, and this was long before the idea of a Trump candidacy was a glimmer in any Republican eye.
This is no longer your granddaddy's GOP. And it's not going to be the "the party of Lincoln"--a description they love to throw around, no matter how increasingly inaccurate--again until people start to stand up to the likes of Donald Trump and to the base that so decisively elected him. It's as simple as that. You can't tell your children and grandchildren that you stood against a man who proposed banning all members of a religious group from the country, who smeared an entire community as rapists and criminals, who claimed a judge couldn't do his job because of his heritage. No, Trumpublicans will have to tell them that even though they said Trump was in the wrong, they stood by him all the way.
Support HuffPost
The Stakes Have Never Been Higher
Popular in the Community