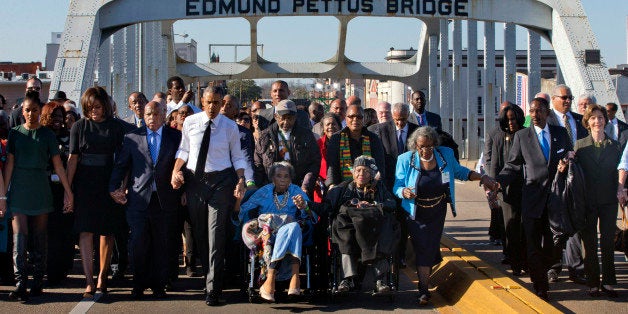 This weekend, we had the great honor of representing the Reform Jewish Movement as we marched across the Edmund Pettus Bridge in a re-enactment of history fifty years later. Rabbi Jonah Pesner was honored not only to march with President Obama and dozens of Senators and Congressman, but also to offer a prayer, and in so doing, echoed thousands of years of the voice of ancient tradition, in which we are called to do justice, love mercy, and walk humbly with God.

So it was during the civil rights movement in the United States of America when Dr. King and other courageous and determined individuals joined local activists in Selma in order to fight for one simple thing many of us take for granted: the right to vote. Of course, it was part of a much larger struggle to end the oppression of African Americans -- a legacy of deliverance that should inspire us now more than ever. The bravery of the women and men who sought the vote in the face of violent opposition helped pave the way for civil rights of LGBT people, people with disabilities, women, immigrants and so many others.

Today, fifty years after the passage of the landmark Voting Rights Act, the right to vote is under attack again. The 2013 Shelby County v. Holder decision gutted section 4(b) of the Voting Rights Act, which required states with a history of discrimination to get federal preclearance before changing their voting laws. The fallout from this case, combined with unfounded paranoia about voter fraud, have led to voter identification laws that disproportionately restrict people of color, the elderly and other vulnerable populations from voting. States are also increasingly passing laws that shorten early voting periods and voting hours, which prevent people without flexible work schedules from voting. All this comes at a time when our democracy can least afford more obstacles to participation.

When civil rights leaders drafted the original Voting Rights Act in the conference room of the Religious Action Center of Reform Judaism, Jews and African-Americans stood together to demand change. From coast to coast, unlikely coalitions of people from all walks of life, all races, religions and cultures, joined together to forge new relationships around their common struggle for humanity. Fifty years later, in Selma, we stand proudly together again: blacks and Jews, people from all backgrounds and ancestries, several generations, honoring a legacy of working together to pursue justice in America.

Civil rights should transcend partisanship. Elected officials must find a way to restore access to the voting booth. While it is not perfect, the Voting Rights Amendment Act would bring back federal oversight to many areas with a history of discrimination. Only a diverse coalition of dedicated advocates who doggedly seek the support of their members of Congress can advance this bipartisan legislation.

Last week, Jews around the world celebrated the holiday of Purim, a story of danger, courage and risk. Haman and his allies attempt to destroy the Jewish people. Yet with moral courage and at enormous risk, the heroes Mordechai and Esther take action.

By standing up to oppression and genocide, our ancestors remind us that resistance is possible when those who are racist, anti-Semitic, or hateful seek to destroy or oppress any group. But acting with moral courage takes risk. It also takes allies. It needs the unlikely partnerships that transcend traditional social divisions. It thrives on empathy, and ultimately succeeds on cooperation and the discovery of shared values.

Let the anniversary of Selma inspire all of us to rededicate ourselves to the sacred conversations and actions needed for the pursuit of justice.

As a first step, who might you reach out to across the divides of race, class and faith to discuss the forms of discrimination that persist in your community?

As we continue to pray with our legs -- as Rabbi Abraham Joshua Heschel felt he did fifty years ago in Selma - may we commit ourselves to continuing the unfinished work that began and still persists at the Edmund Pettus Bridge.

Rabbi Jonah Pesner is the Director of the Religious Action Center of Reform Judaism. Rachel Laser is the Deputy Director.
Calling all HuffPost superfans!
Sign up for membership to become a founding member and help shape HuffPost's next chapter