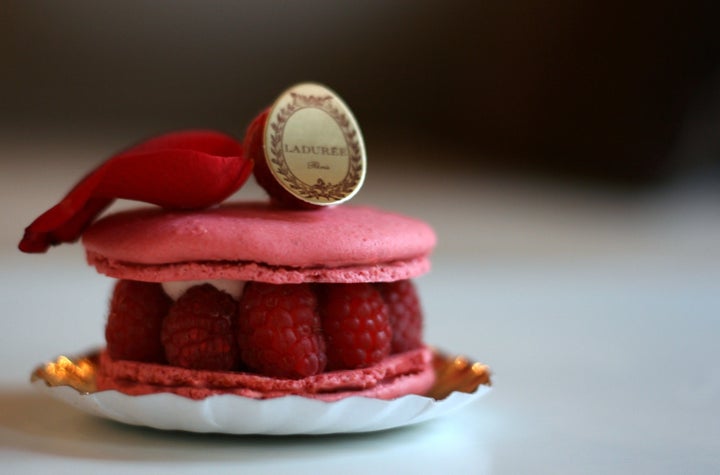 I confess. I've been leading a double life: Travel editor by day and pastry chef at night. For the past year, I've split my time between the office and culinary school, breaking only to dust the sugar off my clothes. Since my training focuses on classical French pastry, I thought it was only fitting to combine my two biggest passions with a visit to Paris (and to as many patisseries as I could squeeze into one week) over spring break. The experience was too sweet not to share.
Here are some luscious photos, along with dessert-worthy descriptions, from some of my favorite pastry shops on both sides of the Seine. Many of these gourmet boutiques are time-tested, respecting l'ancienne tradition, while others aim to innovate by creating new twists on Parisian classics. In all cases, their interiors are as much works of art as the treats on display, and I hope you find them as inspiring as I do.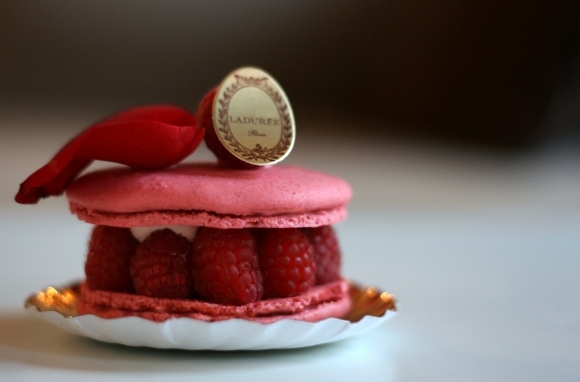 (Photo: Anne Banas)
Dalloyau
I was led to this "French House of Gastronomy" by my chef instructor, Master Patissier Delphin Gomes. Before I left for Paris, he said to me, imperatively and repeatedly (as you'd expect from a French chef), "Go to Dalloyau. It's where I used to work... It's the best!" Of course.
Officially founded in 1802, this pastry shop has roots that date back 300 years to the court of Versailles. Though there are now many locations, I headed to the original on rue du Faubourg Saint-Honore (a street coincidentally named for the patron saint of bakers), passing the presidential residence of Elysee Palace and endless rows of upscale boutiques. Like the surrounding neighborhood, the shop was fit for royalty (and presidents).
But what left me starstruck were the pastry cases housing what appeared to be my entire course curriculum. From chocolate-raspberry Mogador cakes to pate a choux crowned with Chantilly cream, lesson after lesson came to life. Wanting to bring something back for class, I settled on the shop's signature dessert, the Gateau Opera, made famous in Paris by Dalloyau and at The Cambridge School of Culinary Arts by Chef Delphin, who asserts that it is "no good" unless it's practically blackened with coffee syrup. (He won't let anyone -- including me -- live it down if they fail to drench sufficiently.)
When I presented him with the cake -- stacked with joconde coffee biscuit, coffee cream and dark chocolate ganache -- his eyes went directly to the precise, laser-beam-like layers. With a wry smile and raised brow, he said to me, "See, look at how dark it is here; it's perfect."
La Patisserie Des Reves
Streamlined and futuristic like an Apple Store but styled like a Candy Land IKEA, La Patisserie des Reves ("the pastry shop of dreams") at 93 rue du Bac has been capturing the sweet-toothed imaginations of visitors to Paris' 7th arrondissement since 2009. Unlike other shops, where countless items line the insides of large glass counters, here, Chef Philippe Conticini presents a scant collection of cloche-covered confections that appear to be suspended from the ceiling like pendant lights. He contemporizes the French classics by reducing them to their purest forms, and each pastry seems to glow under its own dome like a sugar-charged filament.
The desserts might be simple by design, but the process of choosing which to taste is anything but. On any given day, patrons (like me) circle the central display "consul," agonizing over the perfect choux puffs of the Paris-Brest or St.-Honore; the mille-feuille, layered with crisp, flaky rectangles; or the seasonal fruit tart baked with nothing but fresh puree, sugar and cream. Thankfully, the decision of whether to buy the large or small version of each is much more straightforward: both, of course (one to bring home and the other to eat maintenant).
Like pieces of art, the day's dozen or so desserts remain showcased under glass at all times. However, once a purchase is made, shopkeepers whisk unseen into the back room to magically box another (with fanciful pink trimmings), forever preserving the suspension of disbelief in Conticini's pastry-shop reverie. A second location at 111 rue de Longchamp also offers a full-service tea salon.
Stohrer
Pedestrian friendly and laced with many fabulous food finds, the cobblestoned rue Montorgueil in the 2nd arrondissement is, in my opinion, one of best streets to stroll (and shop) in Paris. Somewhere halfway down, between an organic boulangerie and a Basque-inspired chocolatier, sits Stohrer, the oldest patisserie in Paris. Nicolas Stohrer, the personal pastry chef for King Stanislas of Poland, came to Paris when Princess Marie Leszczynska married King Louis XV in 1725. Five years later, he opened this decadent shop on the famous market street.
Equally decadent and entrenched in history are the pastries. Before he left Poland, Stohrer invented the baba au rhum, a dry brioche originally soaked with Malaga wine and later with rum simple syrup. This yeast cake, which has many variations, is depicted in a wall mural of a sylphlike woman holding pastries (painted in 1864 by Paul Baudry, who decorated the lavish Opera Garnier). Stohrer also popularized the once-scandalous puits d'amour, or wells of love, stuffed with vanilla pastry cream and crusted with caramelized sugar. A favorite of King Louis, the cake is now sought after by lovers on Valentine's Day.
Today, the shop's opulent chandelier and gilded mirrors intensify and reflect the glow emanating from the pastries, including the glazed raspberry-chocolate tart, the chibouste (puff pastry with Calvados-flambeed apples and burnt souffle cream), the berry-filled charlotte and the tarte aux fraises des bois, a tart shell filled with vanilla mousseline and tiny wild strawberries.
Jacques Genin
Well-known for crafting sublime confections in his workshop and supplying them to restaurants and hotels, elusive chocolatier Jacques Genin opened a storefront in 2008, giving the public direct access to his creations for the first time. The modern and lofty space, at the edge of the trendy Marais (on rue de Turenne), invites with its bright windows, exposed stonework and a pocket of armchairs and tables positioned for prime in-house savoring.
Like a high-end jewelry store, the room's sparse design allows your eyes to float to the bursts of color inside the temperature-controlled, sweets-lined cases. By the entrance, one counter spotlights gem-like piles of pate de fruits and individually wrapped caramels, while another pulls you toward sleek arrangements of square-shaped chocolate bonbons...