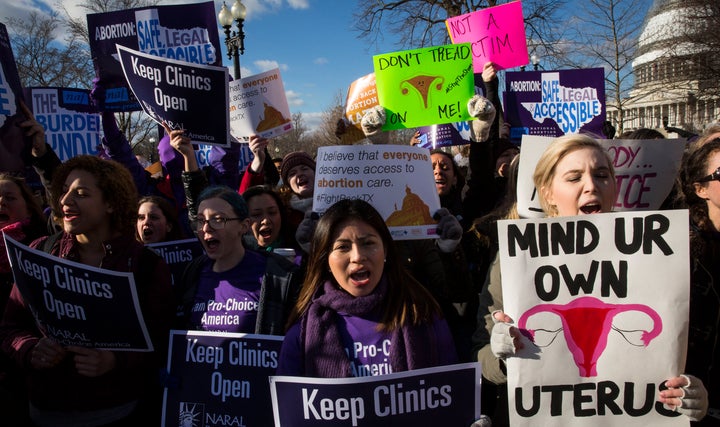 Over the past five years, abortion clinics across the country have had to close -- or sue -- because of an innocuous-sounding requirement pushed by anti-abortion groups and lawmakers.
Alabama, Louisiana, Mississippi, Oklahoma, Texas and Wisconsin have laws requiring doctors who provide abortions to sign an agreement with a nearby hospital to admit and treat patients with major medical complications at that hospital. Abortion providers and reproductive rights groups are suing to block these "admitting privileges" laws, while supporters say they enhance patient safety by ensuring patients are treated by the same doctor throughout a crisis.
But there's no evidence that these agreements are medically necessary. Hospitals must admit people whose lives are in danger. In the very rare case that an abortion leads to dangerous complications, having a provider who lacks admitting privileges doesn't mean a woman can't go to a hospital.
"The requirement of admitting privileges cannot be taken seriously as a measure to improve women's health," wrote judge Richard Posner of the 7th U.S. Circuit Court of Appeals in his November decision that Wisconsin's admitting privileges requirement was unconstitutional. If there's an emergency at an abortion clinic, Posner noted, staff can "summon an ambulance by a phone call." There's no evidence that hospitals aren't adequately treating patients with complications from abortions, he found. 
When the Supreme Court heard oral arguments over Texas' admitting privileges law last week, Justice Stephen Breyer had similar concerns. "Where in the record will I find evidence of women who had complications, who could not get to a hospital, even though there was a working arrangement for admission, but now they could get to a hospital because the doctor himself has to have admitting privileges?" he asked.
The state's lawyer had no answer. "Judge Posner then seems to be correct where he says he could find in the entire nation, in his opinion, only one arguable example of such a thing, and he's not certain that even that one is correct," Breyer concluded.
The Supreme Court is expected to rule on the Texas case, Whole Woman's Health v. Hellerstedt, by the end of June. It is also sitting on an appeal from Mississippi, which is trying to shut down the last abortion clinic in the state. Meanwhile, Florida's legislature advanced its own admitting privileges law this week. If the Supreme Court upholds Texas' law, that could help other state legislatures defend their own laws that have closed abortion clinics.
A Look At The Consequences Of Louisiana's Abortion Law
Louisiana provides a particularly stark example of how difficult it is for providers to get admitting privileges in a state that requires them. If the Supreme Court hadn't stepped in on Friday and put Louisiana's admitting privileges law on hold, New Orleans would host the state's only abortion clinic -- because one provider there was able to secure admitting privileges from a local hospital that remains anonymous.
The state's only other abortion provider who has admitting privileges (at two hospitals in Shreveport) has said he will stop performing abortions if he becomes the last provider left in the northern part of the state.
The graphic below, by The Huffington Post's Alissa Scheller, shows all the hospitals in Louisiana that have denied privileges to abortion providers, with a close-up of Shreveport at the bottom. As the graphic shows, only two doctors in the state have admitting privileges (the Shreveport doctor has privileges at two hospitals, and the New Orleans doctor has privileges at one). Meanwhile, other abortion providers in the state have been repeatedly denied admitting privileges at local hospitals.
How Hospitals Deny Admitting Privileges
Louisiana doesn't have a law detailing how hospitals ought to go about granting or denying admitting privileges, but federal district judge John deGravelles, who ruled the state's law unconstitutional in January, found "an abundance of evidence … demonstrating that hospitals can and do deny privileges for reasons directly related to a physician's status as an abortion provider."
Hospitals devise all sorts of rules to avoid granting admitting privileges to abortion providers. Some require the doctors to admit a certain number of patients at the hospital each year -- but this essentially requires doctors to have lots of patients suffering from major medical complications, something that rarely occurs with abortion patients because the procedure is so safe.
Some hospitals also require providers to be obstetrician-gynecologists performing a certain number of surgeries or deliveries at the hospital, which is a problem if the doctor in question doesn't work in both places. The one provider who has admitting privileges in Shreveport has them because he regularly admits patients to the hospitals there as part of his private OB/GYN practice, not because of his work at the abortion clinic.
Hospitals may also require doctors to live within a certain distance of the hospital, or, if they're university-affiliated, to be a member of the school's faculty. Religiously affiliated hospitals are especially opposed to granting admitting privileges to abortion providers because of Christian opposition to abortion.
Attacks On Abortion Providers
The hospital that granted privileges to the New Orleans provider was so afraid of harassment by anti-abortion activists that Judge deGravelles granted it anonymity, even though it wasn't a part of the lawsuit to overturn Louisiana's admitting privileges law.  
"It is noteworthy that Hospital C, a hospital in a major metropolitan area and not a party to this action, is so concerned about the ramifications of having its identity publically revealed, that it requested that it be named only through a pseudonym" deGravelles' ruling noted.
The ruling, which is a compelling read, documents how anti-abortion activists have followed abortion providers into restaurants, made threatening phone calls, and picketed their neighborhoods and children's schools. Anti-abortion activists have also approached patients at providers' medical practices, demonstrated outside the hospitals where they work and even targeted hospital-based physicians who provide emergency care to patients with medical complications.
"Hope Clinic in Shreveport has been the subject of three violent attacks: once by a man wielding a sledgehammer, once by an arsonist who threw a Molotov cocktail at the clinic, and once by having a hole drilled through the wall and butyric acid poured through it," deGravelles wrote.
What This Means For Abortion Patients
DeGravelles' ruling isn't yet being appealed, but it almost certainly will be. If the 5th U.S. Circuit Court of Appeals in New Orleans hears the case and decides to let the admitting privileges law go into effect -- and if the Supreme Court upholds that ruling -- the one abortion provider at the New Orleans clinic won't be able to keep up with demand for legal abortions. In 2013, he performed 2,950 of Louisiana's 9,976 abortions.
Louisiana women seeking abortions already face obstacles because the state requires them to receive anti-abortion counseling and an ultrasound, then wait 24 hours before having the procedure.
If the admitting privileges law forces all but one of the state's clinics to close, a working mom traveling five hours from Shreveport to New Orleans for an abortion would have to find someone to cover her shift and take care of her kids. She'd also have to figure out a way to pay for the trip to New Orleans and a place to stay overnight. But Louisiana lawmakers are considering a way to make it even harder: They want to extend the 24-hour waiting period to 72 hours.
Calling all HuffPost superfans!
Sign up for membership to become a founding member and help shape HuffPost's next chapter
BEFORE YOU GO
PHOTO GALLERY
Abortion, After the Decision