NEW YORK -- New York Times veteran Adam Nagourney has lived through some of the newspaper's biggest scandals, from plagiarism to overly credulous national security reporting. He's also been there for the abrupt firing of top editors and experienced nearly two decades of management grappling with an industry in free fall.
Now he'll get to relive it all as the Times' latest biographer.
Nagourney, who joined the Times in 1996, is writing a contemporary history of the newspaper, spanning four decades, for the Crown publishing imprint Tim Duggan Books, a deal first reported by Politico.
"With everything going on in the media industry, this feels like a really important, timely book and it's a subject that I'm really passionate about," Nagourney said in an interview with The Huffington Post.
Nagourney, a longtime political reporter and currently the paper's Los Angeles bureau chief, said he is taking inspiration from former Timesman and New Journalism pioneer Gay Talese, who chronicled the paper in his magisterial 1969 book The Kingdom and the Power. Nagourney plans to pick up around where Talese left off, beginning his book with Abe Rosenthal's rise in the 1970s to become executive editor. 
One key difference, however, is that when The Kingdom was published, Talese had already left the Times and was writing now-classic magazine stories for Esquire, which ran excerpts from Talese's book about the newspaper.
Nagourney plans to do archival research and conduct interviews, largely with past editors and reporters, while continuing to work for the Times over the next two years. He intends to take a year-long leave from the Times in the summer of 2018 to finish reporting and to write the book. It's slated to be published in 2020, when Nagourney will presumably be writing about the next presidential campaign for the Times.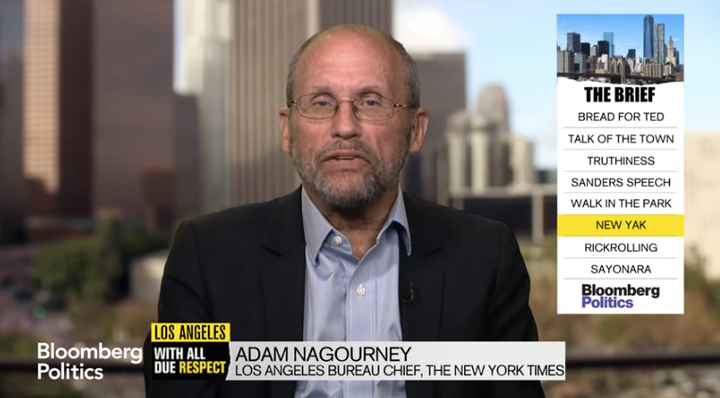 Though Nagourney is quick to profess his love for the institution, he'll be obligated to cover some episodes in the newsroom that his current and former colleagues might just as soon forget. The book, he said, will have to be "completely honest and completely balanced."
"I'm not going to pull any punches, and I don't think the Times deserves a book that pulls any punches," Nagourney said. "I think it's a very balanced, nuanced story. The Times is a very fascinating, powerful, wonderful place run by incredibly talented and often flawed people, who can do some great stuff and can also screw some stuff up. And we're trying to take the paper through a very, very difficult time and trying things and making mistakes and doing things right... I just think the Times deserves no less than a very, very honest book."
While there exists no one comprehensive account of the Times in the years since the 1970s, episodes such as the 2003 Jayson Blair plagiarism scandal were covered at the time by outlets like the New York Observer, investigated by the Times itself and chronicled in journalist Seth Mnookin's book Hard News. Journalists have also written extensively about the paper's flawed pre-Iraq War coverage, especially the work of former Times reporter Judith Miller.
Nagourney acknowledged the difficulty in covering such deeply mined topics, but likened the challenge to those faced by authors like Mark Halperin and John Heilemann, political journalists who have continued to find new details for election books even months and years after those elections happened. 
"When you go back and return to a subject a few years later, you find out things that just weren't available then, because archives are available and people are more willing to talk and you have the kind of historical perspective," Nagourney said. "Obviously, what happened with Jayson Blair and Judy Miller is going to be a significant part of this book, and hopefully I will be able to add to some very fine reporting that's already been done on those subjects."
Nagourney, who co-wrote a 2001 book on the gay rights movement, said he has been thinking for several years about writing his second book on the Times. But it wasn't until around six months ago that he began pulling together a proposal and discussed his plans with Times publisher Arthur Sulzberger Jr., who has agreed to cooperate with the book.
Sulzberger has already announced a succession plan to steer the Times, and the newsroom is going through a major reorganization known as Project 2020 — all of which will make the institution something of a moving target over the next few years. 
To minimize this problem, Nagourney plans to wrap up his four-decade saga with the 2014 firing of executive editor Jill Abramson, who is currently writing her own book on media industry disruption. He plans to cover post-2014 developments in the book's epilogue. That way, he said, he won't have to juggle reporting real-time issues and controversies at the Times for his book and simultaneously reporting the news for the Times itself.
"That's one reason I make it the history, versus 'what's going on right now at The New York Times,'" he said. "Because that would be awkward."
REAL LIFE. REAL NEWS. REAL VOICES.
Help us tell more of the stories that matter from voices that too often remain unheard.
BEFORE YOU GO