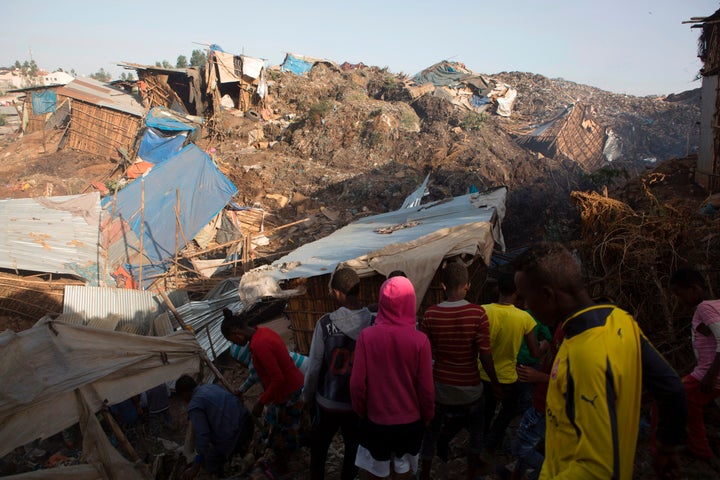 Ending one's life buried under tonnes of rubbish in a dumpsite is just one of the deadly risks faced by waste pickers, those who earn their living by retrieving, sorting, cleaning and selling recyclable materials. It happened in Addis Ababa on 18th March, when the dump collapsed under people's feet due to construction works being carried out in the same landfill without the proper safety measures. The latest death toll has reached more than hundred people, but many more could still be buried under the piles of rubbish.
Not that landslides are the only threat that waste pickers face when working in open dumpsites. It's no surprise that health and environmental hazards in those circumstances are a given, with waste pickers being exposed to contaminants and hazardous materials, from fecal matter and medical waste to toxic fumes and chemicals, including threats to their safety such as vehicles, fires and, as seen, surface slides.
But perhaps the political and social threats faced by waste pickers show the most poignant side of this human drama. Waste pickers, while being the de facto recycling system in many developing countries, continue to be marginalised, criminalised, and ultimately displaced by privatised waste management systems that give priority to large industrial infrastructures rather than human-scale and local-driven systems.
The human tragedy in Addis Ababa is just the tip of the iceberg - the end result of a number of insincere political decisions that have costed too many lives. A clear signal that something drastic needs to change.
Firstly, recyclers do not work in landfills by choice but as a result of failed waste management systems, rampant poverty and inequality. When given appropriate support, recyclers are able expand their materials recovery activities, and there are hundreds of successful collaborative stories between recyclers' cooperatives and local institutions. Just to mention a few:
In Colombia, 3,000 recyclers have organised around the Association of Recyclers of Bogotá (ARB) and the National Association of Recyclers in Colombia (ANR), with 12,000 members strong. A landmark victory came in late 2011, when recyclers won a court ruling that prohibits waste management contracts that don't provide job opportunities for informal recyclers. It was a much-needed affirmation of their fundamental right to work and the government's acknowledgment of the necessity and benefits of recycling. Recyclers are now formally recognized stakeholders in Bogotá's waste management planning. They go to work wearing uniforms and identification cards that acknowledge their profession. ARB operates two recycling centers, with plans to expand operations to what will be the largest recycling center run by informal recyclers in Latin America.
In India, Pune's cooperative of almost 2,500 recyclers operate a door-to-door collection service that has been integrated into the city's waste management system and diverts enough waste to avoid 640,000 tons of greenhouse gas emissions annually. In Mumbai, a highly decentralised, people-powered model of waste management—has proven successful and its leaders are increasingly being recognised for their outstanding contribution to the city.
Brazil is one of the world's most progressive countries in integrating waste pickers in solid waste management systems, and Belo Horizonte has led the way. There are eight co-operatives and more than four hundred affiliates helping to insure that the relationship between waste pickers and their municipalities' benefits all involved. Door-to-door collection of recyclables, drop off systems, and curbside collection are among the methods that serve as pillars of good recycling and make the best use of waste pickers' skills.
Unfortunately, this is not the case in Addis Ababa, but these examples above can hopefully inspire transformative changes in the city to develop an inclusive and community-focused waste management system.
Secondly, the building of a multi-million dollar incinerator in the landfill site will do little favor to that aim. The plant is not yet in operation, but it aims at burning 80% of waste, so its operations will come at the expense of the living-wage of waste pickers, who will lose their only income source.
Similarly to landfills, incinerators are highly prone to fires, accidents, and pollution that is hazardous to human health. If authorities proceed with the construction of an incinerator or any other technology that tries to handle an ever-increasing amount of waste, they have missed an important lesson from this tragedy when it comes to waste: the only way to protect life and health is to reduce the waste we generate and invest in zero waste strategies.
Lastly, it turns out that the landfill development was supported by French development funds and the Clean Development Mechanism, the UN carbon market mechanism. Again, it is not the first time that developed countries are responsible for counterproductive investments in the Global South's waste management sector. Another recent example raised a red flag over the German development funds promoting waste incineration in cement kilns in México and India, amongst other countries receiving problematic funds.
Instead of these technologies — plagued by failures around the world — these development funds should have been investing in education and diffusion programs for recycling and composting with the incorporation of recyclers who, left to their fate, today are buried under the waste the city tried to hide.
Still, it's never too late to give life a chance. Waste remains a major problem around the world but in many places visionary community leaders, policy-makers and practitioners are showing the solutions pathway to a sustainable future - one with the implementation of zero waste systems, including dignified and improved safety for recyclers.
Popular in the Community