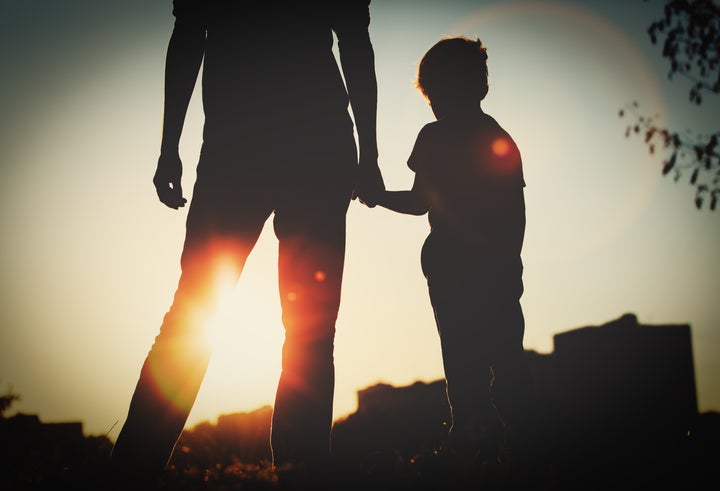 It's no secret – there is a crisis in our foster care system. Children are aging out of the system because there aren't enough families to adopt them. Twenty-five percent of the over 427,000 children in the foster care system are eligible for adoption, but every year, thousands of children remain in the system awaiting a forever home. And, each year, over 20,000 of those youth age out of the system, meaning that they enter adulthood with no parents or home.
Last month, Family Equality Council staff met a young transgender man who was in foster care until he was 17, when his two moms adopted him. If his state had permitted discrimination, child welfare agencies could have denied, delayed, or otherwise prevented his adoption. That delay would have meant him turning 18 and aging out of the foster care system without the chance of having a permanent, forever family.
Imagine facing life at 18 without the support of a family. Unsurprisingly, aging out of the foster care system without a family to fall back on comes with a heightened risk of a number of negative outcomes for youth in care, including failing to complete high school, increased involvement with the criminal justice system, unemployment, homelessness, and being trafficked.
New discriminatory laws place more children at risk
Exacerbating the problems caused by the shortage of qualified, adoptive families are laws passed by seven states, which give agencies a license to discriminate and to reject otherwise qualified potential parents based on religious litmus tests. In these seven states alone ― Alabama, Texas, Mississippi, North Dakota, South Dakota, Virginia and Michigan ― 21,000 kids were waiting to be adopted in 2015. Meanwhile, more than two million additional lesbian, gay, bisexual, transgender and queer (LGBTQ) people nationwide would consider serving as foster or adoptive parents, but face barriers due to these laws as well as policies and practices in other states that prevent them from doing so.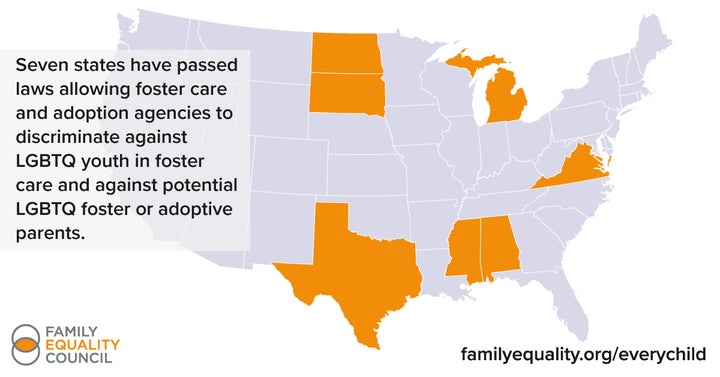 Youth at risk
License to discriminate laws like these, in addition to restricting the pool of potential parents for all kids awaiting adoption, pose a particularly great risk to LGBTQ youth who are overrepresented in foster care. LGBTQ youth served by discriminatory agencies may be placed in non-affirming families and group homes, or even with parents who subject them to abusive conversion therapy or other attempts to change their sexual orientation or gender identity.
Texas HB 3859, which gives child welfare providers a license to discriminate, is just one recent example of legislation that has the potential to harm children. The bill, passed by the Texas legislature earlier this year, allows faith-based organizations to legally assert their "sincerely held religious beliefs," while caring for children in foster care or in custody of Child Protective Services.
States with child welfare license-to-discriminate laws allow agencies to turn away prospective adoptive parents based on religious criteria, legally refusing adoption to parents who are single, divorced, LGBTQ, or of a different religion, thereby leaving children in the system longer than necessary or sometimes permanently. Under HB 3859, for example, an adoption agency could keep kids in a government group home rather than allowing them to be adopted by loving parents who don't pass an agency's religious test, or could refuse to allow an orphaned child to be adopted by an extended family member like a gay uncle or a transgender grandparent.
It's time to raise your voice
All child welfare decisions should be made in the best interest of the child. And every child deserves a family. In a system full of children who need homes and loving parents to care for them, these laws are restricting children's chances of being adopted – and culturally competent care to LGBTQ children under the guise of religious expression.
Ultimately, such religious "exemptions" allow agencies to privilege bigotry over the safety and wellbeing of children. That's why it's time we take a stand. Organizations around the country ― like Family Equality Council ― believe every child deserves a forever family, and we can only accomplish this by building community, changing hearts and minds, and driving policy change.
All children deserve a family to love and care for them, that can provide them comfort, witness their successes, and ease their pain. We must stop future efforts to enact child welfare license to discriminate laws in additional states, and work to overturn those that already exist in Texas, Mississippi, Alabama, Virginia, Michigan, North Dakota and South Dakota. All children in the child welfare system deserve a safe, forever home.
Popular in the Community