A dad-to-be is on cloud nine after learning his wife was pregnant while they were flying high in the sky.
Lisa Sadiwnyk enlisted the help of an American Airlines pilot to break the delightful news to husband Eric last month.
Video filmed by Lisa shows the couple calmly sitting on board their flight from Las Vegas, where they'd been on vacation, to Philadelphia. The captain then comes over the intercom.
"I'd like to draw your attention to seat 29E, where you will find Eric, who is traveling with his wife Lisa," the unidentified pilot says. "While you didn't strike it rich here in Las Vegas, you did hit the jackpot. Congratulations, you're about to be a dad."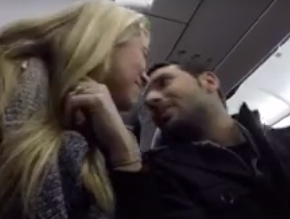 Eric looks stunned and leans in to kiss his wife, as fellow passengers and flight crew applaud.
She had planned to break the news on an earlier trip to the Hoover Dam, but then decided to stick with her initial airplane idea.