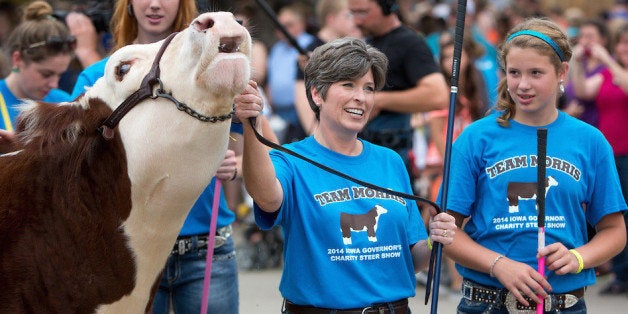 NEW YORK -– Political candidates seem more reluctant than ever to go off-script. And technology plays a big part in this, as anyone with a smartphone -- whether a political reporter, opposition researcher or voter -- can drive a candidate's misstatement straight into the political news cycle.
In this gaffe-fueled media environment, director A.J. Schnack believes he can negotiate access to candidates by promising something rare in political media: context.
Schnack, who directed "Caucus," a documentary on the 2012 Republican race in Iowa, said he pointed campaign officials to that film when he was seeking access for "Midterms," his forthcoming documentary series for Al Jazeera America. That previous work, Schnack told The Huffington Post, provided "a good sense of the type of work we want to do."
"Caucus" offered an evenhanded look at the Iowa contest by observing candidates rather than opining about them. The director's intention wasn't to trip up a candidate and score the "gotcha" moment of the day, but rather to capture unique exchanges with voters, aides and journalists. Schnack also didn't play up political gaffes, such as Mitt Romney's famous line at the 2011 Iowa State Fair that "corporations are people, my friend." Instead, Schnack presented Romney's line within a 5-minute scene that included the full exchange the politician was having with fairgoers.
A similar style can be found in "Midterms," which Schnack described as "political vérité mini-series."
The documentary series, which follows four competitive races in Iowa, Colorado and North Carolina, will air at 9 p.m. on Oct. 19, Oct. 26 and Nov. 2, the three consecutive Sundays leading up to the midterm elections.
In Iowa, the series follows the Senate race between Republican State Senator Joni Ernst and Democratic Rep. Bruce Braley. It also follows a House race there between Democratic State Senator Staci Appel and Republican David Young.
"Midterms" also tracks a Colorado race for the House between incumbent Republican Mike Coffman and Democratic Colorado House Speaker Andrew Romanoff. In North Carolina, Republican House Speaker Thom Tillis challenges Democratic Sen. Kay Hagan.
Schnack and his crew follow candidates pressing the flesh at town halls, state fairs and ballrooms, while also covering several debates. The first episode captures the ground-level enthusiasm during the Iowa Republican primary for Ernst, who burst onto the national stage with the cycle's most memorable campaign ad, which touted her experience castrating hogs. Schnack's cameras make their way behind the scenes as Tillis learns the primary race is being called in his favor and prays with his family before taking the stage to accept the Republican nomination.
Shannon High-Bassalik, Al Jazeera America's senior vice president of documentaries and programming, told HuffPost that the idea for "Midterms" grew out of "Caucus," which the network purchased after a film festival last year and aired in January.
"We knew the midterms were going to be important and particularly historical," High-Bassalik said. "We were a new channel and we wanted to get into politics in a way different than everybody else does. We're not about the horse race. We're really about the issues. And we're about the people. And we really are about the at-the-ground-level discussion."
Schnack said there were conversations among network executives early on about potential obstacles getting campaigns to open their doors to Al Jazeera America, which is still trying to establish its brand for a U.S. audience. It still may face concerns about Al Jazeera's mission that have lingered from the George W. Bush years, when top officials blasted the network after its Arabic-language channel aired taped recordings from Osama bin Laden.
However, Schnack suggested that Al Jazeera America journalists have already laid the groundwork for boosting the network's reputation through coverage in states like Iowa. And he recalled encountering a lot of fans of the network in North Carolina, especially in college towns, who were excited the network was carrying the documentary.

High-Bassalik said Schnack's vérité style fits with how Al Jazeera America tries to cover the world.
"We don't take a side," High-Bassalik said. "We're not left, we're not right. We are very much, 'Here's how it is.' That's how we approach everything. We just do not take a position. And A.J. did that in 'Caucus.' I think he did a very good job showing how the caucus really goes down and how it turned out the way it did."
One key difference between that film and the upcoming series is that the 2014 midterms won't be over when viewers can begin watching Schnack's coverage. Schnack first premiered "Caucus" over a year after the 2012 election was over -- and it had been even longer since Michele Bachmann, Rick Santorum, Ron Paul and the rest traipsed through Iowa. High-Bassalik said airing a documentary on races still unfolding will be "a first of its kind."
This past weekend, Schnack attended the Harkin Steak Fry, an annual Iowa political gathering to which hundreds of journalists flocked hoping Hillary Clinton might say something newsworthy. Schnack said his footage from the event likely will appear in the third episode, which he hopes to continue shooting until about 10 days before the four still-tight races end.

"Anything could happen," Schnack said. "Any of the candidates could win."
REAL LIFE. REAL NEWS. REAL VOICES.
Help us tell more of the stories that matter from voices that too often remain unheard.