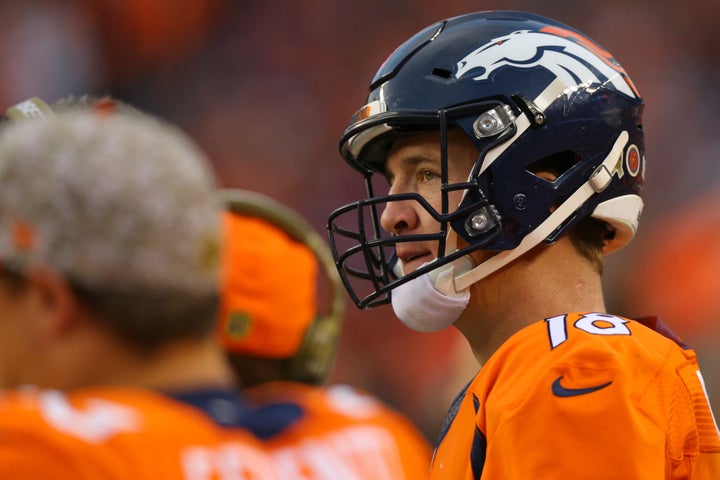 The fallout of "The Dark Side," Al Jazeera's new documentary about drug use in sports, has thus far focused on Denver Broncos quarterback Peyton Manning, after Texas pharmacist Charlie Sly asserted in the film that an Indiana clinic sent human growth hormone to Manning's wife. 
Listen to Huffington Post sports reporter Travis Waldron and NFL veteran Dontè Stallworth discuss the documentary with Al Jazeera senior producer Jeremy Young on this week's episode of "The Second Half" podcast.
Manning has denied the allegations, and Sly, Al Jazeera's main source, has since recanted his story. But beyond the unclear picture surrounding Manning, "The Dark Side" points to at least three broader problems with the way professional sports leagues approach performance-enhancing drugs.
1. The ease with which Al Jazeera's undercover operative obtained PEDs.
In the documentary, former British hurdler Liam Collins goes undercover as an athlete seeking drugs to help him qualify for the 2016 Olympics in Rio de Janeiro, Brazil.
Collins is able to connect with doctors and pharmacists willing to provide PEDs, first in the Bahamas and then in Canada. Eventually, he ends up working with Chad Robertson, a pharmacist, and Brandon Spletzer, a naturopathic physician, who design a drug regimen that requires up to 10 injections per day, and includes some drugs labeled "not for human consumption."
Later, Collins connects with Sly, who preaches the value of drugs like Delta-2, a steroid-like drug that he claims he has given a litany of NFL and MLB players to improve their performance. 
According to Al Jazeera, Sly offered Collins an instant injection, and the three men worked together to provide him with assorted drugs that the network now says it has stored away for evidence. 
It's no surprise that players have access to PEDs, but the fact that Collins obtains so many so easily shows that athletes looking to obtain these drugs won't have much trouble. 
2. The doctors' boasts that tests can't detect their drugs.
Sly claims in the documentary that he helped boost the performance of former NFL tight end Dustin Keller during the athlete's time at Purdue University, using a mix of testosterone and other PEDs. But the NFL's drug tests were more stringent than the NCAA's, Sly says, so Keller needed to change his regimen before the NFL Scouting Combine and NFL Draft. That's where Delta-2 comes in.
"We just used Delta-2 because it wasn't detectable," says Sly, who also told Al Jazeera he coached athletes on how to avoid testing positive.
Sly isn't the only one who brags about outsmarting drug tests. Robertson, the Vancouver-based pharmacist, says it's "sad" how easy it is for athletes to beat the tests their leagues administer.
"No one's got caught, because the system's so easy to beat," Robertson boasts to Collins. "And it still is, that's the sad fact. I can take a guy with average genetics and make him a world champion."
The documentary even shows MLB player Taylor Teagarden saying he beat urine tests while using Delta-2 and other PEDs.
There have long been questions about the effectiveness of drug testing, especially in pro sports, where more innovation and investment goes into producing new drugs than into developing testing for them. Researchers, meanwhile, have questioned the effectiveness of testing for PEDs at all levels of sports.
"The Dark Side" doesn't necessarily uncover new information about the effectiveness of tests, but it illustrates suppliers' dismissive attitude toward the testing systems they're trying to help athletes beat. And the film raises additional questions about how leagues like the NFL and MLB -- which often tout the strength and scope of their testing programs -- should approach PEDs given that their tests aren't catching a substantial number of users.
3. Do owners and leagues truly care about PED use in sports?
Those questions, of course, depend on whether the leagues actually want to prevent PED use. In the eyes of Eddie Dominguez, a former member of MLB's investigative unit, they don't. 
"Nobody in baseball wants you," Dominguez recalls an MLB vice president telling him on his first day with the investigation team.
"Having spent six years there, I think it's basically the bottom line," Dominguez says in the documentary. "Like any corporation, it's there to make money. All we were doing was adding bad press to baseball."
Dominguez, a former narcotics investigator, generally agrees with the criticisms of drug testing.
"As long as [athletes] know what the testing procedure is," he says, "they'll always be able to beat it."
MLB disputed Dominguez's claims in a statement to Al Jazeera, saying it has been "a leader in the fight against performance enhancing drugs." The league instead blamed players for holding up the testing process (Players, indeed, fought testing for years).
The number of positives that MLB's tests have yielded, however, remains low, according to its recently released numbers (its most recent PED-related controversy, the Biogenesis scandal, was uncovered through a newspaper report, not through players failing tests). And while the NFL has suspended numerous players for PED use, it has yet to catch any player using human growth hormone since it began testing for the drug last year.
The mechanics of drug-testing programs are complex, particularly because they involve collective bargaining with players and concerns about privacy and due process. But with few positives coming out of the tests and few ways of re-evaluating the effectiveness of testing, it's legitimate to ask whether whether leagues are truly committed to preventing drug use or simply want to look like they are taking the issue seriously.
PHOTO GALLERY
Amazing Photos From The 2015 NFL Season
Calling all HuffPost superfans!
Sign up for membership to become a founding member and help shape HuffPost's next chapter