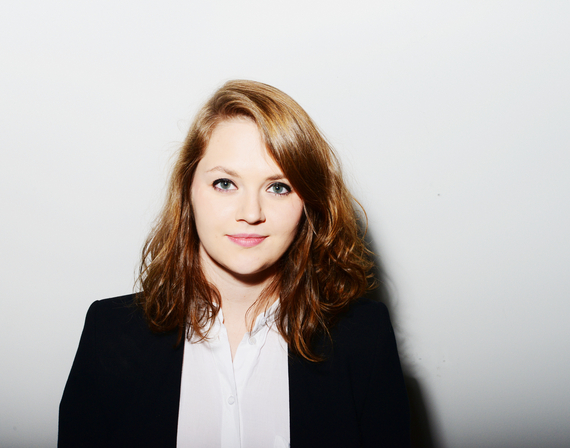 The celebrity boîte in the Hotel Carlyle enshrining today's only public mural art of Ludwig Bemelmans is a fitting incubator for the blossoming musical talents of multi-instrumentalist/singer Kate Davis.
The painter Bemelmans, known well for his illustrations in The New Yorker, Vogue and Town and Country but most famously for creating the Madeline series of children's books, also once owned perhaps the oldest bistro in Paris. Likewise anointed with his murals, La Colombe became the launchpad for singers through the 1950's and '60's when the next owner ran it as a cabaret.
Ascribing credit to the wall art would make for good superstition, but Davis comes to this storied scene with her merits well earned. She is pleased with the 12 million+ views of her jazzy video cover of the bubblegum hit "All About That Bass" by Meghan Trainor. But she yearns to be heard on singular terms as a gifted songwriter with a voice all her own - despite her ease with performing in an anachronistic American Songbook style.
Thanks to a residency at Bemelmans Bar this May, Davis is holding to her standards. Double entendre intended.
The 24-year-old Portland-born New Yorker converses easily about her rising star.
Kate, you're described in at least one Internet promo as the "revered multi-instrumentalist and vocalist Kate Davis." How does it feel to be 'revered' while your own website dates public recognition of your talents back only to 2012?
I think I have a lot more to live up to. I guess in the context of a website or whenever someone's trying to make someone sound appealing, those kinds of words are used. I can appreciate it for sure. I hope one day to live up to that word. It's motivating to know that folks are saying those things about me now, and I hope they will also in the future.
You've been regaled by MTV, you've performed at the Kennedy Center, Lincoln Center, Carnegie Hall, and "pretty much every noteworthy club in NYC" by your own site's admission. But a Sunday night residency at Bemelmans Bar in the Carlyle is no small thing. Is this a milestone? Or have you done so many high-profile gigs, this is just par for the course?
I think that this particular performing opportunity is different because it feels like a really important part of New York City's history. It's something that to me has a different kind of reputation because it's gone on for so long ... the Carlyle... It's as classy as it gets. It's like going back in time a little bit when you walk in there. I've done the [Café] Carlyle a couple of times, and I've been there to see other performers. But Bemelmans feels a bit more interesting.
Did you know the Madeline books as a child?

Yes of course! In fact my little sister is named after her.
Are you excited to be playing Bemelmans Bar?
Totally. I'm genuinely thrilled about it. As much as we've kind of touched on moving forward and keeping up the contemporary flare and making sure people know I'm not only preserving the American Songbook, certain opportunities do stand out. And sometimes it's really healthy and grounding to remind you of where you came from. An opportunity like Bemelmans is just that. It's going back to my roots with an understanding of where I came from. To go back to that place and strip things down and remember why I'm doing this in the first place is a very positive thing. It all comes together to remind you that it's about interpreting song. In a way, to do that is to contribute to the legacy.
What else do you have coming up?
I'm really lucky that I also have a lot of different kinds of performance opportunities coming up at a lot of different types of venues. It's rewarding to have different kinds of venues to prepare for, as it keeps things very fresh. It keeps me on my toes and reminds me how fortunate I am that nothing feels like I'm doing the same thing every night. That's a good thing for me. Any artist would be thrilled about having many different ways to get [their] art out. And they're beautiful venues at that.
Located in The Carlyle, A Rosewood Hotel, the Bemelmans Bar is at 35 East 76th Street (at Madison Avenue). Performances: Sundays in May at 9:00 p.m. Prices differ for bar and table seating. No reservations.
REAL LIFE. REAL NEWS. REAL VOICES.
Help us tell more of the stories that matter from voices that too often remain unheard.