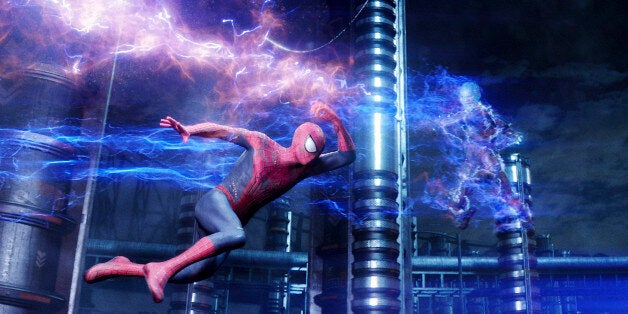 Director Marc Webb was on hand to introduce the clips, which included the film's opening sequence (a flashback involving Peter Parker's mother and father, played by Embeth Davidtz and Campbell Scott), a pair of action set pieces (one involving Paul Giamatti's Rhino; the other focused on Jamie Foxx's Electro) and what looked like a key moment in the second act, when Electro meets Harry Osborn (Dane DeHaan). Not shown was Osborn's turn into the villainous Green Goblin.
"Villain is sort of a simple word," Webb said about making a superhero film with multiple evildoers during the post-screening Q&A. "One of the great things about the Marvel universe is the complexity of the villains. Often there is a preexisting domestic connection, as in the case of Harry Osborn. That makes the conflicts more emotional and deeper. That was something I was curious about exploring."
Webb appeared loose and relaxed after the footage screened, and perhaps with good reason. In just 30 minutes, "The Amazing Spider-Man 2" looked more polished than anything in "The Amazing Spider-Man," yet managed to retain that first film's high point: the banter between Andrew Garfield, as Spider-Man, and Emma Stone, as his lady love, Gwen Stacy.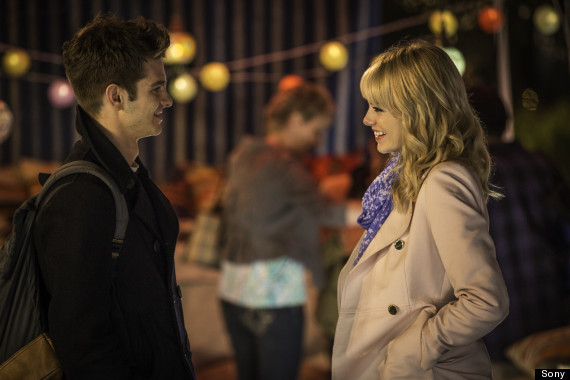 Andrew Garfield and Emma Stone in "The Amazing Spider-Man 2."
"The learning curve of the first one was huge, just in terms of the scope of the visual effects," said Webb when asked about the difference between the two films. "I had never carried something through with that scope. Particularly the animation of Spider-Man and The Lizard; trying to create a kind of realism out of that was tricky. Now, having gone through that, I was able to anticipate and think about all those eventualities and obstacles that can complicate your way."
One of those complications was backlash to Spider-Man's suit, an issue that the director dealt with right away in part two.
"In the first movie, I was really committed to thinking about how this kid was going to make a suit. That's why the eyes were made of glasses," Webb said. "In some ways that was a mistake, because hardcore fans have such a connection to the specificity of the suit. I sensed that and decided to go back to the more iconic version of the suit."
Between the films, Webb also realized that the nature of Spider-Man as a comic book lent itself to the extravagant. That recognition showed in the action scenes screened on Wednesday, specifically the introduction of Electro, which features the villain blowing up Times Square in a terrifying manner.
"I remember the feeling of reading a comic book. When you're walking into a Spider-Man universe, you're walking a dream world. There's creatures that come out from under the bed, there's people who are made of electricity. Figments of the subconscious that are jumping at you. I didn't want to be bound," Webb said. "[We] kept the emotions of the characters in a real place. Andrew, Emma and Sally Field [as Aunt May] are so good at that. Jamie is really good at that. That was taken care of. But I wanted that spectacle. There's a 12-year-old kid in me who gets up in the morning and is like, 'What did I do right in a past life? This is awesome. What can I do to have fun.' I just wanted to embrace that. I didn't want to shy away from that."
Beyond the spectacle and added cast members, Webb also introduced another element to "The Amazing Spider-Man 2": a collection of musicians led by composer Hans Zimmer, producer Junkie XL, guitarist Johnny Marr and a Grammy-winning artist by the name of Pharrell Williams. The group composed music for "The Amazing Spider-Man 2," though it was Pharrell who apparently wrote the film's love theme.
"I think it will be on the record," Webb said of what will likely become your new favorite Spider-Man melody. "It was a different kind of process."
Calling all HuffPost superfans!
Sign up for membership to become a founding member and help shape HuffPost's next chapter
BEFORE YOU GO
PHOTO GALLERY
Celebrity News & Photos