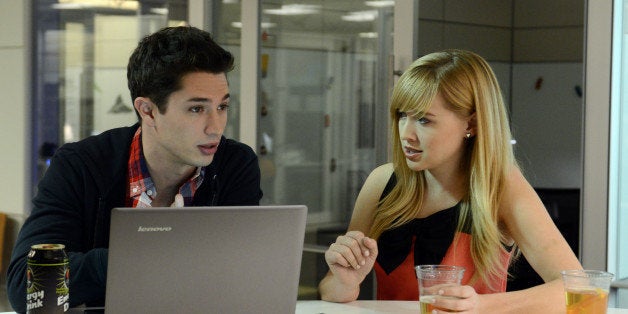 For a lot of people, Amazon Prime Instant Video is a bit of a puzzle.
For starters, one-fifth of people who have access to Amazon's Netflix-like streaming service, which is an added benefit for those who pay a $79 annual subscription to Prime, the company's loyalty program, don't even use it.
Perhaps some Prime members, who likely subscribe for the free two-day shipping benefit, don't know about Prime Instant Video. Amazon, after all, is known as a retailer, not as a streaming powerhouse, and Prime Instant Video was only added three years ago. It's possible they find the layout confusing or clunky, especially compared to Netflix's simple and easy-to-use interface. Or maybe they don't use it because it's not available to stream on their device. Or they simply don't want to watch the movies and TV shows it offers.
These are all valid reasons. Amazon Prime Instant Video is no Netflix. But Amazon has been upping its video streaming game over the last year, spending hundreds of millions of dollars to get exclusive rights to TV shows, build its library of content and produce its own original series. The company says it has 40,000 titles available for Prime members to stream, and just last week announced that pilots for 10 new shows are live. Amazon hasn't produced anything that comes close to Netflix's "House of Cards" or "Orange is the New Black" in terms of buzz or critical reception. But the two original series that Amazon developed and that are only available to Prime members, "Betas" and "Alpha House," have been well-received.
A lot. For some reason Amazon decided to confuse people when it named its streaming video services. Amazon Prime Instant Video is not the same as Amazon Instant Video. The former is an all-you-can-stream service available only to Prime members -- this is the one we're talking about here. Amazon Instant Video, however, is available both to Prime subscribers as well as non-subscribers. It's more like the video section of iTunes -- you pay a fee to rent or buy per title. Because you're paying per movie or show, rather than a flat fee for access to as much as you want to watch, Amazon Instant Video has more, newer and better titles than Amazon Prime Instant Video.
Prime Instant Video is only available for U.S. customers and only to people who pay for Prime -- students with free memberships or those who get Prime benefits as a guest of another Prime member aren't able to use Prime Instant Video.
Amazon likes to point out that Prime Instant Video streams on over 650 different phones, tablets, gaming consoles, set-top boxes, computers and smart TVs. That may be true, but it's missing from a few very key devices: the service is not currently available on phones or tablets that run Android, apart from the Kindle Fire. That means you can't stream Amazon on more than half of mobile phones in the U.S. (Amazon actually made news last week when a customer posted on his Tumblr that he got a 25 percent refund for complaining about the lack of Android support.)
Prime Instant Video is also noticeably absent from Chromecast, Google's wildly popular -- and highly recommended -- $35 dongle that connects your TV to the Internet. And while there's no app for it on Apple TV, Apple's set-top box, Apple TV owners can stream Prime Instant Video to their TVs from an iOS device or their Mac using the Airplay feature. (Netflix is available to stream on Android phones and tablets as well as Apple TV and Chromecast.)
For the purposes of this guide, we're going to focus on watching Prime Instant Video on a few popular devices: PCs, Apple's lineup of iOS devices, Amazon's Kindle Fire tablet and the Roku set-top box.
To stream from a desktop or laptop, you'll need to point your browser to Amazon.com and sign into your Amazon account. Then, mouse over "Your Prime" in the top right corner. You'll see a tiled display of movies and TV shows appear.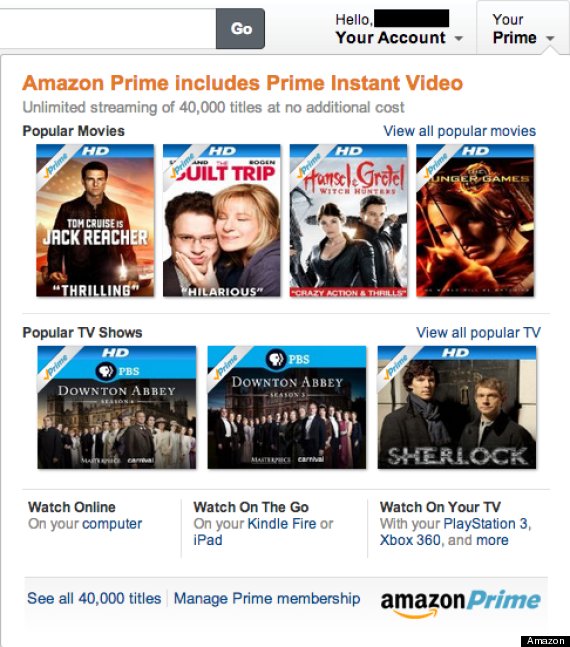 A selection of Amazon Prime Instant Video titles, as seen on a PC.
Click on a title and you can begin to watch it right away. From there, you can also add it to your "Watchlist," which collects [movies and TV shows for you to watch later.
Depending on the title, you may have the option to pay to download it (this is where Instant Video comes in), but if you're a Prime member and you can stream it for free, there's really no reason to do this unless you want to download the video to watch later, when you're somewhere you won't have access to the Internet.
To see more titles or browse, click "see all 40,000 titles" in the bottom corner.
Prime Instant Video may not be available on Android phones or tablets, but those Prime members with an iPhone, iPad or iPod Touch can download the Amazon Instant Video app from the App Store. (Note: this is different from the Amazon shopping app.) From there, you can access your Watchlist, search for and watch Prime videos, or resume watching something that you started on another device.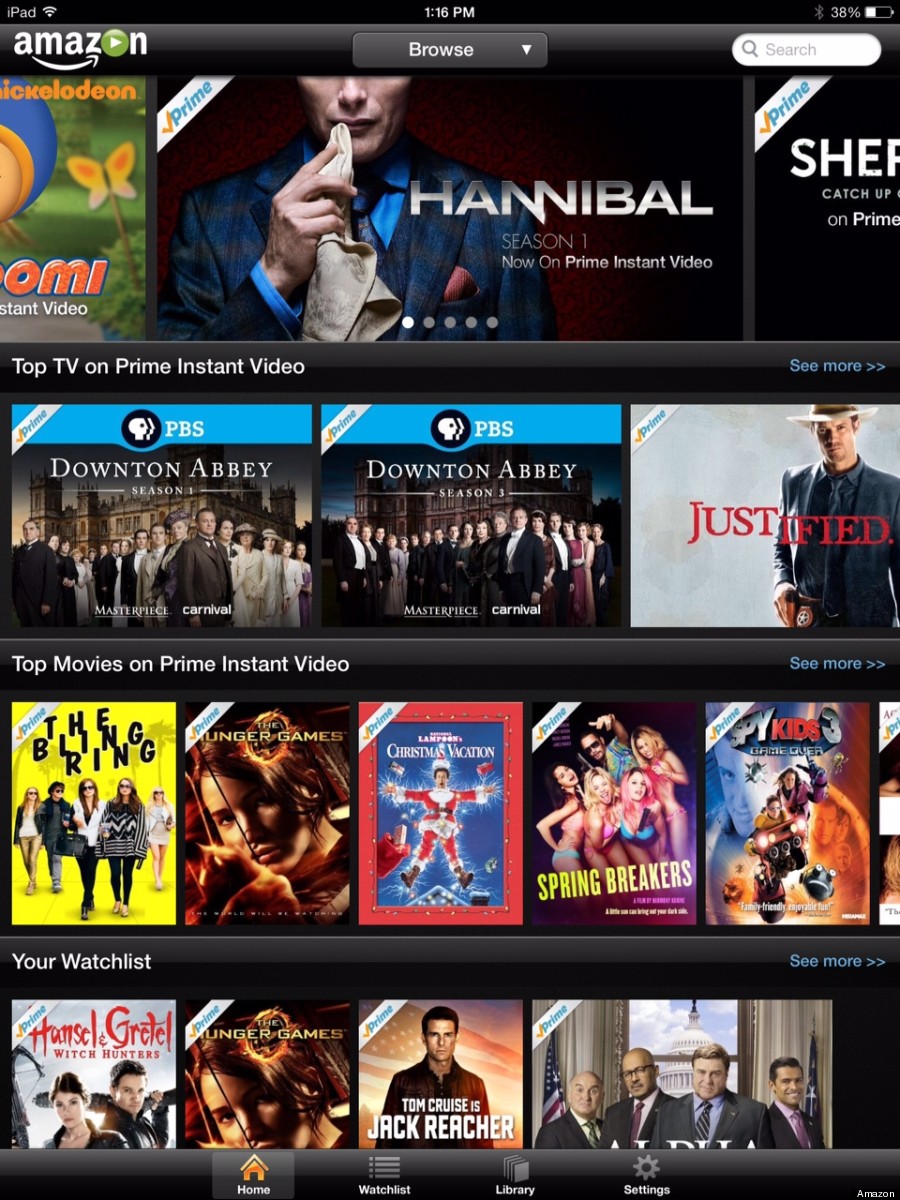 Amazon Instant Video on an iPad.
But you must be connected to a Wifi network in order to stream. This seems to be a restriction Amazon itself put in place, rather than something imposed by my wireless carrier, since I can stream all the Netflix I'd like from my 4G LTE iPhone. Amazon did not respond to a request to clarify.
Kindle Fire and Kindle Fire HDX:
As you'd imagine, Amazon's Kindle Fire Tablets -- at their core, devices meant to get you to buy things on Amazon -- make it very easy to stream Prime video and buy Instant Video. Unlike the iPad or iPhone, you don't even need to install an app to get streaming -- simply tap the "videos" button on the home screen to be taken to Amazon's selection.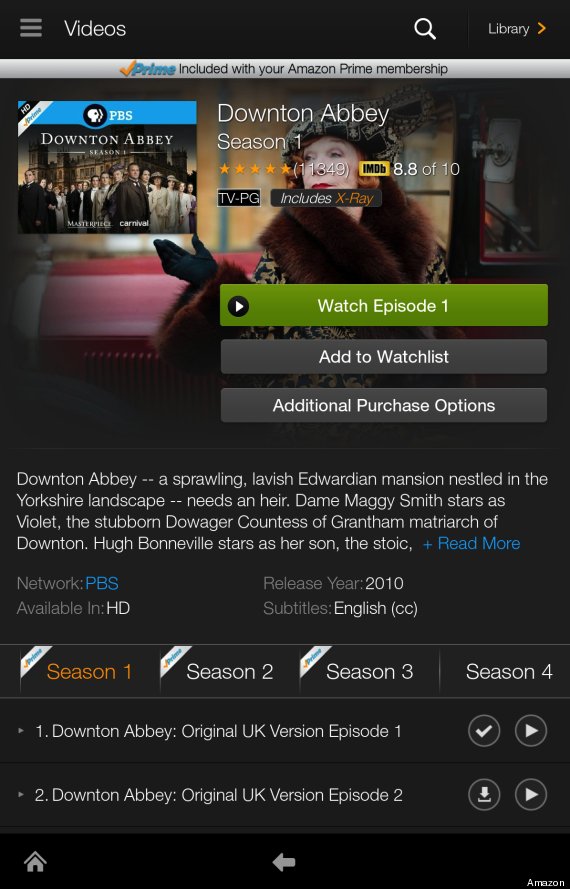 Amazon's Prime and Instant Video selection on a Kindle Fire HDX.
Amazon's newest tablets, the Kindle Fire HDX lineup, offer a nifty offline viewing feature. Some Prime Instant Video movies and TV shows -- Amazon says over half -- can be downloaded to the device for offline viewing. This means you can download episodes of "Downton Abbey" to watch later, or when you can't connect to the Internet, like if you're commuting on a subway or flying on an airplane.
You can watch Prime Instant Video on Roku, the popular set-top box that connects to your TV. Roku boxes don't come pre-loaded with the Amazon Instant Video app (Roku calls these apps "channels"), so to begin you'll need to install it from the Channel Store.
Then, just sign into your Amazon account to access Prime Instant Video, as well as Instant Video and your Watchlist.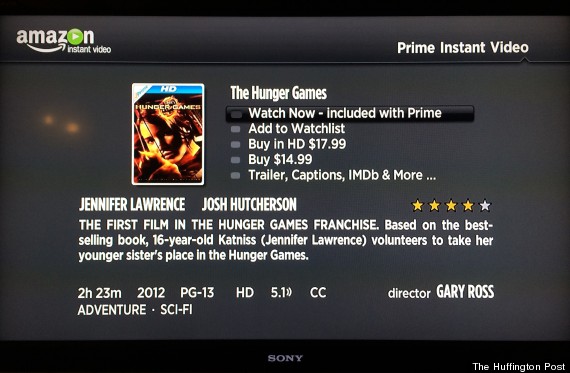 Amazon Prime Instant Video on a Roku connected to a TV.
Most people buy a membership to Amazon Prime for the free shipping. But Amazon has been adding services and features to make Prime more attractive -- members can also rent one free eBook each month from the Kindle library -- because Prime customers are so valuable to Amazon: They spend more, buy more expensive items and shop more frequently.
Amazon gets a lot from you as a Prime customer, and now that you're more familiar with Prime Instant Video, you'll be able to get a little bit more from Amazon.
Support HuffPost
The Stakes Have Never Been Higher
Related
Popular in the Community