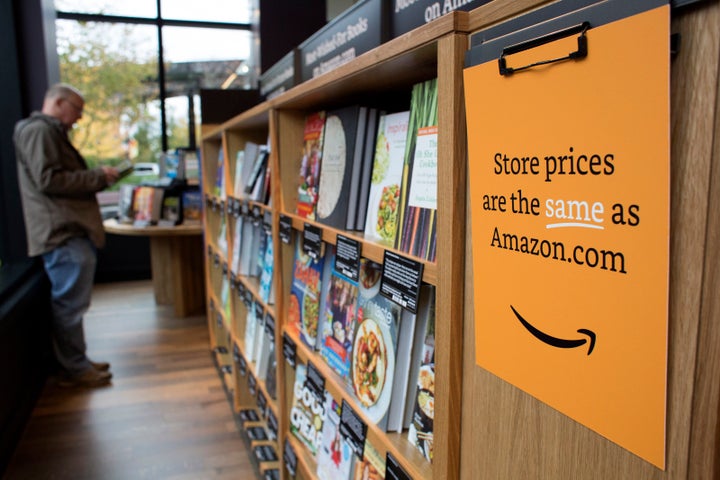 This morning, Amazon ― the online bookseller-turned-everything store ― opened the doors to its latest brick-and-mortar outpost in New York City's Columbus Circle. The company added in-person retail to its arsenal of buying options in 2015, when it opened a store in Seattle. Beginning today, it occupies a space where a Borders once was.
Unlike its competitors ― which mostly include independent bookstores, after the company's rise lead to the fall of Borders and many Barnes & Noble locations ― Amazon's physical bookstore relies on sales data to determine which titles will be prominently displayed. At the Columbus Circle location, a table labeled "Highly Rated: 4.8 Stars & Above" sits near the entrance. On it, are such titles as 100 Days of Real Food: Fast & Fabulous: The Easy and Delicious Way to Cut Out Processed Food by Lisa Leake and Cravings: Recipes for All the Food You Want to Eat by Chrissy Teigen.
For publishers, especially those who support the work of emerging authors, disempowered authors or authors whose voices aren't in chorus with the mainstream, this data-based approach to bookselling is disconcerting.
Michael Reynolds, the editor-in-chief of Europa Editions, told HuffPost that Amazon's ratings-based system isn't conducive to discovering writers like the lyrical, wave-making Elena Ferrante, whom Europa publishes.
""Things like Tolstoy are going to have lower ratings than the new book by the new YouTube star."
"While a new bookstore, any new bookstore, is generally good news, I can't see how Amazon applying its unsatisfactory recommendation engine to a physical space is going to result in the kind of discovery experience a reader has when she enters any good brick-and-mortar store," Reynolds said. "It is certainly not going to help with bringing about the kind of bibliodiversity that, with authors like Elena Ferrante, Muriel Barbery, Boualem Sansal and Domenico Starnone, we seek to cultivate, and that I think is more important today than ever."
Dennis Johnson, the co-publisher of Melville House, agreed. "Things like Tolstoy are going to have lower ratings than the new book by the new YouTube star," he told HuffPost. "Real literature is slowly not going to be available there."
Caroline Casey, the managing director of Coffee House Press, was more optimistic about readers' appetite for well-told stories, and the tenacity of indie presses.
"I don't expect [Amazon's] experiments to damage independent bookstores, because what people value them for isn't replicable in the Amazon model," she told HuffPost. "So those booksellers, who are our very best advocates and sell our books better than I ever could hope to, should be fine. And so will we."
Coffee House Press describes itself as "committed to diversity and inclusion," and that mission statement is reflected in the titles it publishes, including Valeria Luiselli's The Story of My Teeth, Saeed Jones's Prelude to Bruise and Jade Sharma's Problems. Casey says that while a "significant portion" of Coffee Houses' sales come from Amazon, she doesn't expect the seller's physical locations to have either a positive or negative impact. Instead, she expects that indie bookstores will continue to account for most of the press' in-person sales.
"A good bookstore offers not just curation, but also personality and the opportunity not [just] to find what you want, but to also find out what you want," Casey said. "Amazon might have a lot of customer data, but it's not the kind that yields a surprising, joyful bookstore visit."
Casey declined to comment on this new development. But, Johnson and Reynolds agreed that the move could hurt publishers and, consequently, authors, who aren't owed a cut of the sale from third-party distributors.
"I cannot be anything but concerned by Amazon's insistence on chipping away at the perceived and actual value of books."
"The Amazon paradigm sees books as a function of a hyper-competitive market rather than cultural products that create a market, shape it, and at times disrupt it," Reynolds said. "The most recent development concerning Amazon's buy box will make it increasingly difficult for authors to be paid adequately for their work when it is sold through Amazon, and for publishers to invest in bringing new and diverse voices to the market and maintaining a robust backlist. As a publisher animated by an abiding belief in the broad and lasting value not only of books but of 'bibliodiversity,' I cannot be anything but concerned by Amazon's insistence on chipping away at the perceived and actual value of books."
"It's another instance of Amazon killing the goose that lays the eggs," Johnson said. "Screwing their partners in the ecosystem that naturally grows around any kind of product. What they're doing now is something that nobody makes any money from, except Amazon."
And it's not just indie presses who could suffer from Amazon's business decisions. In fact, Johnson said that Melville House ― which only relies on Amazon for around 25 percent of its sales ― will likely fare better than big-five publishers such as Random House, which leans on Amazon to sell classics and other backlist titles.
"This is treacherous for everybody in the business," Johnson said. "Everybody's threatened by this."
"Amazon is nothing if not Trumpian in their behavior," he continued. "The ruthlessness, the naked capitalism. It's all there. They're positively Trumpian. They have that in them."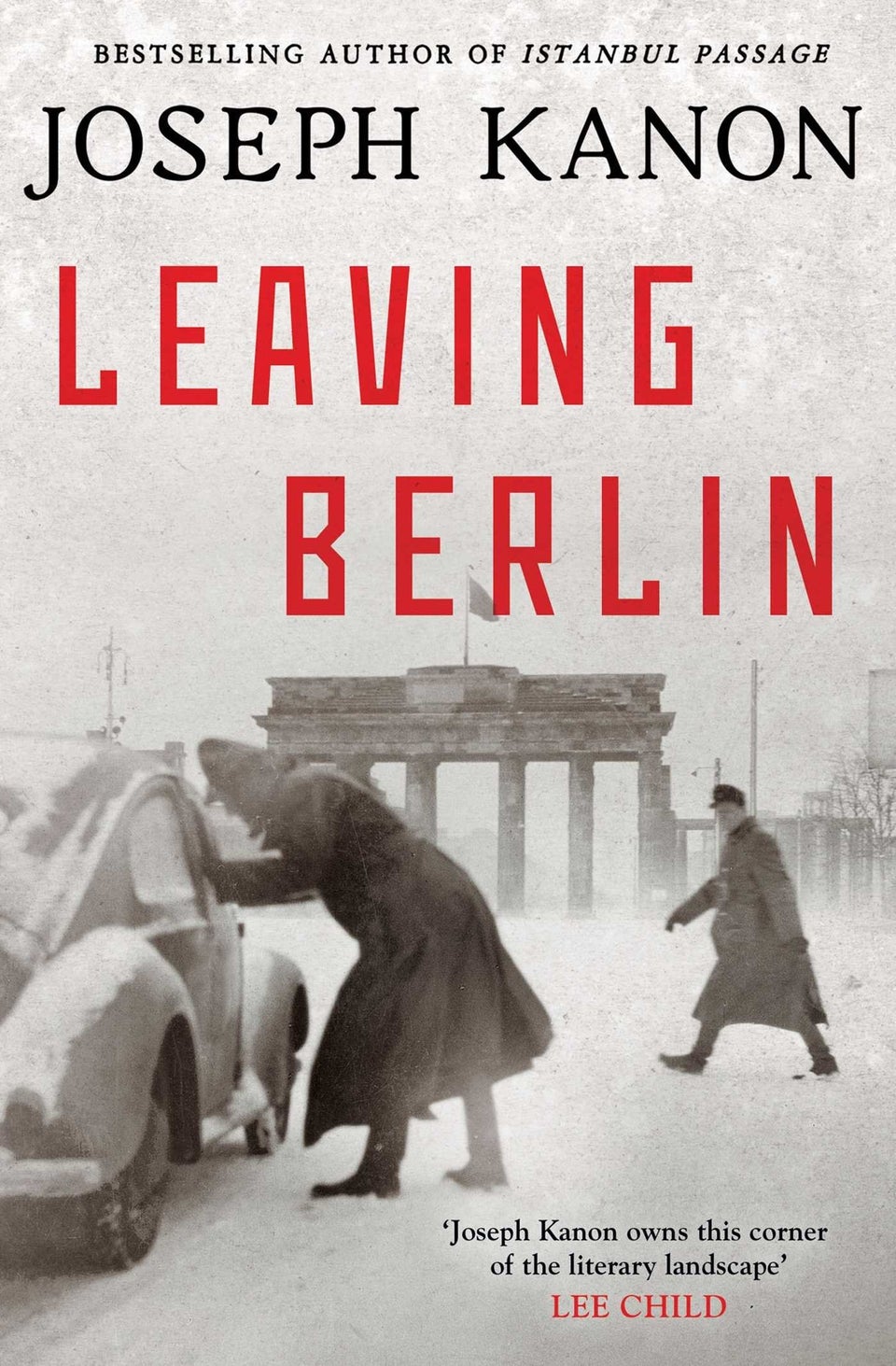 9 Novels That Will Keep You In Suspense
Popular in the Community