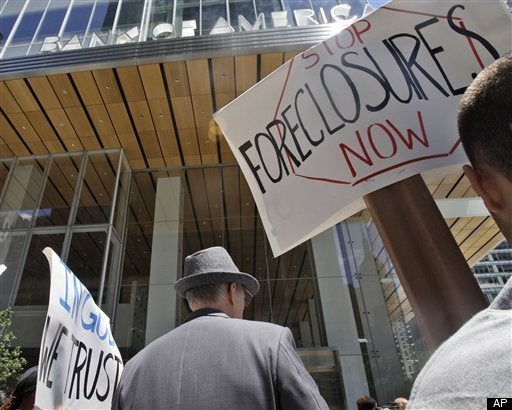 The great American Dream of owning a home has never looked so impossible to achieve: roughly 1.65 million homes are in the foreclosure pipeline, housing prices are at an all-time low, and nearly 7% of mortgage holders are more than 60 days late on their payments. Despite the dreary picture, there are an ever-increasing number of lifelines for people trying to avoid foreclosure:
One of the biggest national hotlines for free home counseling is 888-995-HOPE, run by the Congress-funded Home Preservation Foundation. To date, the HOPE hotline has counseled four million homeowners since 2008, and helped 70% avoid foreclosure within a year. HOPE is the number to call before you seek a loan modification or expensive legal representation: a counselor will listen to your housing and financial concerns and, if necessary, facilitate a three-way conversation with a third party for additional help. With 550 employees stationed in 8 centers around the country, Diane Zyats, VP of Communications at the Homeownership Preservation Foundation, says there is rarely a backlog of homeowners waiting to receive advice. This, Zyats stresses, is key to preventing a distressed homeowner from falling for one of the many foreclosure scams out there.
The HOPE website also offers this helpful list of warning signs of a scam. Foremost? "No one should charge," she says. "There are so many sources for not charging that there is no reason to charge." Click here to see more.
At a local level, many communities are showing an incredible display of humanity and compassion for their neighbors facing foreclosure. For example, the non-profit
is a coalition of 80 Brooklyn-based lawyers serving low-income Brooklynites on a pro bono basis. Although volunteers receive credited continuing legal education
training, taking on a case can take up a huge chunk of time. For example, foreclosure cases take anywhere from three months to years and usually require multiple court appearances and ongoing counsel. But
Currently the BVLP handles over 160 active foreclosure cases, and has successfully prevented 45 from final foreclosure through mediation. Brooklyn is one of an increasing number of areas around the country where mediation has become mandatory before a home can be foreclosed on. Although victims don't need legal representation at these settlements, it can provide an immense amount of reassurance.
Over in Philadelphia, the Residential Mortgage Foreclosure Diversion Program is often touted as the first successful city-sponsored foreclosure prevention plan. Under the compassionate eye of Judge Annette Rizzo, recipient of the 2009 Louis J. Goffman Award, this two-year-old program makes it mandatory for borrower and lender to meet face-to-face, and discuss every possible option before the home can be foreclosed on. These options include forbearance, settlement, stay of sale, loan modification or reinstatement, and as a last resort, a "graceful" exit.
Each homeowner is also assigned a housing counselor to accompany them to court and guide them through the process, and it's effective: the program has delayed foreclosures in 75-80% of the cases that have made it to mediation. Thanks to the program's success, it has become a model for many other city-sponsored programs, such as in Boston, Pittsburgh, Miami, Cook County, Prince George's County, Louisville, and the state of New Jersey.
At best, even the combination of all these programs will make a mere dent in America's astronomical foreclosure levels. But like with any overwhelming problem, every little bit helps.
Have you avoided foreclosure recently? Are there other groups we should have added? Let us know in the comments section below!