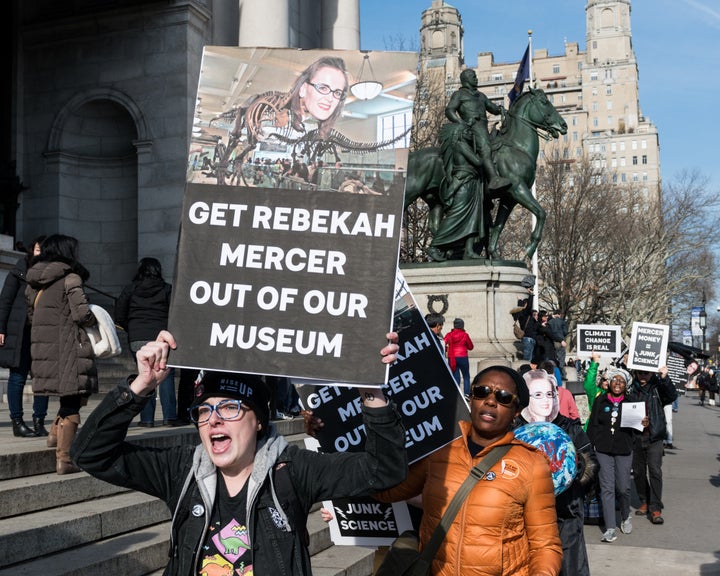 More than 200 scientists and researchers on Thursday released a public letter urging the American Museum of Natural History to cut ties with Rebekah Mercer ― a right-wing philanthropist and mega-donor to President Donald Trump who has poured millions into think tanks and websites that vilify researchers and deny human-caused climate change.
The letter calls Mercer, whose family foundation has donated $4.1 million to the museum over the past four years and who's sat on its board since 2013, an "anti-science propagandist."
"Rebekah Mercer and the Mercer Family Foundation, political kingmakers and the financiers behind Breitbart News, have given tens of millions to organizations who broadcast climate science denial and block policy and technological solutions to the climate crisis," the letter reads.
The statement launches a new campaign by activists and scientists who last formed a coalition in 2015 to call for the ouster of David Koch, the fossil fuel billionaire who helped bankroll the movement to discredit and attack climate researchers. The coalition hailed victory when the 77-year-old tycoon stepped down from the museum's board of trustees in January 2016.
Last Sunday, a progressive group called Revolting Lesbians staged a protest on the museum's marble steps facing Manhattan's Central Park West to demand Mercer's removal. Calling Mercer "the first lady of the alt-right," a representative from the group, Anne Maguire, told HuffPost they sent letters to every board member ahead of the rally.
In a statement on Thursday, the museum said it believes "human-induced climate change is well-supported by scientific evidence and is one of the most serious issues currently facing our planet."
"As a scientific and educational institution, the Museum deeply respects the work and views of scientists ― both those who work as colleagues at the Museum and those from the broader scientific community," Roberto Lebron, a spokesman for the museum, said in the statement emailed to HuffPost. "The Museum itself, however, does not make appointment decisions concerning staff or Trustees based on political views."
The Thursday evening announcement comes amid new scrutiny of donor influence over how one of the nation's top science museums presents the evidence of human-caused climate change.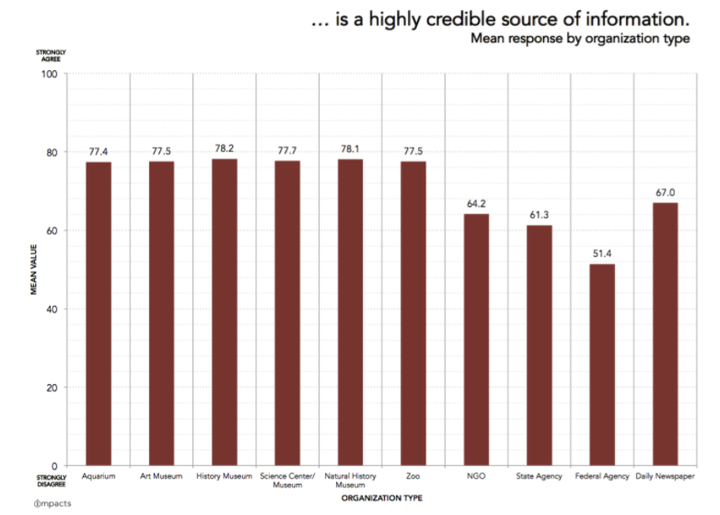 Nearly three weeks ago, Jonah Busch, an environmental economist at the nonpartisan Center for Global Development, accused the museum of promoting misinformation on climate change in its David H. Koch Dinosaur Wing. In a widely-shared Twitter thread, Busch posted photos of a museum plaque that minimized human influence on global warming. While the exhibit said greenhouse gas pollution "may also have an effect on the Earth's climatic cycles," it said "there is no reason to think another ice age won't come."
Ninety-seven percent of peer-reviewed research has found that burning fossil fuels, deforestation and industrial farming are enshrouding the Earth in heat-trapping gases, while a research review published in 2015 found significant flaws in the methodologies, assumptions or analyses used by the 3 percent of studies that concluded otherwise.
The influx of human-caused carbon dioxide emissions "will postpone the next glacial inception by at least 100,000 years," according to a 2016 study published in Nature, which Busch cited.
"When you've got people like Mercer on the board, it just makes it that much harder to give the benefit of doubt when they are putting up inaccurate information about climate change," Busch, who is not involved in the campaign to oust Mercer from the board, told HuffPost by phone on Wednesday. "Something you could give a pass to as an innocuous mistake starts to have the appearance of something more sinister."
At a time when surveys regularly show eroding public trust in newspapers, government agencies and science academies, museums buck the trend.
Over 78 percent of Americans agreed that natural history museums were highly credible sources of information, second only to history museums, according to an ongoing national survey conducted by the research firm Impacts with funding from the David and Lucile Packard Foundation and the Monterey Bay Aquarium.
By contrast, 67 percent said the same of daily newspapers, and just 51.4 percent of federal agencies.
In October, Environmental Protection Agency head Scott Pruitt ― an unabashed climate change contrarian with deep ties to gas and chemical companies he now regulates ― put new rules in place to give more power to industry-funded researchers on the EPA's science advisory boards.
Since taking over as chairman of the House Committee on Science, Space, and Technology nearly six years ago, Rep. Lamar Smith (R-Texas) transformed the committee from a sleepy bastion of bipartisan agreement to a political cudgel and blunt instrument for industry groups.
"Science has never been more important to the country, yet it's under more attack than we've seen in decades," Jon Foley, executive director of the California Academy of Sciences, told HuffPost by phone Thursday. "It's a bit worrisome to see prominent ― not just donors but trustees ― of major museums on the one hand supporting science, but on the other undermining it by funding groups that are deliberately trying to sabotage science on things like climate change."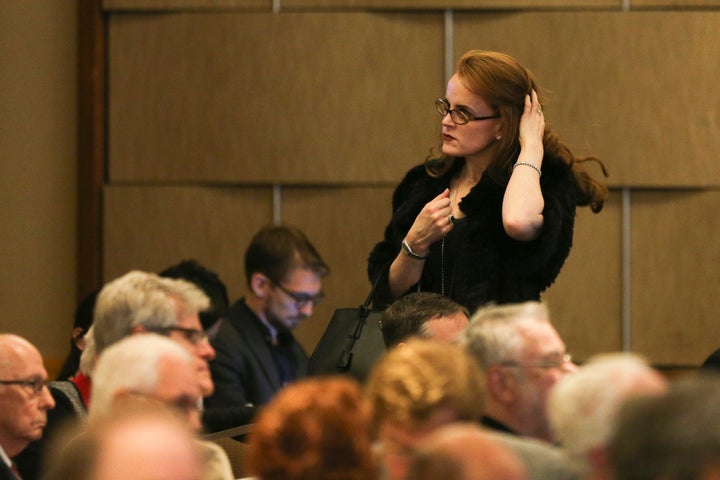 In 2015, Foley's museum announced plans to completely divest from fossil fuels and bar contributions from oil, gas and coal companies. Foley said the decision alienated at least one longtime donor whose wealth came from fossil fuels a few generations back. But he said the move was necessary to preserve the integrity of the California Academy of Sciences' reputation.
"We decided that's simply incompatible to our mission," said Foley, who is not involved with the American Museum of Natural History campaign. "When we talk about trustee candidates, it's not about their politics ― it's do people support science wholeheartedly, regardless of their opinion of how it affects their business or political ideology."
"Sometimes that means not working with certain people and certain organizations, but that's OK," he added. "At the end of the day, it's better for science and better for a public-serving institution to be OK with this kind of thing."
Mercer and her father, Robert, made their fortune at the hedge fund Renaissance Technologies. The secretive family rose to prominence in 2016 after funding and organizing Trump's presidential campaign. The Mercers invested at least $10 million into Breitbart News, the right-wing website, and have spent $36.6 million on Republican races and and super PACs since 2010.
The Mercer Family Foundation has donated heavily to climate misinformation groups over the years, contributing nearly $5.9 million to the Heartland Institute, a leading proponent of climate science denial, between 2008 and 2016, according to previously unreleased tax filings reviewed by HuffPost.
The foundation ramped up spending on climate denial in recent years, giving money to think tanks and groups that spread climate misinformation, including $200,000 to the Oregon Institute of Science and medicine, $150,000 to the CO2 Coalition and $125,000 to the Center for the Study of Carbon Dioxide and Global Change.
"Their funding is as egregious as the Kochs," Beka Economopoulos, whose New York-based nonprofit The Natural History Museum organized the letter, told HuffPost. "They're a lightning rod for controversy. The spotlight of public scrutiny is starting to shine on the Mercers."
This article was updated with additional details from Revolting Lesbians and to reflect the most recent tally of scientists' signatures.
Before You Go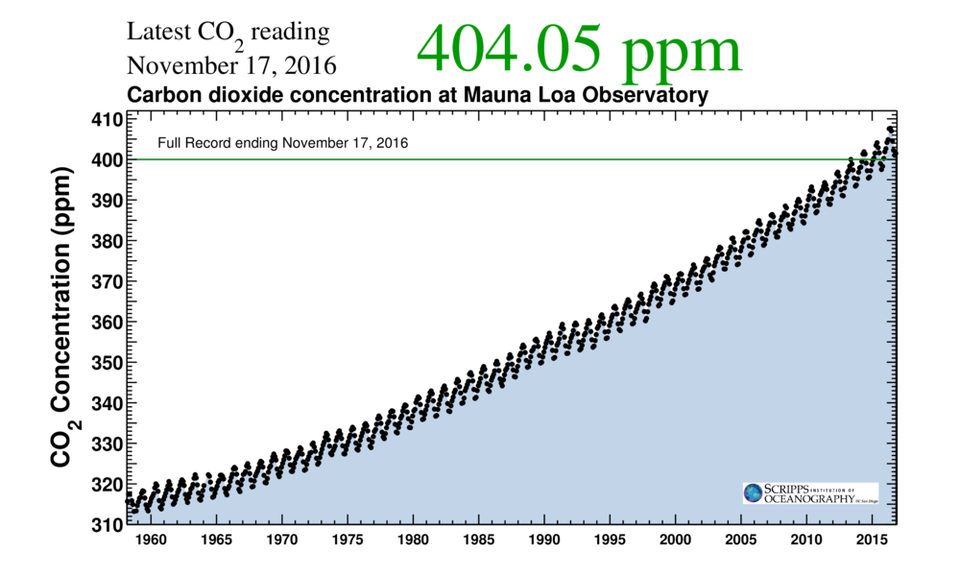 Climate Visuals For The Climate Change Denier In Your Life
Popular in the Community