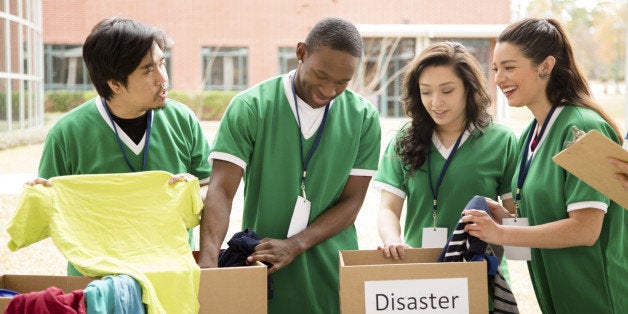 Wars. Terrorist attacks. Earthquakes. Floods.
They are the stuff of front-page news, the kinds of stories we associate with a scramble for health care workers whose expertise is emergency medicine - people who know how to stitch up lacerations, set bones, transfuse blood.
Until recently, the more mundane health needs typically associated with non-communicable diseases (NCDs), like insulin injections, cancer medicines and asthma inhalers, were put to the rear. They could wait until the emergency needs had been met, right?
Public health experts now know that meeting the needs of people with NCDs after an emergency can prove just as important - and nearly as time-sensitive -
as stanching a hemorrhage.
With the prevalence of NCDs growing most rapidly in developing countries, it is during emergencies in countries like The Philippines, Syria, Iraq and Yemen that their impact is most obvious.
After a disaster, when stress may be ubiquitous and access to medications scant, routine cases of cardiovascular disease, cancer, lung disease and diabetes can quickly evolve into life-threatening emergencies.
WHO moving on many fronts to respond to NCDs in emergencies
That is why the World Health Organization (WHO) is working on many fronts to respond to NCDs in emergencies.
The effort is part of the Organization's overarching push to prevent and control NCDs, especially after emergencies. That push has translated into:
I witnessed the special challenges created by emergencies during 20 years with the Red Cross and Red Crescent Movement in Armenia, Belarus, Georgia, the Russian Federation, the former Yugoslavia and Chernobyl in Ukraine - countries affected by conflict as well as natural and technical disasters.
In managing the delivery of humanitarian aid, I learned to include NCDs in the emergency agenda.
For example, after a major earthquake, first responders typically focus on digging people out from the rubble of collapsed buildings and treating their injuries.
But that is not enough. The emergency for NCDs starts soon after. For example, the incidence of and mortality rate for heart attacks and strokes can more than double. Many of those deaths are never linked to the disaster, but they should be.
Identify those at highest risk of life-threatening complications
To lessen the NCD toll after emergencies, a health worker's first priority is to identify people with NCDs whose lives would be immediately threatened if treatment became unavailable. This includes people living with type 1 diabetes requiring insulin, or those with end-stage renal failure requiring dialysis. The next step is identifying other people who are being treated for an NCD or their risk factors, like type 2 diabetes or raised blood pressure, and ensure continuity of care to avoid acute exacerbations or complications in the longer-term.
WHO understands the importance of including NCD medicines and other materials in its emergency response packages, and sends experts able to evaluate the needs of people with NCDs.
For example, when I have been in cities struck by calamity, I go to the chief doctor and ask, "How many people under your supervision have diabetes?" Only then can I begin to grasp the needs. More informed assessments can be made by using WHO estimates on the prevalence of some NCDs and their risk factors, including hypertension, high blood cholesterol and diabetes.
The job of a health worker then requires moving quickly, since a person with type 1 diabetes can easily die after a few days through lack of insulin.
Half of households had a resident with an NCD
The issue affects many. A survey of households in Lebanon and Jordan found at least half of those containing displaced people or refugees included at least one person with an NCD.
If the country's health systems were not in place to meet the needs of people with chronic conditions prior to a conflict or natural disaster, they are worse after.
A country's residents can better withstand a health emergency if a system of universal health care has been put in place -- before the emergency occurs.
Any emergency that wipes out a country's health system must be considered a tragedy. But some can prove to be an opportunity, too -by making it easier for health officials to rebuild - stronger and better.
WHO is working to identify the essential health services package in emergencies, of which a strong focus on NCDs is critical, especially to ensure continuity in the delivery of care for people in need. The Sendai Framework for Disaster Risk Reduction also highlights the need to ensure people living with NCDs are included in the design of policies and plans to manage their risks before, during and after disasters.
For example, after Typhoon Haiyan obliterated portions of the Philippines in 2013, killing thousands of people, NCD services were added to the health system when it was rebuilt.