WESTWOOD, CA - Calling all art lovers (and anyone with a heart for children with special needs) to a one-of-kind Concert and Silent Auction. If you love art and you love kids, you won't want to miss this exciting opportunity to own an original piece of very special art -- framed sketches, mural composition style guides, and oil renderings from mural projects created by the Special Children's Art Foundation.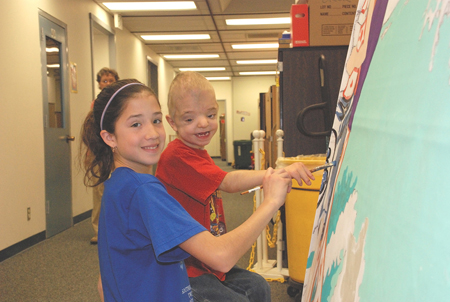 The Geffen Playhouse, in association with the Special Children's Art Foundation (SCAF), will host ART GALA 2008, a tribute to the artistic expression of special needs children, on Monday, May 19th starting at 6:00pm. The evening will begin with a new twist on old jazz standards in the Playhouse's historic Courtyard, performed by the Matt K Quartet, while patrons enjoy passed hors d 'oeuvres and a no-host wine bar and peruse the varied offerings of the silent auction. Following the silent auction, guests will be treated to a classical and jazz concert performed by woodwind artist and CalArts graduate Brian Walsh, and performances by four special young artists on the main stage of the beautifully renovated Geffen Playhouse.
All proceeds from the evening benefit SCAF's 2008 - 2009 mural projects. Please bring your checkbook as credit cards cannot be accepted at the event. A strong showing at the Gala will allow the agency to continue to bring socially inclusive art projects to schools and communities throughout Los Angeles County.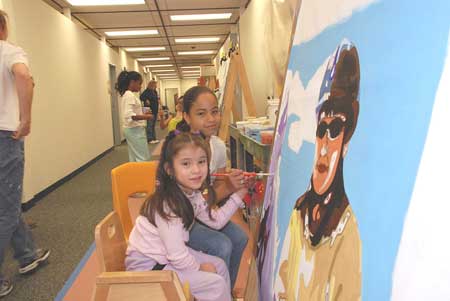 The Special Children's Art Foundation fosters hope, self-esteem and community integration of special needs children by providing these youth, their families and mainstream community members the opportunity to engage in socially inclusive, school and community-based mural projects. SCAF develops mural projects on any Los Angeles County school campus with a special education program, bringing the opportunity to access the arts directly to where youth with special needs spend a large part of their day. The need for SCAF's programs continues to grow as funding for arts programming and cultural enrichment programs that benefit youth with special needs or disabilities is increasingly being cut from state and local budgets. In 2005-2006 there were nearly 185,000 special education youth in Los Angeles County public schools (11% of the total student body) identified as having a learning disability or a physical, mental or behavioral disorder.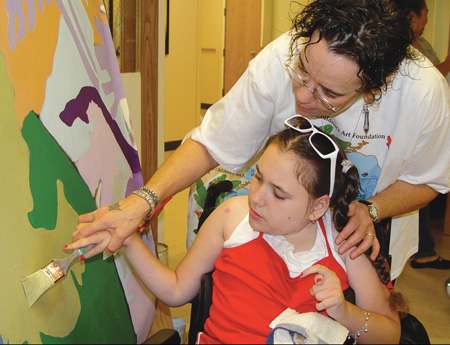 Annually SCAF serves between 300 to 400 students, as well as hundreds of adult family and community members, representing every race/ethnicity, socio-economic level, and type of disability in Los Angeles County. By working together, children with special needs and their mainstream peers gain a better understanding of one another while gaining painting skills and contributing to public art that transforms the school campuses, therapeutic facilities and community centers that are selected as mural sites. "The whole purpose behind doing these art projects is to build community and foster communication and socialization between handicapped and mainstream students," said Marc Kolodziejczyk, Executive Director for SCAF. Students with special needs experience increased confidence, self-esteem and ability to express themselves. Mainstream students learn about tolerance, teamwork, and relationship building. Together they experience a tremendous sense of pride and accomplishment when they see the finished mural they helped produce.
To learn more about the Special Children's Art Foundation and their school and community-based mural projects, visit www.specialchildrensart.org or write to specialchildrensart@yahoo.com.