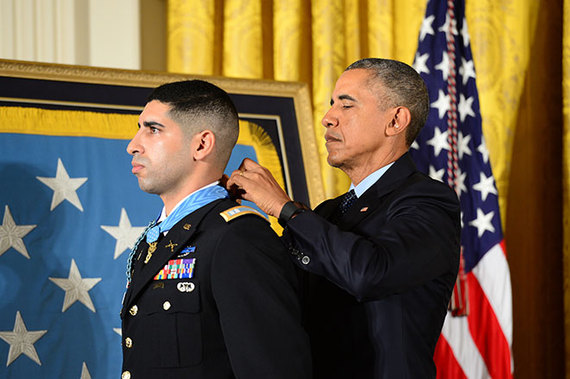 Should more of our heroes who have displayed "conspicuous gallantry and intrepidity at the risk of life above and beyond the call of duty" be awarded our nation's highest military decoration, the Medal of Honor?
This is a question that has been frequently raised, especially during the more intense periods of the Iraq and Afghanistan Wars.
During a period when our troops were slugging it out and dying by the thousands in Iraq and Afghanistan, the Bush administration saw fit to award "a measly five" Medals of Honor to our heroes, all of them posthumously.
In contrast, there were 245 Medal of Honor recipients during the Vietnam War, and 27 Medals of Honor were awarded for the single World War II battle of Iwo Jima.
Although numbers don't tell the whole story, America's 20th-century wars produced highly consistent rates of Medal of Honor heroism...From World War I through Vietnam, the rate of Medal of Honor recipients per 100,000 service members stayed between 2.3 (Korea) and 2.9 (World War II)...But since the terrorist attacks of Sept. 11, 2001, only five Medals of Honor have been awarded, a rate of 0.1 per 100,000 -- one in a million.
As discussed here, several possible reasons were advanced at the time for such dearth of recognition, including:
• Changes in warfare, combat tactics and technological advances which allow our forces to engage and destroy the enemy with reduced risks to themselves.
• The reduction in face-to-face engagements, because the enemy uses tactics such as remotely detonated roadside bombs (IEDs), rockets, mortar, sniper and other forms of sneak attacks.
• A backlash against the proliferation of medals awarded in other conflicts -- the "too many heroes" syndrome.
• More stringent criteria and a review process that has become too rigorous, too exacting, too long and, according to some, too "politicized."
Since that discussion, President Obama awarded 12 Medals of Honor to Iraq and Afghanistan War heroes.
In addition, in March 2014, in a rare and historical action, President Obama awarded the Medal of Honor to 24 Army veterans "who were found to have been wrongly denied the nation's military's highest award due to prejudice."
The Latino, Jewish and African-American honorees included seven World War II, nine Korean War and eight Vietnam War veterans.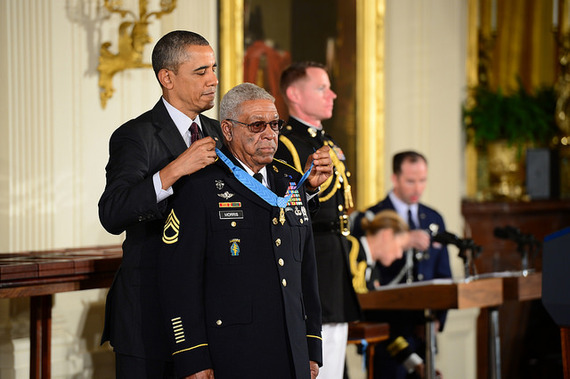 President Barack H. Obama presents the Medal of Honor to former U.S. Army Sgt. 1st Class Melvin Morris in the White House in Washington, D.C., March 18, 2014. Morris was one of 24 Army veterans to receive the award during the ceremony. He was recognized for his actions Sept. 17, 1969, while serving in the Vietnam War. (DoD photo by Sgt. Justin Wagoner, U.S. Army)
The unusual presentation will culminate a 12-year Pentagon review ordered by Congress into past discrimination in the ranks, and will hold a particular poignancy hosted by the nation's first African-American president.
Today, yet another report culminates a review initiated by then-Defense Secretary Chuck Hagel "to improve the military awards program by harnessing lessons learned from conflicts in Iraq and Afghanistan."
In that report, the Pentagon announces a number of changes to the military decorations and awards program "to ensure service members receive appropriate recognition for their services, actions and sacrifices."
While the changes affect several decorations and awards, one of the key changes is the implementation of new goals and processes to improve timeliness of the Medal of Honor.
A defense official noted "unusual Medal of Honor awards trends," as one reason for the review.
One of those "trends" was the fact that the first seven Medal of Honor awards for actions in Iraq and Afghanistan were posthumous, "giving the impression that only a fallen service member could receive that award." However, after the Defense Department clarified the "risk of life" portion for the Medal of Honor's criteria, all 10 recent recipients have been living.
Nevertheless, Secretary Ash Carter has directed the military departments to review Distinguished Service Cross, Navy Cross, Air Force Cross, and Silver Star Medal recommendations since Sept. 11, 2001, for actions in Iraq and Afghanistan to ensure that no one deserving of a higher honor has been overlooked.
There are approximately 1,000 Silver Star and 100 service cross recommendations under review, an official said. While there is a possibility a medal could get upgraded, no service member will have the award downgraded, the defense official said.
It is hoped that one of the decorations that will be reviewed and "upgraded" to the Medal of Honor, will be Marine Sgt. Rafael Peralta's Navy Cross.
Sgt. Peralta was nominated for the Medal of Honormore than 10 years ago, a nomination approved by the Commandant of the Marine Corps and by the Secretary of the Navy, for giving his life during the 2014 bloody house-to-house battle to retake Fallujah when, according to the citation:
While attempting to maneuver out of the line of fire, Sergeant Peralta was shot and fell mortally wounded. After the initial exchange of gunfire, the insurgents broke contact, throwing a fragmentation grenade as they fled the building. The grenade came to rest near Sergeant Peralta's head. Without hesitation and with complete disregard for his own personal safety, Sergeant Peralta reached out and pulled the grenade to his body, absorbing the brunt of the blast and shielding fellow Marines only feet away. Sergeant Peralta succumbed to his wounds...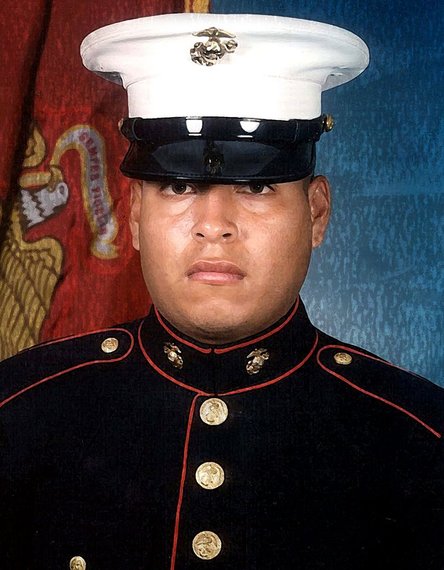 Marine Sgt. Rafael Peralta (DOD photo)
Notwithstanding actions clearly deserving our nation's highest military honor and notwithstanding numerous appeals, the Medal of Honor remains an honor too far for this young hero.

Lead photo: President Barack Obama awards the Medal of Honor to retired U.S. Army Capt. Florent Groberg at the White House in Washington D.C., Nov. 12, 2015. (U.S. Army photo by Eboni L. Everson-Myart)
Calling all HuffPost superfans!
Sign up for membership to become a founding member and help shape HuffPost's next chapter