The air is crisp, here in San Francisco, a city of technology where the competition is stiff. I am 3,000 miles from the place on the map I call home, a small town of dusty streets, where cicadas keep us awake at night. Here there is a torrent of taxis--a city of history and weekend adventures.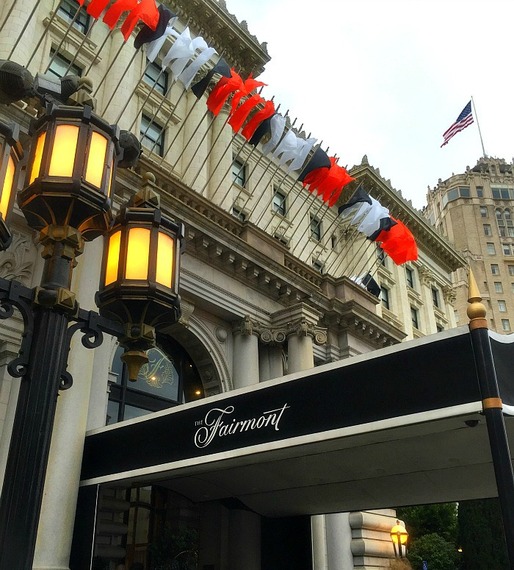 We pull into 950 Mason Street, at the Fairmont San Francisco, at the peak of Nob Hill. It is majestic. This building a part of the National Register of Historic Places and a member of Historic Hotels of America, with its white exterior, an innovative reinforced concrete, brought to life by architect and engineer Julia Morgan, stands out against this morning's fog.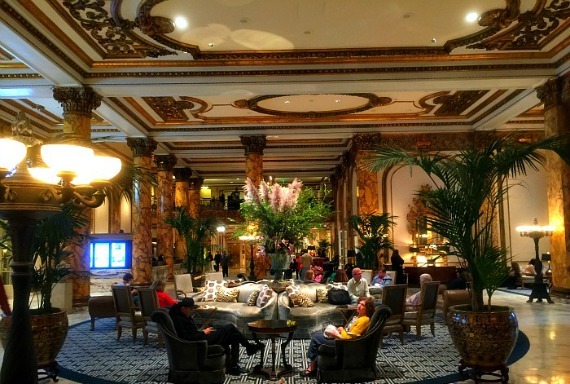 Inside, luxury is everywhere. Marble staircases, gold influences and stunning chandeliers. We meander through halls lined with photos of history.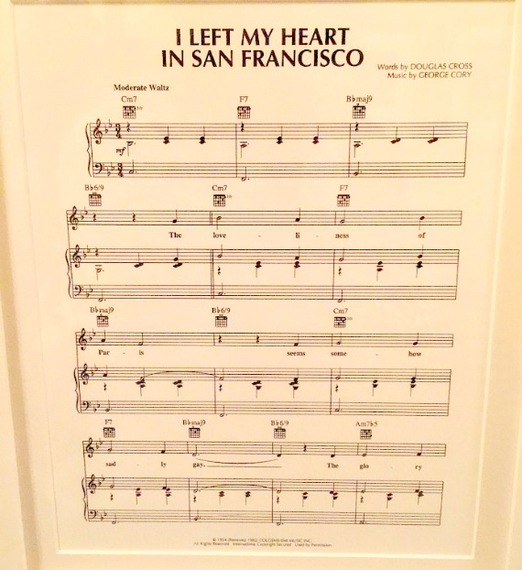 Tony Bennett first sang I Left My Heart in San Francisco here.
My group sits in the beige and brown colored room on padded chairs awaiting our guests of honor. From the back of the room, a gentleman in an emerald-green sweater, with a muted mauve colored shirt beneath, steps into the doorway. A buzz follows his entrance. It is Richard Kind.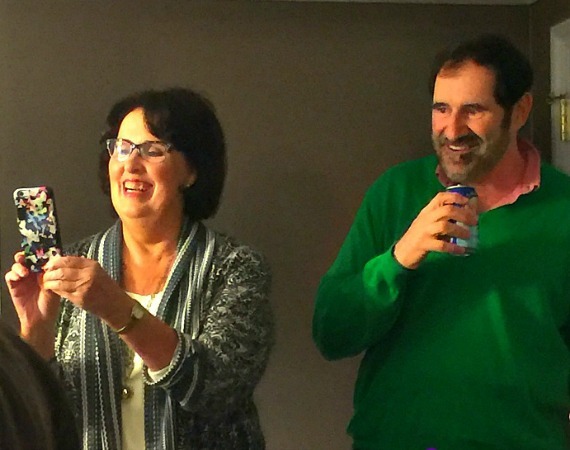 Immediately behind him is a woman, many might describe as matronly. My heart is giddy. It's Phyllis Smith, "Hi, Guys!" she says enthusiastically.
Two ordinary people with extraordinary careers-- Kind has 184 entries on his IMB resume, and is, for the moment, recognized as Bing Bong, Riley's imaginary friend in Disney Pixar's Inside Out. Smith, most known for her role as Phyllis in The Office is here as the voice of Sadness.
Kind starts the interview off with a short disclaimer, "I just flew in so I'm very dry. My favorite is club soda, but if I drink it too fast, I do burp."
He's asked if he "burps candy" and in a genuine and hardy laugh, his animated-self comes to life.
It's no surprise at the enormous popularity of Inside Out. The film earned $34.2 million on its opening day, which is the second-largest opening day for a Pixar film behind Toy Story 3 ($41.1 million).
One has to wonder if Kind and Smith are surprised at the popularity of their own characters in this blockbuster film.
"The popularity of it? I've seen it a couple of times. I really don't know how popular it is..." begins Smith.
Kind interrupts, "How popular your character is? All right. I'll tell you. It's popular."
Kind complements Smith in the banter and then comments he is "not at all surprised at how popular
Smith's character is. First of all, it is a PERFECT voice performance and a perfectly written part because it is SUCH a touchy character, because NO ONE wants to be sad, yet we are able to identify." He turns to Smith and says, "I am so taken by your performance because all though it is down in the dumps, it's not depressive. It's simply sad. I think that is an amazing thing."
Graciously, Smith replies, "And I, in turn, LOVED your character. The HEART of that character is everywhere."
Seeing the two of them together is brilliance. They are both animated in their movements, in the cadence of their speech. Each is a story-teller.
Kind's voice is hardy. His words enunciated. He makes conversation an art.
Meeting Smith makes a character like Sadness, seem to be a stretch. She is lively. She smiles constantly. Her voice is animated, a higher pitch.
Of course, one character that had a small part and a big heart was Bing Bong. He asks, "Do you know that story about my daughter watching it for the first time?"
Smith answers for everyone in the room, "No."
"A year ago, during the summer, I took the family on a trip from LA to San Francisco, an eight-day trip up, five hours back. It's funny, but it's true; the trip takes forever. Then on the way home, you just go, "Okay, let's get home already." One of the stops was at Pixar. My kids are 13- and I have ten-year-old twins. We go in to see a rough cut of my scene, and the television is on the stand. The scene is over. Sky, my oldest daughter, she's watching it. And when it's finished, she just starts crying and collapses in her mother's arms, sobbing. She had not seen the movie, so only had a bit of context. It was my proof that this movie would resonate."
When Kind was asked what part of himself went into his character, Bing Bong he answered, "Certainly my energy. I can be loud. I think I'm more animated off stage than I am on. I happen to think that I'm a nice man. And, I live my life with morality and ethics. I'm more positive than I am negative. I think that Bing Bong is free of negativity. There's purity to him."
Inside Out is Smith's first voice over, and she shares how she got her start. It's quite the story.
"This is the short version, which is long. I had an injury, so I knew that my career as a dancer was at the end of its life. I needed to work to pay my bills, my insurance, my rent, and all of that. I took some classes in commercials."
Fun Fact: Phyllis Smith was a St. Louis Cardinals cheerleader in the 1970s, before becoming a burlesque dancer.
"I ended up as a receptionist. A friend of mine called and said, 'Phyllis, they need a mousey woman for one of the court shows.'
Then, the woman with the infectious smile seemed to transform into Phyllis Vance, the dowdy sales representative with witty one-liners and need for gossip, as she continued.
I said, "Oh, I don't know if I can do this." The audition was in LA. I only had a certain length of time for lunch. I said, 'I don't think I can make it back and forth because I had this job at an aerospace defense company, and they don't understand art; you know?"
"I didn't get the job because I wasn't mousy enough."
"In the midst of all of that, I ended up in casting for 19 years, working for good casting directors. The Office came along. I was working for Allison Jones. We were pairing the leads up in the casting process. The director, Ken Kwapis of the pilot he said, "Phyllis, I want you to read the character of Pam."
"I went, "Okay." I had read with thousands of actors over those 19 years, so when he asked me about reading the Pam character, I thought, 'well, is somebody late?' Maybe they couldn't find parking? What's the deal?"
"I went in and I read. They didn't tell me they were auditioning me. Two weeks later, wardrobe calls and says, "I understand you're playing the character of Phyllis."
Confidence becomes her, Phyllis Vance, that self-doubting character fades as Smith leads to her finale...
"I said, "Yes. I. Am. I suppose I was honing a craft all those years, reading with actors and knowing what worked and didn't work."
These two were charismatic and warm. It is no wonder their characters in Disney-Pixar's Inside Out are so loved.
Calling all HuffPost superfans!
Sign up for membership to become a founding member and help shape HuffPost's next chapter