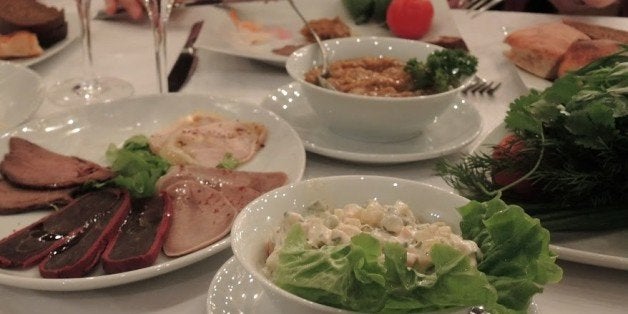 It's mid-March in Baku, the waning days of a bleary Caspian winter, and every time we sit down to eat, the most incongruous array of fresh produce is splayed out before us. Lush platters covered with fresh scallions, bouquets of cilantro, purple basil, dill and other greens, vine-ripe tomatoes the size of golf balls and crisp small cucumbers.
The table is covered with food. White cherries, apricots and plums preserved in jelly. Plates of cheese -- moral, sheepsmilk cheese aged in goat skin, shor farmer cheese and other varieties -- and unleavened bread the size of softballs known as tendir after the oven from which it emerges. Olives come in both the sweet and savory varieties and pickled apples, quince and plums are piled high in every corner.
It just keeps coming and coming.
Our host is a prominent Azeri businessman. How, I ask him, is this bounty available when the grass still crunches underfoot outside?
Greenhouses, he replies, beaming. He is clearly quite proud of the bounty, and deservedly so. He also is quite proud about almost everything to do with his country. Also deservedly so. "Try the beluga," he motions. Italian reds in crystal-tongued decanters and glistening bottles of local lager wash down mouthfuls of caviar and shaved butter served on crisp flatbread.
Then platters of meat begin to appear. Small ribs with tender morsels of spiced and grilled lamb on the end -- almost like lollipops. Lule, ground lamb mixed with herbs and salt, and grilled on skewers. Chicken tenders marinated in yogurt, paprika and saffron. Fresh sturgeon blackened on one side but tender and meaty on the other and drizzled with a reduction made from pomegranate juice called narsharab. All accompanied by plates of raw onions, fresh cilantro and tiny dishes of sumac, a red powder with a tart flavor not unlike lemon which is sprinkled over everything. Fresh plates arrived until everyone had leaned back and into a slight stupor.
Muslims are hands-down the most hospitable people on the planet, but this night -- as in every night in Azerbaijan -- the warmth reached dizzying levels. These folks really know how to eat. And they are ready, willing and able to share the bounty on which they have been bestowed.
Americans don't hear much about Azerbaijan. Some in Congress have it labeled a pariah state, largely because of a timeworn Azeri hostility with neighboring Armenia. Armenians dominate public discourse in America through their very vocal -- and very generous politically -- diaspora, so they seem to get the last word on everything.
That's too bad, because Americans should know more about the place. Over the course of a one-week visit, Azerbaijan struck me as the very model of what a modern Islamic republic would look and feel like. Faithful to its religious roots, it is welcoming of strangers in true Muslim fashion. The capital, Baku, is modern and spotless, and its people lack the fanaticism of its neighbors (it borders Iran to the south, Turkey and Armenia to the west, and Georgia and Russia to the north -- one of roughest neighborhoods in the world). It is much more like Turkey than, say, Turkmenistan.
One doesn't hear, for example, stories of Azeris becoming radicalized and murdering innocent people at marathons or anywhere else for that matter. Unlike some of the other 'stans in the neighborhood.
Another evening we ended up at Caravanseria in the Old City, a bit of a tourist trap but one heck of a setting -- beneath light-festooned ficus trees in a way station for camels and their goods on the Silk Road between Europe and Asia a thousand years ago. We started with the same bulging platters of greens, progressed through the same assortment of kebabs and ended with glasses of hot chai sweetened with honey.
The camels of Baku have been replaced by Bentleys and Porsches since the advent of hundred-dollar-a-barrel oil (Azerbaijan has proven oil reserves of at least 7 billion barrels; when translated to dollars, the math is obscene.), so of course the best of everything from everywhere is available. Lunch one day found us at Chinar for a medley of sturgeon sushi, four kinds of seaweed and beautiful bento boxes that wouldn't be out of place in Tokyo's depachika.
The same hostess who lured us to Chinar, a stunning former television presenter, also led us to Sumac, said to be one of the Azeri first lady's favorite ports of call. Noruz, the Persian New Year festival also celebrated in Azerbaijan, was coming up so a bowl of fresh grass wrapped in ribbon adorned the table. Surrounded by other greens, I thought it was part the fare and clipped off a few blades and popped them in my mouth. What a moron. It was a centerpiece.
Kutabs were on order at Sumac. Lavash, a flatbread baked with garlic and sesame, is filled with meat stuffing while raw, then folded and pan-fried. Not unlike a small savory pizza, it was also served with sumac on the side, along with healthy dollops of yogurt sauce that worked equally well with thumb-sized dolma, or minced lamb mixed with rice and flavored with mint, fennel, and cinnamon wrapped in vine leaves.
None these places are particularly cheap, with appetizers ranging from $8 to $15 and entrees in the $15 to $30 range, but nothing in Azerbaijan really is. It's one of the downsides of a country coming out of its shell economically. On balance it's worth it, though. This kind of bounty, with this kind of consistency, is hard to come by in this world.
Caravanserai
Gala (Qala) St, 11 Old City
+994 12 492 6668
Sumakh
20/22 Khojali Avenue
+994 12 480 2112
Chinar
Shovket, Alekperova Street No.1
+994 12 492 0888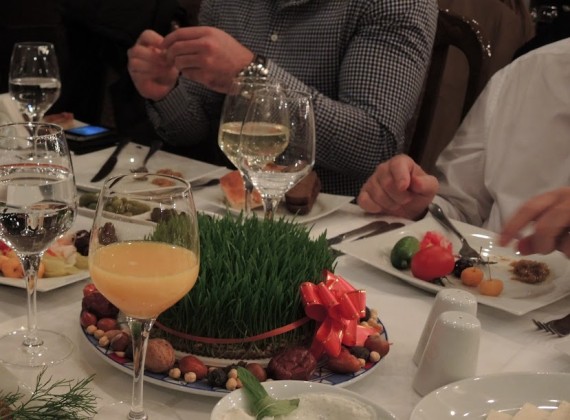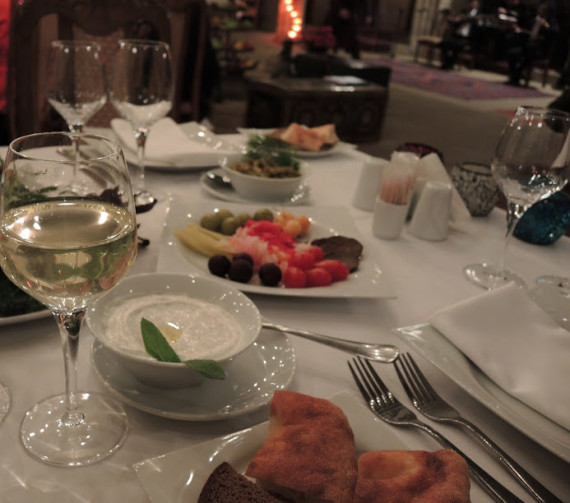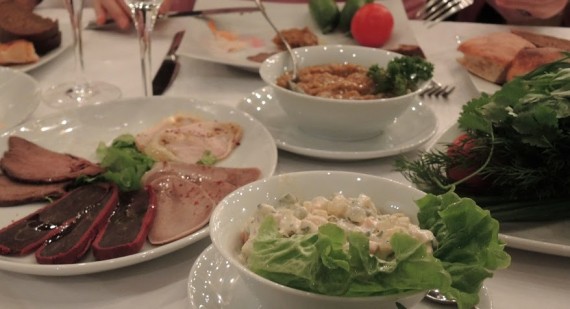 Related